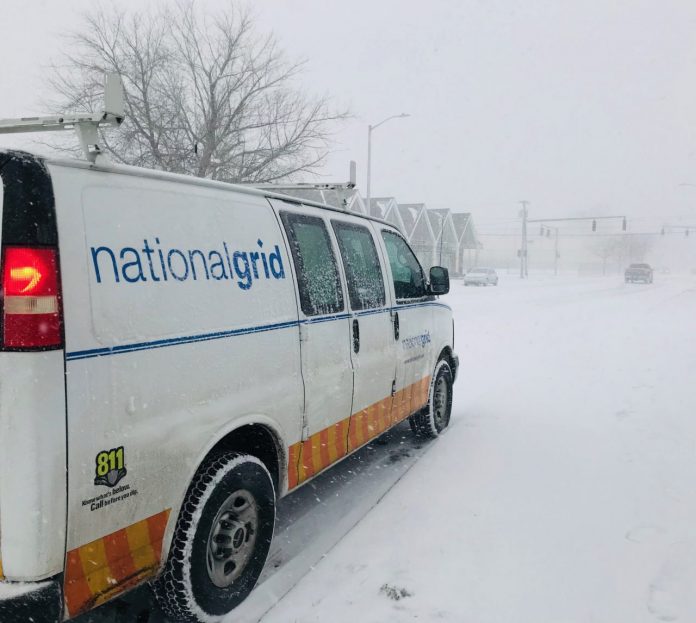 NEWPORT – On day three of the National Grid low-pressure gas service shutdown in Middletown and Newport, officials gathered to provide updates on the progress to re-establish service in the two communities.
National Grid Chief Customer Officer Terence Sobolewski said Wednesday that in Middletown, just under 200 customers of 340 affected customers have had their appliances re-lit. The Middletown system, which is smaller than the Newport system, was ahead in what National Grid officials called a two-step process.
Officials previously have said that in order to re-light the system, workers will need to shut down every gas meter connected to the impacted low-pressure gas service line individually before reintroducing gas pressure into the system. The company will then proceed on re-lighting affected appliances house by house.
Newport is still in the shut-off phase, with officials going house to house to shut off service at the meters. Sobolewski said that as of Wednesday morning, 5,600 of 6,500 customers have had their service shut off at their homes. Work to re-light the system cannot begin until the remaining meters are shut off.
Those that have gas service currently will not be affected – as the shutdown only affected the city's low-pressure system. The city has multiple systems.
National Grid is working with law enforcement and the National Guard to communicate with residents and or to gain access to systems in homes that have yet to be shut off.
Sobolewski also noted that the company's efforts in the past two days were productive, but warned that the process is expected to slow down as the company reaches homes in which people aren't there and that will require the company to use locksmiths and accompanying law enforcement to gain access for the work that needs to be done. It was noted that regulations allow National Grid to access its equipment in the case of an emergency.
"We believe it's essential to get into homes and businesses. We do so with great care, with law enforcement, and with respect to property owners," Sobelewski said.
More than 1,000 workers have been deployed in the area to restore gas service, including 400 National Grid technicians and 200 contractors.
The reintroduction of gas pressure to the Newport system, which will occur after all affected units are confirmed as shut down, is expected to take several hours, in contrast the smaller Middletown system, which was re-pressurized more quickly.
Sobolewski said that the second facet of National Grid's work is continuing to support customers. He said the company will continue to connect affected customers with hotels and shelter as well as hot meals. He also said that company was working to provide space heaters while urging customers to be careful with them.
National Grid previously said that the problem stemmed from its natural gas supplier, Algonquin Gas Transmission Co., which is owned by Enbridge Inc. National Grid said that it became aware of a low-pressure gas situation on Aquidneck Island on Monday.
National Grid Chief Gas Engineer Ross Turrini said Wednesday that the problem that spurred the shutdown was a frozen valve in Massachusetts, causing a two-hour delay in gas service, which then caused a cascade effect in the low-pressure gas system. Increased demand was said to have nothing to do with the incident.
Turrini urged residents not to re-light their own appliances following the reintroduction of gas pressure to the system, warning that it could potentially result in an explosion.
Salve Regina University opened after being closed Tuesday, despite the school reporting that five student-housing buildings remained without heat and were closed.
Lifespan also reported that its Lifespan Physician Group primary care practice at 50 Memorial Blvd. in Newport had been temporarily closed, and is offering services at other locations. Newport Hospital remains heated and operational.
Newport Public Schools have been closed for the week.
Gov. Gina M. Raimondo announced Wednesday that the R.I. Public Transit Authority is waiving fares for passengers traveling on Aquidneck Island in order to help people get to warming shelters and other essential services.
"My No. 1 one priority continues to be public safety, and waiving RIPTA fares will help residents safely access critical services during this outage," said Raimondo. "We have set up meal locations in Newport, and National Grid continues to provide vouchers for hotels. Even with the slightly higher temperatures today, homes that have been without heat since Monday are too cold to be safe. Residents should seek alternate shelter if they haven't already."
RIPTA has five routes and one Flex Service that offer service to Aquidneck Island and will keep a tally of passenger trips on the island. RIPTA also will work with National Grid on reimbursement.
RIPTA will monitor the situation daily to determine how long bus fares will be waived on Aquidneck Island, the announcement said.
Chris Bergenheim is the PBN web editor. Email him at Bergenheim@PBN.com.