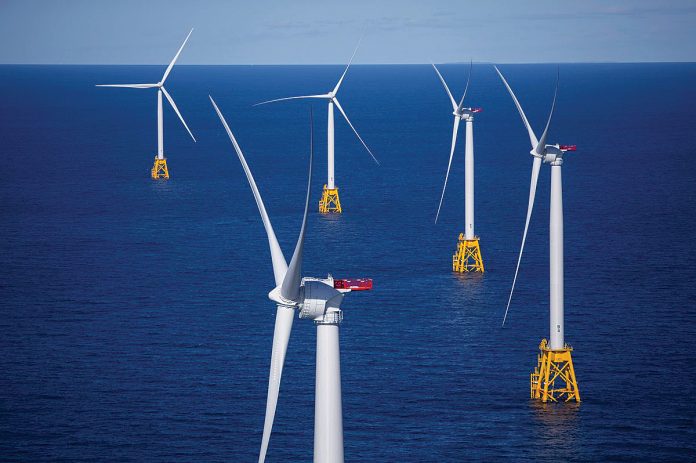 PROVIDENCE – National Grid Rhode Island has signed a contract with Orsted US Offshore Wind for the 400-megawatt offshore wind farm Revolution Wind and filed it with the R.I. Public Utilities Commission, National Grid and Gov. Gina M. Raimondo announced Thursday.
The wind farm contract calls for a price of 9.8 cents per kilowatt hour over the 20-year term of the agreement. At chained 2017 dollars, the price per kilowatt was calculated to be 7.4 cents.
Vineyard Wind, which has agreed to construct an 800-megawatt wind farm to supply energy to Massachusetts, agreed to a wholesale price of 6.5 cents per kilowatt hour in constant 2017 dollars over its 20-year contract, according to the Mass. Department of Energy Resources. The difference between the two local project has to do with the larger size of Vineyard Wind compared to Revolution Wind.
The project's rates are significantly lower than the Block Island Wind Farm built by Deepwater Wind LLC, which started the Revolution Wind project before being acquired by Orsted in November. Rates for the first U.S. wind farm started with wholesale rates of 24.4 cents per kilowatt hour in 2016, with increases of 3.5 percent yearly through a two-decade contract.
"When we built the Block Island wind farm, we positioned Rhode Island as the leader in a brand-new U.S. offshore wind industry," said Raimondo. "Other states watched us and followed our example. Today I'm pleased to announce that the proposed Revolution Wind offshore wind farm, more than 13 times the size of the Block Island project, offers electricity at prices far lower than we anticipated. This is a triple-win for our state because it provides affordable, clean energy for Rhode Islanders, adds jobs to our economy, and dramatically reduces carbon emissions."
Once approved, the Revolution Wind project could begin construction in 2020 with the potential for operations to begin in 2023. The governor's office said that the project will have the capacity to generate roughly 25 percent of the state's electricity.
The Public Utilities Commission will now conduct a 120-day review of the contract and its energy, economic, and environmental benefits and costs. It is unclear what other approvals, including from the federal government, will be needed for the project to begin construction.
The governor's office said that Orsted has committed to invest $250 million locally on the project, including $40 million in investments in Rhode Island ports, and funds for higher education, supply chain development and workforce development, saying that details of the investments are forthcoming.
National Grid did not immediately respond to inquires regarding the current contract rate for electricity in the state, why the Revolution Wind rate would be higher than the Vineyard Wind rate, or whether the contract would require federal approval.
Chris Bergenheim is the PBN web editor. Email him at Bergenheim@PBN.com.