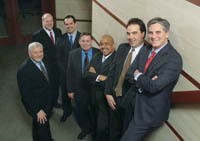 Holland & Knight is one of the top U.S. law firms, ranked 11th-largest in 2005 by the National Law Journal, with nearly 1,300 lawyers nationwide. It is cited as No. 1 in bankruptcy law by The Deal, and listed as a top intellectual property litigation firm by IP Law & Business.
In Rhode Island, Holland & Knight has represented and lobbied on behalf of high-profile clients such as Cingular Wireless, the Pharmaceutical Research and Manufacturers of America, Harrah's Operating Co. and the R.I. Alliance of Boys & Girls Clubs.
As of March 1, however, Holland & Knight no longer occupies the 18th floor suite at One Financial Center in downtown Providence. A handful of Holland & Knight lawyers still have an office on the 14th floor, but a new firm now has the old space and most of the old clients.
The firm is Pannone Lopes & Devereaux LLC, a partnership that brings together some of the best-known Providence lawyers displaced by a "consolidation" within Holland & Knight that eliminated the local office and made what remains of the firm's Rhode Island practice a satellite of the Boston office.
Providence was one of four markets that Holland & Knight, founded in Florida in 1968, bowed out of; the others were San Antonio, Seattle and Rancho Santa Fe, Calif. The firm also folded three smaller offices into its Washington, D.C., Chicago and Tampa operations.
"Holland & Knight determined that, with our significant office in Boston, maintaining a separate office in Providence was not strategically important to the firm or its clients," firm spokeswoman Susan Bass said. "Lawyers in Providence, for whom a reassignment to Boston made business sense, were invited to remain with the firm, and six have done so."
But for Gary Pannone, the firm's Providence managing partner, and several of his 23 colleagues, another option seemed much more appealing. It was time to start their own law firm.
Pannone has done this before: He was one of the founders of McGovern Noel & Benik, a firm with about 20 lawyers that combined its practice with Holland & Knight in 2001. Now, he and his colleagues figured, they could offer the best of both worlds – national expertise and sophistication with the personal attention of a smaller firm.
It was fortuitous, Pannone said: "Almost simultaneously" with Holland & Knight's decision to close the Providence office, he and others in the firm were talking about practicing "in a smaller setting," but using "the same skills that we've gained in an international firm."
The new firm will practice primarily in corporate law, commercial litigation, labor law and government relations, Pannone said. Along with Pannone, the founding partners are Matthew A. Lopes Jr., William P. Devereaux and William E. O'Gara. The firm's roster also includes John P. Walsh, Terence M. Fracassa, Joseph Sabatino and Mohamedu F. Jones, and it may keep growing, Pannone said.
"It's going to be a very unique setting," Pannone said. "It's going to be a smaller firm, much more flexible, entrepreneurial, local in [focus]. And yet our client base will remain the same as it was before. All of our clients individually have come with us."
Their roster includes all the lobbying clients – represented by Lopes, Devereaux and Fracassa – as well as Amgen Inc.; jewelry and watch band maker Speidel, all the way down to small startups. The firm's Web site hints at lower fees than bigger firms', noting that Pannone Lopes & Devereaux provides "quality legal services in a cost-effective manner."
Pannone said the new firm better fits the needs of Rhode Island's business community, which is made up primarily of small, closely held companies.
"Joining a larger firm, you gain technology, expertise and a network," Pannone added. "But in the end, the relationships that you have in this market are personal relationships."