All dining out is at the mercy of the weather. This has come to the forefront multiple times as winter ended and – on the calendar – spring began. The fearsome New England storms known as nor'easters came one after the other within days of one another in mid-March. All business was affected to one degree or another, but the local restaurant industry showed the effects most noticeably. As a rule, restaurateurs' records with customer totals for the day or evening are compared year to year. One of the most faithfully kept records is a daily temperature and weather condition notation. It can be readily seen how customer traffic waxes and wanes depending on what is happening outside courtesy of Mother Nature.
After the first storm in early March – the fiercest in terms of strong winds – the bad weather was not necessarily bad for business. This may have been due to the widespread power outages in the state. People got hungry after spending 12 or so hours in the dark. Neighborhood places that were able to keep the lights on did well. For example, the restaurant row in Warren along Metacom Avenue reported steady business from noon on at places such as Perella's and Metacom Kitchen. Diners seemed to have lived up to the governor's description of "hardy Rhode Islanders" during the second event five days later with less snow and wind. Reservations and foot traffic held their own for a midweek in March.
The third storm in 11 days took its toll. The blizzard conditions and record snowfall caused many restaurants to close their doors for the duration, with some such as CAV and Iron Works Tavern taking pre-emptive action, announcing their doors would be shut as the flakes began to fly.
The landmark Greek-American restaurant Andreas on Thayer Street has a longer storm story to tell. The elements forced it to shut down in January and it has just reopened after 75 days of extensive restoration and renovation following a burst pipe.
When the first "bomb cyclone" snow event hit Rhode Island right after New Year's, restaurateur Nick Makris decided to close for one day on account of the snowfall and a Thayer Street parking ban.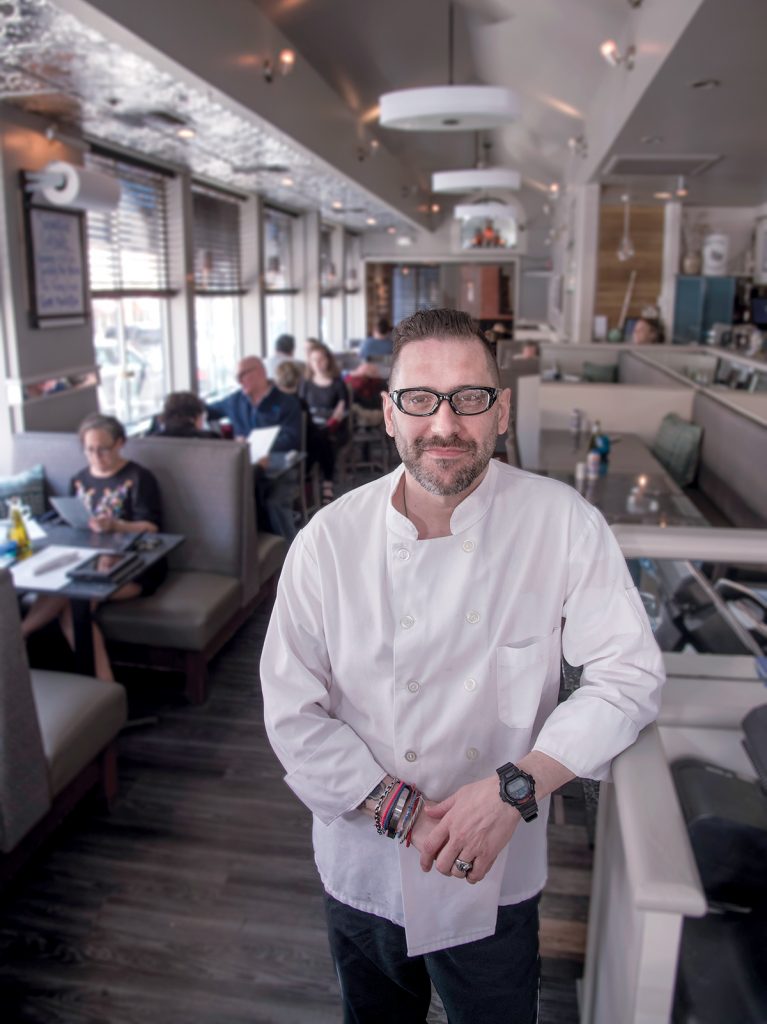 "We closed because we anticipated little foot traffic due to the forecast. Luckily, one of our vendors was undaunted by the precipitation. When they arrived with a produce delivery, they heard the 'whoosh' of a waterfall and had the quick thinking to call the fire department," he said.
Damage to Andreas was significant, to the tune of $200,000. The silver lining in all this is things could have been much worse. No one was scheduled to come to the restaurant for another 24 hours. The impact could have been devastating.
Initially, Makris and his ownership partners had intended to quickly reopen. But as the start of construction was delayed, they saw an opportunity to refresh the furniture, color palette and menu.
"It had been more than a decade since we had given our interior attention and [the forced closing] actually turned into something positive," he said.
Diners who have missed the restaurant's Mediterranean cuisine will be delighted upon their return. Andreas' entire staff is returning as well. The space has been freshened, as has the menu to reflect the changing times, faces and palates of the East Side. Now there are numerous gluten-free and vegetarian dishes. But fear not, the traditional Greek and Mediterranean fare that has been a staple is still on the menu.
"We've been an East Side institution for more than 50 years and by adapting to customer needs, we're hoping to be around for another 50!" Makris exclaimed.
Bruce Newbury's Dining Out radio talk show is heard Saturdays at 11 a.m. on 1540 AM WADK, through the TuneIn mobile app and via smart speaker. Email Bruce at Bruce@brucenewbury.com.