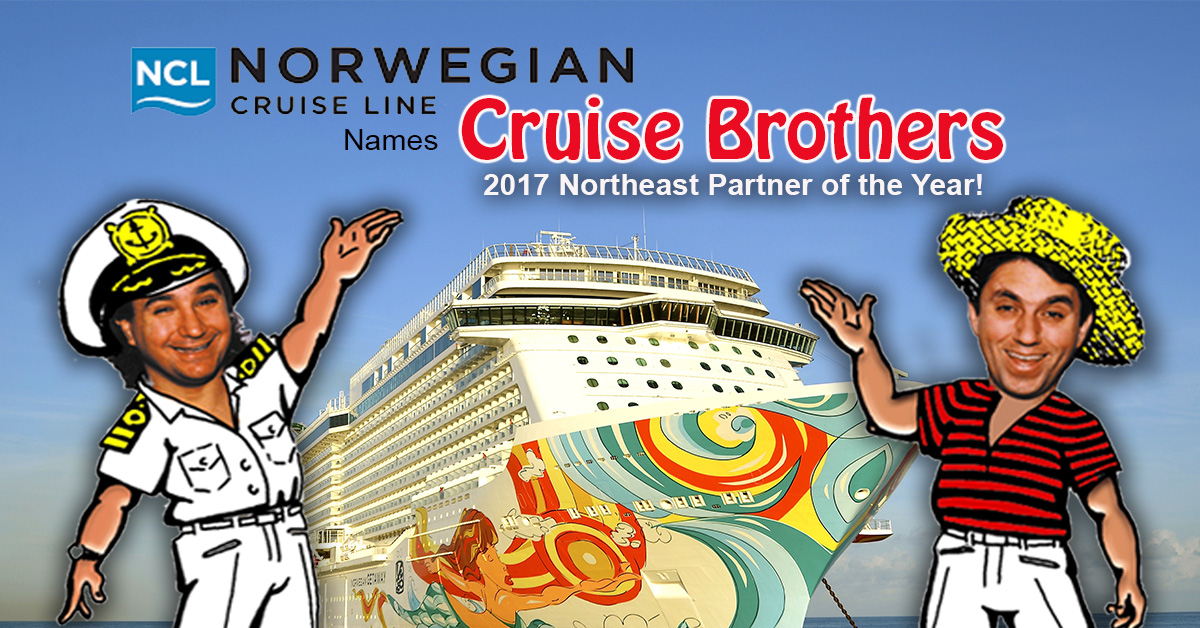 EAST PROVIDENCE, R.I.– November 16, 2017 – Norwegian Cruise Line has named Cruise Brothers its top Northeast travel partner for 2017. "This is a tremendous honor! I am so very proud of our talented team of agents. They work hard every day to provide the very best service to our customers. We know that our customers expect excellent value and exciting experiences when planning their vacation and we are proud to offer that with a Norwegian Cruise, according to Joseph Giampietro, President of Cruise Brothers.
"In this month of gratitude, the Norwegian team thanks Cruise Brothers for driving a very successful year for our brand," said Camille Olivere, senior vice-president of sales for Norwegian Cruise Line. "We congratulate our Partner of the Year. We look forward to an incredibly exciting and prosperous 2018, working hand-in-hand with our partners as we launch Norwegian Bliss and continue to expand and revitalize our fleet."
# # #
About Cruise Brothers:
Cruise Brothers is one of the largest family-owned cruise travel agencies in the country. Cruise Brothers has been in business since 1972 with offices in East Providence, Rhode Island and Palm Beach Gardens, Florida. Year after year, Cruise Brothers consistently ranks among the top producers with Royal Caribbean International, Holland America Line, Princess Cruises, Cunard Line, Norwegian Cruise Line, Celebrity Cruises and Carnival Cruise Line, allowing Cruise Brothers to offer the best value in cruise vacations to their clients. For more information, please call 1-800-827-7779 or visit www.CruiseBrothers.com
If you're looking for a fabulous career, Cruise Brothers invites you to consider becoming a CruisingFree.com Associate Agent. This is an amazing opportunity for those looking for additional income while working from home by joining an award-winning travel agency and getting expert training to become a travel agent.
"Over our many years we have turned countless cruise lovers into cruise agents. If you love to travel and are looking for a way to earn extra income this is possibly the best career in the world, and it does not cost a thing to sign up. We provide all the training free of charge." David Accetturo, Director of Business Development for Cruise Brothers.
For more information about this unique opportunity, visit the website at CruisingFree.com or email David@CruiseBrothers.com
About Norwegian Cruise Line:
Norwegian Cruise Line is an innovator in cruise travel with a 50-year history of breaking the boundaries of traditional cruising. Most notably, Norwegian revolutionized the cruise industry by offering guests the freedom and flexibility to design their ideal cruise vacation on their schedule with no set dining times, a variety of entertainment options and a casual dress code. Today, Norwegian invites guests to enjoy a relaxed, resort-style cruise vacation on some of the newest and most contemporary ships at sea with a wide variety of accommodations options, including The Haven by Norwegian®, a luxury enclave with suites, private pools and dining, concierge service and personal butlers. Norwegian Cruise Line sails around the globe, offering guests the freedom and flexibility to explore the world on their own time and experience up to 27 dining options, award-winning entertainment, superior guest service and more across all of the brand's 15 ships.
Recently, the line was named "Europe's Leading Cruise Line" for the tenth consecutive year, as well as "The Caribbean's Leading Cruise Line" for the fifth time and "North America's Leading Cruise Line" for the second straight year by the World Travel Awards. Norwegian's next new build, the highly anticipated Norwegian Bliss, will be delivered in April 2018 featuring many firsts-at-sea for the global market including the largest race track at sea, award-winning Broadway entertainment, two observation lounges for guests to enjoy stunning ocean and glacier views and more. Norwegian will introduce an additional new "Breakaway Plus" Class cruise ship in 2019 and has four additional ships on order for delivery beginning in 2022, with an option to introduce two more ships in 2026 and 2027.