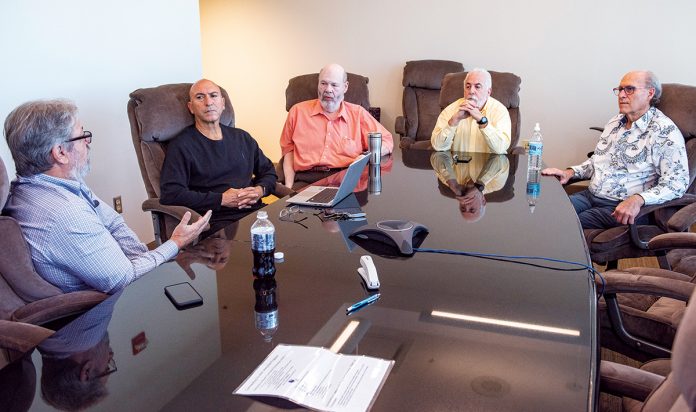 Business Excellence Awards 2018
Excellence at a family-owned business: Ocean State Job Lot
---
With an office in China and 133 stores in New England, it may be difficult to remember that close-out retailer Ocean State Job Lot is, at its core, a family business.
Brothers Marc and Alan Perlman founded the store in 1977 with their friend, Roy Dubs. Along with principal owner Steve Aronow, Chief Financial Officer John Conforti and Vice President of Operations Richard Portno, the Perlman brothers still run the company today. Sixteen members of the Perlman, Aronow, Conforti and Portno families work or have worked for the company in areas such as legal, information technology, buying, operations and human resources.
"All the kids are given a choice on whether or not they want to participate," said Paul Conforti, chief marketing officer and John Conforti's nephew. He said there are no built-in expectations to join the family business. Some relatives have worked in other places and come back to OSJL.
"Alan has said that it's a special aspect of the business, being able to work with family," said Paul Conforti. "But over the years, with a lot of the members of our team, it kind of feels that way as well. They are long-term relationships built on trust and shared experience."
Its company newsletter regularly recognizes people who have been with the business for 30 and 35 years, he said – and there are dozens, adding to close-knit bonds. "It weaves its way through the company," he said. "It does seem to be a culture where people want to stay."
"From can openers to kayaks," is how the North Kingstown-based company describes its assortment of products.
OSJL has no particular customer demographic, just products that represent great values. As their packaging has changed, they've been discontinued, or are overstocked, ranging from nonrefrigerated foods to health and beauty aids to hardware and other goods. Company buyers travel the globe in search of deals on items to help its customers stretch their dollars.
At the same time, its leaders work hard to ensure the company maintains a balance between growing, staying successful and keeping a family-type culture that differentiates it from other stores in terms of employee workplace experience.
OSJL has free lunch for its 800 distribution-center employees each Friday, a tradition that started when the company was much, much smaller, said Conforti. The company practices diversity in hiring, with center employees hailing from multiple countries and speaking multiple languages.
"The best decisions are made with a diversity of opinion and experience," said Conforti. "That's Marc's style of problem-solving: Get all key stakeholders together and talk it through."
Now 5,000-employees strong, OSJL sales have risen from $539 million in 2013 to $685 million today. In the past five years, it has opened more than 20 stores. The company's recent Quonset distribution-center expansion created 100 jobs.
Conforti said that CEO Marc Perlman looks at all purchase orders, generating knowledge that allows the company to quickly take risks or move on time-sensitive opportunities if it benefits customers.
Community giving, especially for hunger causes, helps OSJL team members to see the community around them as family as well. The company's charitable foundation absorbs all administrative costs. Donations made at the register go directly to hunger relief, Conforti said.
OSJL has been known to buy refrigerated food it doesn't carry in its stores, such as frozen clam strips, at a fraction of the price and flip them to a food bank that can put them to good use.
This summer, OSJL teamed up with partners for its Dog Days of Summer Rhode Island Grill-Out, with OSJL volunteers serving 25,000 hot dogs at shelters and other hunger-relief groups, with ketchup and mustard and all the extras.
"Our associates want to work for a company that makes the world a better place," said Conforti.