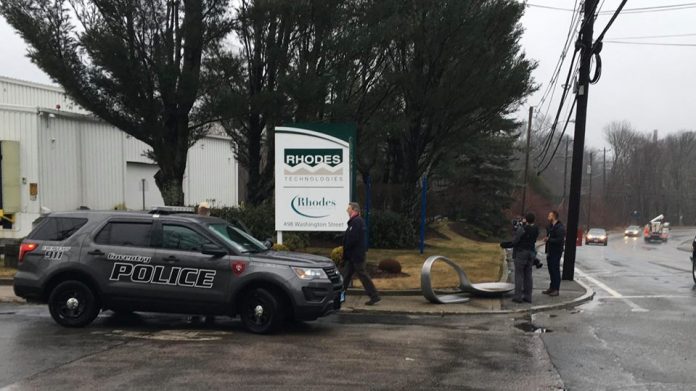 COVENTRY — The R.I. Attorney General's Office has a civil suit against Purdue Pharma L.P. for alleged fraudulent marketing of opioids in Rhode Island, where a Massachusetts artist made his own statement this morning with an oversized aluminum spoon sculpture outside the corporation's subsidiary, Rhodes Technologies Inc.
Bloomberg news reports Rhodes Technologies Inc. at 498 Washington St., Coventry, a subsidiary of Purdue Pharma, produces, markets and sells active pharmaceutical ingredients and chemicals. The company is one of several named in a lawsuit filed in June 2018 by R.I. Attorney General Peter F. Kilmartin alleging a campaign of unfair, deceptive, and fraudulent marketing and promotion of opioids in Rhode Island.
"The opioid epidemic is a major public health crisis in Rhode Island and we must use every tool at our disposal to fight back. This suit reflects what we found through our investigation and seeks to hold those we believe to be responsible accountable for their actions, as well as seeking long-term remedies to help our citizens," Kilmartin said in announcing the suit.
Thursday morning, Domenic Esposito, a Westwood, Mass.-based artist and organizer of The Opioid Spoon Project, with a stated goal to "expose every aspect of how the opioid epidemic was a well-thought-out business plan by those who sought to seek profit," added a visual emphasis to the allegations. Esposito said he share's Kilmartin's conviction about the company.
"It's really to bring awareness to who the accountable parties are," Esposito said during a call from his Westwood, Mass., studio, after leaving Coventry earlier Thursday morning. Traffic and freezing rain were creating a hazard, so he didn't want to continue at the site, he said.
In June, he left an 800-pound spoon in front of Purdue Pharma Headquarters in Stamford, Conn.
He said he also believes opioid manufacturers are responsible for the national opioid epidemic.
"That's really the reason for the spoon. For us, it's a symbol. A dark symbol," he said.
Esposito said the spoon represents his brother's heroin addiction, and the spoon they discovered he was using during a relapse in his recovery from addiction to the substance. He learned his brother was using again when his mother called him to tell him about finding the spoon, he said.
"That's part of the equation," Esposito said. A person addicted to heroin can relapse multiple times before managing to stay away from it long-term, he said.
Rob Borkowski is a PBN staff writer. Email him at Borkowski@PBN.com.