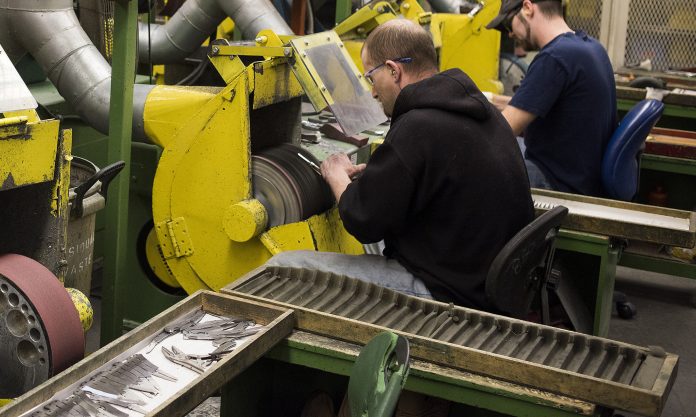 NEW YORK – Orders placed with United States factories for business equipment were weak in October for a third straight month, another sign that momentum is cooling amid risks from the trade war with China.
Non-military capital goods orders excluding aircraft – a proxy for business investment – were little changed after a 0.5 percent decline in September that was worse than previously reported, Commerce Department figures showed Wednesday. The median forecast in a Bloomberg survey called for a 0.2 percent gain.
Key insights
The results, coming on the heels of other mixed reports on manufacturing, may fuel concern that capital spending is slowing more sharply than anticipated amid tariff-related uncertainty and a fading boost from tax cuts. Economists had already forecast a cooling in gross domestic product growth from the second and third quarters. The figures compare with comments Tuesday by White House economic adviser Larry Kudlow, who said business equipment was booming again following softness in the third quarter. Previously released data showed that business-equipment investment rose during the period at the slowest pace in two years. The broader measure of orders for durable goods, or items meant to last at least three years, fell 4.4 percent, also worse than expected and weighed down by the volatile transportation category. Orders for civilian aircraft dropped 21 percent, while military aircraft plunged 59 percent. Separate data showed Boeing Co.'s aircraft orders cooled in October. Shipments of non-military capital goods excluding aircraft, a measure used to calculate GDP, rose 0.3 percent in October, matching the Bloomberg survey median. The prior month's reading was revised to a decline of 0.2 percent from 0.1 percent. The three-month annualized gain for shipments slowed to 4 percent from 7.2 percent, while for orders it cooled to 2.9 percent from 8.1 percent, illustrating the loss of momentum.
More October data:
Excluding transportation-equipment demand, which is volatile, durable-goods orders rose 0.1 percent in October, below projections, after a 0.6 percent decline that was worse than previously reported figures. Orders for primary metals fell the most in a year, while machinery had the biggest drop since March. Categories showing gains included computers and electronic products, up the most since April, while electrical equipment, appliances and components had the largest increase in orders in two years. Motor vehicles and parts orders rose 0.2 percent following a 0.9 percent gain. Defense capital-goods orders fell 16.6 percent following a 16.3 percent decline in September. Previously released data showed that over the second and third quarters, federal defense spending rose at the fastest back-to-back pace since 2009. Durable goods inventories were unchanged in October following a 0.8 percent increase.
Shobhana Chandra is a reporter for Bloomberg News.