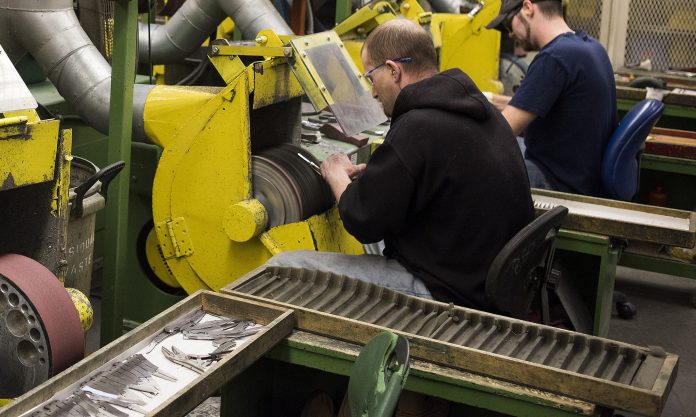 NEW YORK – Orders placed with United States factories for business equipment eased unexpectedly last month after a smaller February advance, indicating a more moderate pace of capital spending, a Commerce Department report showed Thursday.
Highlights of durable goods (March)
Non-military capital goods orders excluding aircraft fell 0.1 percent (est. up 0.5 percent), after rising 0.9 percent (prev. 1.4 percent) in February; Figure is proxy for business investment
Shipments of those goods, which are used to calculate gross domestic product, decreased 0.7 percent (est. up 0.3 percent); February revised down to a 1 percent gain (prev. up 1.4 percent)
Bookings for all durable goods, items meant to last at least three years, jumped 2.6 percent (est. 1.6 percent gain) following an upwardly revised 3.5 percent gain
Key takeaways
The decline in shipments of non-defense capital goods excluding aircraft was the largest since May 2016 and indicates business spending ended the first quarter on a weak note. Some economists may trim their tracking estimates for growth during the period. The Commerce Department will issue its advance estimate of first-quarter Gross Domestic Product on Friday.
While the setback may simply represent a pause in investment, businesses may be somewhat hesitant to spend as they assess U.S. trade policy following the implementation of tariffs on steel and aluminum.
At the same time, favorable tax policies, stable global growth and rising capacity constraints remain supportive to increased investment.
The Commerce Department's report showed orders cooled for machinery, computers and electrical equipment.
Other details
Orders for machinery fell 1.7 percent, the most since April 2016 Bookings for computers and related products dropped 2.6 percent
Commercial aircraft orders jumped 44.5 percent after a 39.1 percent increase
Excluding transportation equipment, a volatile category, durable goods orders were essentially unchanged after a 0.9 percent increase
Orders for motor vehicles and parts edged up 0.1 percent
Durable-goods inventories rose 0.1 percent
Defense capital-goods orders increased 0.9 percent
Katia Dmitrieva is a reporter for Bloomberg News.