As an undergraduate history major at Brown University, Adam Alpert did what many cash-poor college students do: He tried to earn extra money any way he could, including tapping into his filmmaking background to find work as a freelance videographer.
But it's not easy competing for work, especially on websites geared to serving full-time professionals, and affording the equipment upgrades was challenging.
In 2015 he met Isaac Zussman in Providence who, he quickly learned, had noticed the same problem and was eager to create a platform through which nonprofessionals could easily market any skill or service.
That meeting spurred the development of ­Pangea.app, a web-based business that allows potential buyers to post and search for services from student providers, who can advertise any skill or service they would like to offer. Once matches are made, pay rates are negotiated by the buyer and provider.
"It was almost a naive thought to start moving on this," recalled Alpert, who graduated in 2017. "But it was that naiveté that really caused us to get going."
Having recently completed beta testing that ran from November 2017 through May 2018, the company was set to relaunch the app earlier this month to a wider audience it hopes will include parents seeking out math tutors and a host of other services from eager college sellers.
The Providence-based company, named after a hypothetical supercontinent comprising all the current continents, says it has attracted $90,000 in investments from mostly unnamed supporters. It faces the same uphill climb all fledgling web-based businesses encounter – standing out in a sea of startups and bigger fish before the funding runs out.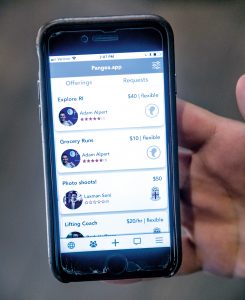 But it has the advantage of offering a potential solution to a clear need among students not just at Brown but on college campuses across the country, says Jason Harry, Brown professor of the practice of engineering.
"There's a lot of noise on the internet with products and services," acknowledged Harry, who has served as a mentor to the company's founders. "It's just hard to get people's attention, [but] they are enabling people who have skills to sell those skills on a platform that is friendly to nonprofessional purveyors of skills.
"It's hard [to do that] without something [such as] Pangea to put buyers and sellers together," he said.
GIG ECONOMY
Johnson & Wales University sophomore Jack Rittereiser met Alpert at a Christmas party and quickly joined Pangea's 500 service providers. The culinary arts student has made money recommending wines to several buyers.
He's also been a buyer, purchasing artwork for a classmate, and deems the navigation straightforward. After signing up, Rittereiser says users can easily scroll through available services. "It's a breeze," said the Saratoga, N.Y., native.
He also likes that each provider profile leads with its school logo and that the app does more than just facilitate direct business transactions.
"They have Pangea Night Market, and I was able to meet a few people who provide services," he said. "I really like that it's all college students because it allows us to network between each other."
An aspiring restaurant owner, Rittereiser believes Pangea promotes individual entrepreneurship. "You can inspire people to do their own thing," he said.
Harry, who runs the Brown Breakthrough Lab that Pangea participated in for eight weeks last summer, says skilled students do have some advantages over professionals in the competition for freelance work.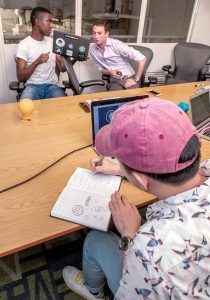 They often have flexible schedules that can allow them to quickly meet buyer needs as well as the ability to charge less than competitors.
Those advantages "can be extremely appealing – especially if the costs associated are below market value," he said.
In the so-called national gig economy, price "makes a difference. Every dollar counts," said California blogger Kathy Kristof, editor-in-chief of SideHusl.com. She tries to use her blog to help freelancers find money-making opportunities by providing unbiased information on opportunities and issues affecting the freelance industry.
She declined to comment on Pangea but agrees college students have a lot to offer the gig economy.
"College students are likely to be on the cutting edge of technical advances that they are teaching in school," she said. And a general working knowledge of social media often gives them a leg up in that area over older workers, she said.
Kristof said she is aware of only a handful of websites that solely feature student providers, for services such as tutors and movers.
"The challenge is still competition," she said. "There are just a lot of well-known platforms that niche by skill. For these guys to compete, they would probably have to make a case why college students are uniquely qualified to address the skills they're offering."
Pangea has a strong local booster in Pat Sabatino, founder and CEO of Providence-based Datarista, who also serves as executive director of the Rhode Island Coalition of Entrepreneurs.
"Every May tons of bright students from [local] universities graduate," he said. "They get on I-95 or go to the airport and go get jobs in Boston, New York and California. We need businesses [such as] Pangea to take root here, so people like these entrepreneurs stay local, build a business and help root more and more of those grads."
Alpert serves as an associate director of Sabatino's all-volunteer advocacy group, which helps promote opportunities for Rhode Island entrepreneurs.
The connection to the group has given Alpert valuable access to mentors.
They are "people who have the entrepreneurial experience that first-time founders, [such as] myself, often lack," said Alpert. "The intellectual support the membership provides to each other is very valuable in figuring out the right path forward. That knowledge has helped me avoid obvious potholes, which we might have otherwise hit."
Sabatino thinks Pangea has a chance to carve out a niche linking buyers to low-cost providers of business services.
"I've had more-seasoned professionals do the same job with the same kind of cash competitively who crank it out the way they've always done the job," he said. "But sometimes when you approach someone who hasn't been doing it quite as long or in the same way, that fresh perspective can often provide some new and different results."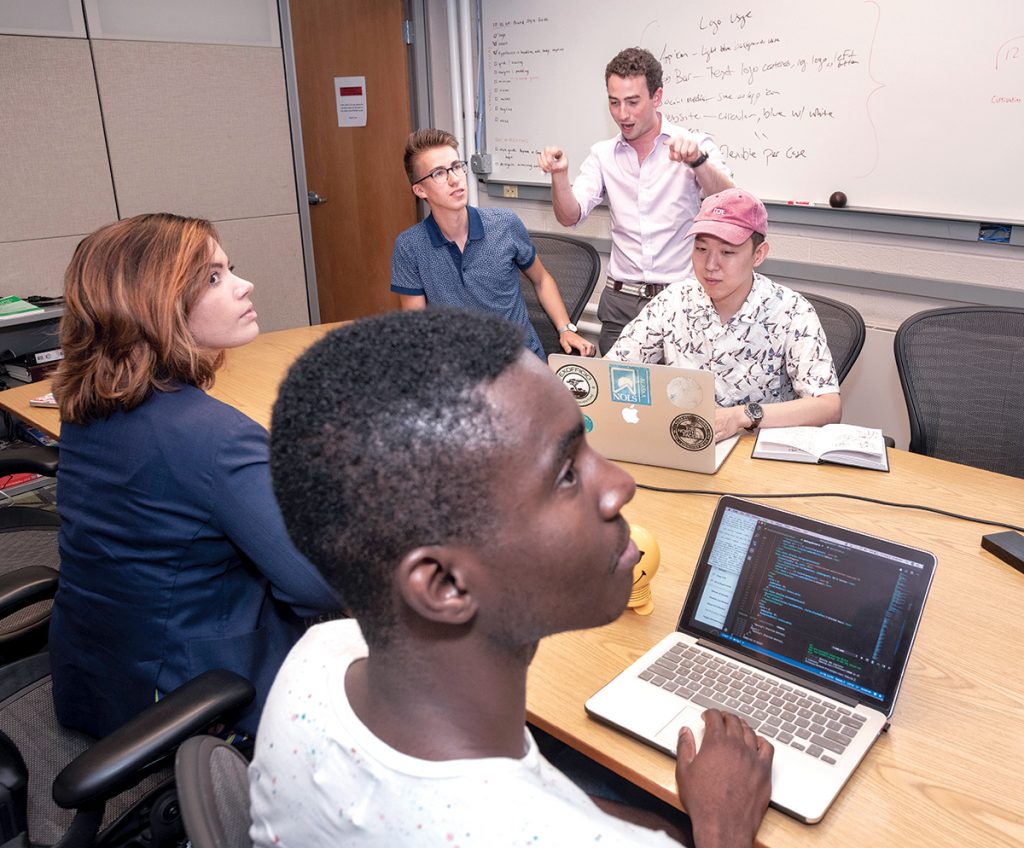 RACE AGAINST TIME
So far, however, the company has managed only a small list of 500 providers, who collectively have earned a little more than $1,000 during a tightly controlled testing phase.
"Time is not on our side," acknowledged Alpert, who, like his two co-founders, receives no salary.
The company says it has raised $90,000 in private investment from several sources, including family members and $8,500 in early-stage, nonequity grants from Brown. It also has an individual investor Alpert has declined to name who enabled the company to hire paid summer interns.
Pangea has managed to maintain incubator space through Brown's School of Engineering, including consulting help from Harry. In return, Pangea provides mentoring for graduate students in the program.
The interns have helped the three founders, who include 2016 Brown computer science graduate John Tambunting, work out a host of bugs.
This involved several front-end, graphical issues. Posts would be clicked on and failed to expand with more information on the offering.
"The information wouldn't show up, and the app would continue running," said Tambunting.
There were also app crashes to unravel and the database also had to be secured by authenticating users and authorizing data. In other words, ensuring users are who they say they are, and that data can only be accessed by those authorized to do so.
"A lot of that I had to figure out and learn," said Tambunting.
Looking forward, Tambunting expects the website to be able to identify products or services that users have already expressed a need for or interest in. "We will tailor the experience for each user so that they all have their own custom feed of what is important to them," he said. As a result, relevant offerings and requests will show up higher in each user's feed.
The company has yet to collect any money from the site.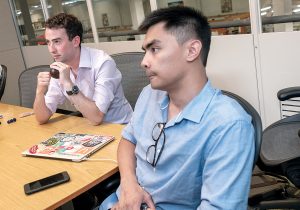 It has decided it will not charge a commission until reaching 10,000 users. Once there, a 10 percent commission on each transaction will be covered by the provider.
And there are no immediate plans to attract revenue-generating ads to the site. "Running ads at this early juncture will not help us accrue the necessary user base," said Alpert.
So, the company hopes to attract more early-stage capital and is considering applying for a state grant, to help keep paid interns on the job.
The state, through the Department of Labor and Training, does help hire interns or provide job training but it is unclear if the startup would qualify.
"There's only so long you can work on something and not get paid," Tambunting acknowledged, adding the founders have each contributed thousands of dollars to keep the dream alive.
"We both had offers to take a more stable path where we could be getting a paycheck every two weeks," Tambunting said of job opportunities he and Alpert turned down. But they remain convinced the company has something different to offer the marketplace.
"The biggest thing that I see that is unique about Pangea is it facilitates real-life connections," Tambunting said. "The idea that you would meet with a person. A lot of social networks connect people, but they don't bring people closer together."
Alpert says the company chose to stay in Providence in part because of the low rents and general affordability.
"I could never afford to start a business in Boston, New York or San Francisco," admitted Alpert. "My burn rate would be insane, and I wouldn't have been able to make it this far.
"We might as well start in the market we know best," he added.
The challenges to date and uncertain financial future for the company don't have any of the founders looking back with regret, however.
"This is our lives," said Alpert, "and we want [the business] to be in our lives for a long time."

Want to share this story? Click Here to purchase a link that allows anyone to read it on any device whether or not they are a subscriber.