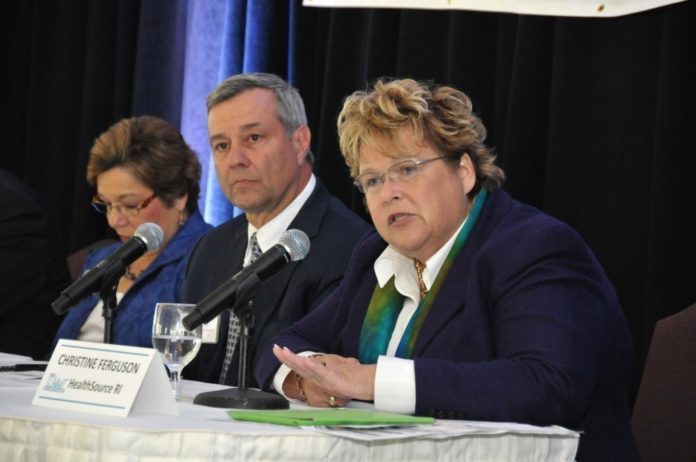 WARWICK – The ongoing need to contain costs amid the upheaval of a changing health care landscape will be a central theme of the Feb. 27 Providence Business News summit on health care reform and the insurance exchange.
Al Charbonneau, a relative newcomer to the Rhode Island health care scene who recently became executive director at the Rhode Island Business Group on Health, will participate in the second of two panel discussions at the event, entitled the "Health Benefits Exchange Summit." It will be held at the Crowne Plaza Providence-Warwick from 8 a.m. to 11 a.m.
Rhode Island, Charbonneau observed in a recent email, is already doing a lot of things right in health care.
"My impression … is that [Rhode Island has] a high-quality 'system' that has an opportunity to improve its cost performance," Charbonneau said. "There are many working very hard to improve the affordability of health care in the state."
Part of the responsibility for managing costs, Charbonneau said, falls to HealthSource RI, the state's health insurance exchange.
"The exchange has an opportunity to enable tax benefits and subsidies which will help make insurance more affordable," he said. "This mission argues for a focused staff whose costs do not substantially increase premiums."
He said that so far, in his first weeks on the job, it appears that people in the Ocean State are open to what worked well in Rochester.
"Over the last few years, I have analyzed the cost-containment experiences in the Rochester, N.Y., region," said Charbonneau, who will participate in a panel discussion focused generally on health care reform and the exchange. "I have identified the major factors such as global budgeting, substantial incentives like predictable hospital revenue, transparency and collaboration that led to the savings gained over the life of the experiment. I have begun to share these thoughts with business, community, and health care leaders here because the Rhode Island health system is amenable to these kinds of initiatives."
A form of collaboration in Rhode Island's health care industry, as elsewhere around the nation, is payment bundling, which incents providers to follow patients' progress throughout their treatment, keep outcomes at their absolute optimum, and contain costs.
The Centers for Medicare and Medicaid Services has been an innovator in the area of bundling, and area hospitals increasingly tailor their services to fall within CMS' standards. But bundling innovation hardly ends there.
Blue Cross & Blue Shield of Rhode Island recently announced a bundling agreement with South County Orthopedics and South County Hospital. According to Blue Cross President and CEO Peter Andruszkiewicz, who will join Charbonneau on the panel, more such arrangements are in the works.
"We're really proud of the bundled payment agreement with South County Hospital and South County Orthopedics," Andruszkiewicz said in an email. "It's a thoughtful way of improving quality outcomes and the patient experience, while also managing costs. The response thus far has really been positive and we're looking forward to seeing the impact once meaningful data becomes available. "We are in discussions with other provider groups about similar bundled arrangements and hope they will start to move forward in the near term," he said.
Andruszkiewicz also said that bundling is no cure-all for the health care system.
"This is just one of many approaches that can make sure care is more integrated, patient focused and cost-effective," he said. "Using quality metrics, population health management, shared savings contracts and other tools all have to be part of the conversation between us and the provider community."
One of the most successful businesses to take CMS' bundling offers to heart in the Ocean State is Coastal Medical, whose president and CEO, Dr. Alan Kurose, will also be part of the health care reform panel. He told PBN that improved care is always the priority and that accountable-care organizations like Coastal are thriving in the new health care environment.
"There seems to be a growing consensus amongst thought leaders that the 'old' model of the completely independent two-or-three-doctor practice may not be sustainable," Kurose said.
He added that as change in health care delivery continues to accelerate, certain important values remain.
"If 'old school' means taking the time to know patients as individuals, to listen to them, and to understand their values and concerns, then we will always need 'old school' services," he said. "That's how we care for patients at Coastal."
Also Kurose on the panel will be Dennis Keefe, president and CEO of Care New England; Stephen Farrell, CEO of UnitedHealthcare of New England and Tom Crosswell, Tufts Health Plan president and chief operating officer.
The summit's first panel discussion will focus mostly on the state insurance exchange, and include Christine Ferguson, its executive director. The exchange earlier this month announced it had received a $6.1 million grant from the Centers for Medicare and Medicaid Services to assist with its small-business enrollment efforts.
Ferguson told PBN earlier this month that enrolling in the Small Business Health Options marketplace has challenging and even experienced brokers were running into difficulties. The grant will be used to help make the system more user-friendly, she said.
Serving on the summit panel with her will be Sam Slade, employee-benefits- practice leader at USI Insurance.
Federal reforms and the changes brought by HealthSource RI to the state's insurance marketplace have been challenging, he acknowledges, though he's experienced more difficult years.
"I have definitely seen tougher years," Slade said. "When renewal increases averaged [more than] 15 percent (a few times in his career) it was really brutal. … COBRA and HIPAA and FMLA all added huge workloads when they came into being."
Over the past year, he said, "We spent a lot of time … waiting for guidance, waiting for changes that often came last minute, waiting to see what plans would be offered where, waiting for rates to be published," he said. "That wasn't much fun."
But he acknowledged that whatever the state's brokers have had to deal with probably didn't measure up to what those staffing the state's health care exchange had been going through.
"I have to believe that last year has been most challenging for the folks at HealthSource RI," he said. "Whatever folks may think about what they have created and however valid some of the criticism we are hearing (about costs and other issues) may be, I am certain that [Ferguson] and her team have worked incredibly hard … to build something that they believe is functional and helpful."
James Raiola, a financial planner and broker, and R.I. Health Insurance Commissioner Kathleen Hittner will also join the panel discussion on the exchange.