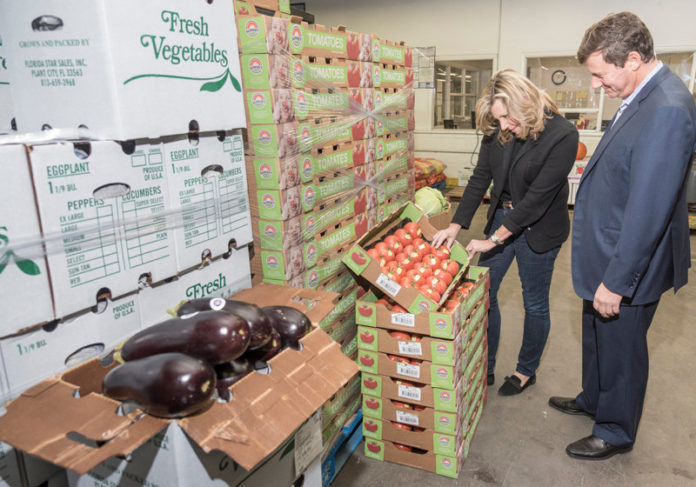 When a business has been around for more than a century, it's been doing something right. For Tourtellot & Co. Inc., it's always been about preserving relationships and changing with the times.
Tourtellot, a fruits and vegetables wholesale distributor based in Warwick, was established circa 1896. The company was run by the Tourtellot family until the late 1950s, when it was bought by Irving Sigal.
Today, the store remains with the Sigal family, owned and operated by Irving's children, Andrew Sigal, Steven Sigal and Jamie (Sigal) Manville. But beyond the passage of time and turning over of generations, the core business model of Tourtellot remains: selling produce to local and regional grocery stores.
"Most of the supermarkets in this area buy their produce from Tourtellot," said Steven Sigal.
The company also operates outside of Rhode Island, selling produce in Maine, New York and Pennsylvania. Sigal says the produce distribution industry has changed throughout the many years they've been in business.
Namely, he said, there weren't so many chain stores "back in the day" and supermarkets didn't have their own warehouses. But Tourtellot has been able to change with the times, finding niches in Rhode Island and by expanding into outside markets.
"There's been an evolutionary change where we've re-created ourselves," Sigal explained. "The challenge is to stay relevant in the marketplace."
One way Tourtellot stays relevant, Sigal added, is through long-maintained relationships.
"We have deeply rooted relationships that go back many, many years with most of the local farmers and growers," Sigal said.
Besides the local growers, Tourtellot has also maintained working relationships with larger producers, including Dole Food Co., Driscoll's and Sunkist Growers Inc.
The owners each got involved in the family business in different ways, but it was a staple of their childhood. When growing up, the Sigal brothers would spend summers and school vacations working at Tourtellot. Steven Sigal remembers at the age of 16 getting woken up at 1 a.m. by his father, who was air-trumpeting the cavalry charge and flickering the lights.
"I unloaded a trailer of lettuce and peaches by the time it was 4:30 a.m.," Sigal said with a laugh.
Manville joined in her mid-30s, after having worked with Bay Bank.
Andrew Sigal joined full time after graduating from law school. He took over as president in 2000 and four years later the company moved from an old distribution warehouse on Harris Street in Providence to a 40,000-square-foot facility at 99 Colorado Ave. in Warwick. The company already plans to augment the space with an additional 15,000 square feet.
"There's more focus on buying fresh and eating fresh, so there's so much more demand for produce," Steven Sigal said. •