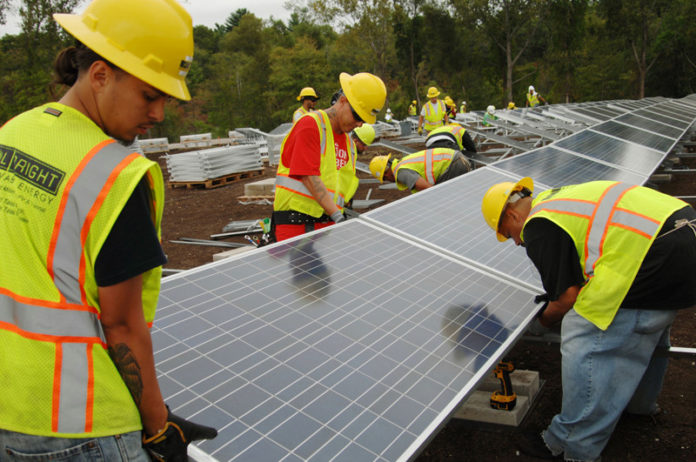 NORTH KINGSTOWN – A North Kingstown company developing clean energy projects plans to create roughly 500 jobs, with hiring starting next year, for two solar panel construction projects in Rhode Island.
About 100 of the jobs will be permanent, while the rest will be temporary construction jobs, including a number from subcontractors hired for the projects, Green Development LLC said Tuesday.
The company plans to have job fairs about every three months for the next year and a half.
Pay will range from $45,000 a year to $150,000 a year for a variety of professionals, including heavy equipment operators, laborers, electricians, truck drivers, and drafters. The company plans to begin job interviews next month.
"We will be developing renewable energy projects throughout Rhode Island in the coming years and want to prioritize hiring locally," said Green Development Chairman and Founder Mark DePasquale.
"Our goal is to have these projects spur economic development and job creation opportunities right in the communities where the projects are located," DePasquale said.
Green Development plans to begin solar projects in Exeter and North Smithfield in 2019 and 2020. Currently, the company has about 50 permanent employees.
The company will host job fairs to recruit employees, beginning with a Sept. 4 event at Dan's Place restaurant in West Greenwich.
Town officials in Exeter and North Smithfield have approved the projects, and financing already is in place, said Bill Fischer, a spokesman for the company.
"We're hoping to start construction early next year," Fischer said. "We're working out agreements with the towns."
The solar projects would involve several sites in Exeter and another site in North Smithfield. When completed, the projects would produce a combined 120 megawatts of power, he said.
Green Development currently operates wind and solar energy facilities in Rhode Island that produce about 26 megawatts of power, and the company expects to increase that to 50 megawatts by the end of the year, according to Fischer.
Meanwhile, the company is concerned about finding enough qualified workers for the Exeter and North Smithfield projects due to a tight labor market.
"We're worried about a labor shortage," Fischer said. "We need certain skillsets. And we're not the only one looking for them."
Scott Blake is a PBN staff writer. Email him at Blake@pbn.com.