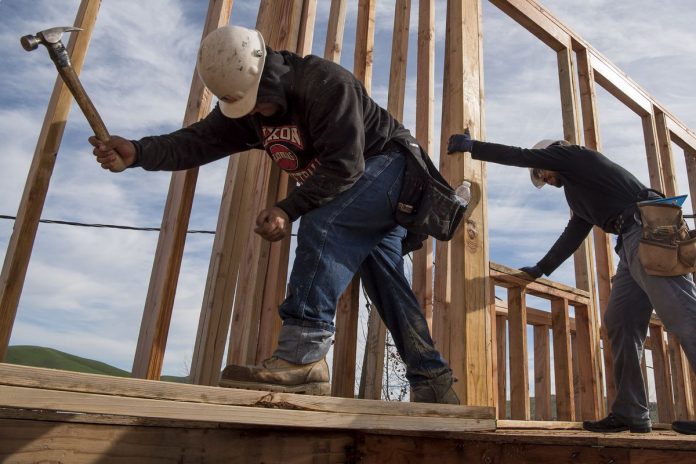 PROVIDENCE – Rhode Island construction employment declined 0.5 percent year over year in February from 19,600 to 19,500, one of 14 states that saw jobs in the sector decline year over year, and placing the Ocean State No. 40 in the Associated General Contractors of America ranking of state construction employment.
Rhode Island was one of four states in New England with a year-over-year decline in construction employment. Its 0.5 percent decline was the smallest percentage decline in the sector in the region.
Connecticut had the highest New England construction employment growth in February year over year, increasing 6 percent, or 3,500 workers, to 62,000 workers employed in the sector.
West Virginia was reported to have the highest percentage of construction-employment growth of any state in the nation in February, rising 46.4 percent year over year. Maine had the sharpest construction-employment decline in the nation, falling 6.8 percent year over year to 27,300 workers in February.
February New England construction employment trends:
Connecticut: Increased 6 percent year over year to 62,000 workers
New Hampshire: Increased 4.1 percent year over year to 28,000 jobs
Rhode Island: Declined 0.5 percent year over year to 19,500 workers
Massachusetts: Declined 0.7 percent year over year to 156,900 workers
Vermont: Declined 5.8 percent year over year to 14,600 workers
Maine: Declined 6.8 percent year over year to 27,300 workers
Rhode Island construction employment increased 100 workers from January to February, or 0.5 percent, ranking No. 9 in the nation for employment growth speed.
The AGCA said that construction employment increased in 37 states year over year in February and declined in 13 states and the District of Columbia.
"Although job growth remains widespread on a year-over-year basis, the combination of exceptionally bad weather and record low unemployment in many states stopped the growth of construction jobs at least temporarily in February," stated AGCA chief economist Ken Simonson. "The record number of job openings in construction reported in the government's Job Openings and Labor Turnover Survey for January shows that finding qualified construction workers is still a challenge."
Read specific details about Rhode Island's employment figures HERE.
Read how the Rhode Island unemployment rate performed in relation to other states HERE.
Chris Bergenheim is the PBN web editor. Email him at Bergneheim@PBN.com.