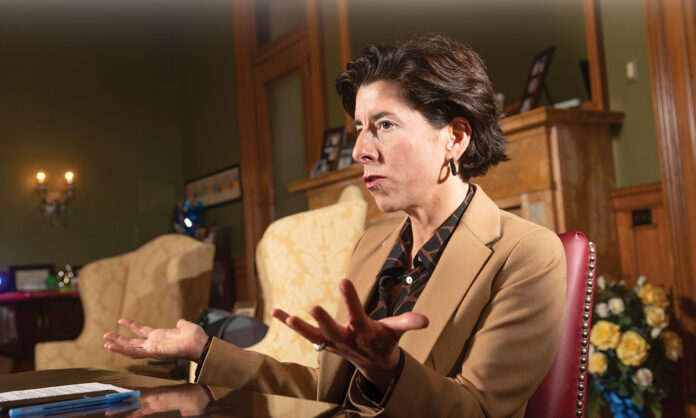 PROVIDENCE – The number of positive COVID-19 cases in Rhode Island increased by 33 Thursday, bringing the state total to 165, according to Gov. Gina M. Raimondo.
During her daily news briefing, Raimondo said she will be signing an executive order on Thursday mandating anyone who has traveled from the New York to Rhode Island to self-quarantine for 14 days. This also applies to anyone who has been to New York in the past 14 days.
The order will include assigning R.I. State Police troopers to flag down cars with New York state plates entering Rhode Island and requiring contact information.
"This is different, this is unusual, this is radical, [but] I believe this is necessary," Raimondo said.
Members of the National Guard will be on hand at bus and train stations to collect contact information from New Yorkers arriving in Rhode Island as well.
Information will be used by public health officials only, the governor said.
Providence Mayor Jorge O. Elorza announced Thursday that he has extended the city's state of emergency through April 17 and warned another extension was likely.
The declaration continues the ban on dine-in services at restaurants and bars, the 10-person crowd limit, suspension of all entertainment licenses and the closure of non-essential businesses such as hair salons and gyms. He also urged residents to stay home apart from essential activities as a way to help "beat the pandemic back."
The April 17 deadline does not mean people should expect normal activities to resume immediately after, Elorza said, adding that residents and business owners should plan for the current set of restrictions to remain in place through at least the end of April.
Mirroring the decision announced by Gov. Gina M. Raimondo earlier Thursday, Elorza also said the city will require anyone entering the state from New York – including those who traveled there within the last 14 days – to self-quarantine for two weeks.
Public Safety Commissioner Steven Pare reported that the city has secured a short-term site for public safety officers to self-quarantine, though none of the police officers or firefighters with potential exposure or travel-related quarantines have opted to use it.
Elorza touted the city's aggressive position on coronavirus-related restrictions, noting that it was the first city in the state to declare a state of emergency and the first in the country to offer a designated quarantine site for public safety officers.
The city will also be making an announcement by early next week regarding delays to its tax deadlines, Elorza said.
Statewide, 23 people with COVID-19 are currently hospitalized, said R.I. Health Director Dr. Nicole Alexander-Scott. Of that group, six people are on ventilators.
Efforts by state officials continue to ramp up testing, but are still hampered by low supplies of equipment and testing kits.
Raimondo said the state is aiming to perform 1,000 tests per day by next week, about double what it is doing now.
Because testing has been limited, the virus is likely more widespread than numbers indicate, Alexander-Scott said.
"The numbers that we are reporting for cases we know are not reflective of all of the cases that are out there," she said. The state's "aggressive community mitigating measures are because we know there are cases out there in the community."
Tests are still being prioritized for hospital patients, health care workers and residents of facilities such as nursing homes, she added.
Raimondo addressed small-business owners directly in her news briefing, saying that starting Friday, any business can access free tech support via teleconference or over the phone. The program was coordinated by the R.I. Commerce Corp. and is supported by companies such as Infosys, Vertikal6 and others.
The program will help businesses decide which equipment and software to purchase. And it will provide support in how to convert operations to a digital form.
The number will be 401-521-HELP and will be live Friday.
State leaders voted Thursday to approve $300 million in borrowing related to the slowdown in funds due to the new coronavirus.
(UPDATED to reflect that state leaders voted to approve $300 million in borrowing and to add Providence Mayor Jorge O. Elorza's extension of the city's state of emergency until at least April 17.)

Want to share this story? Click Here to purchase a link that allows anyone to read it on any device whether or not they are a subscriber.