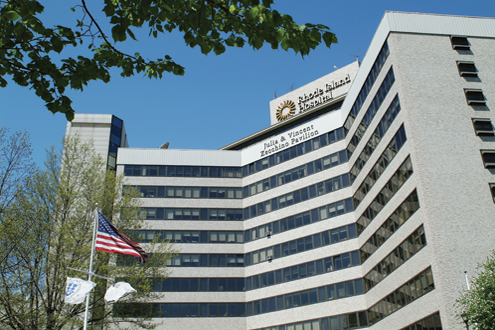 PROVIDENCE – Rhode Island Hospital and United Nurses and Allied Professionals Local 5098 filed unfair labor practice complaints against each other Thursday criticizing each other's actions in negotiating a new contract.
The previous contract expired June 30. An earlier impasse between the parties resulted in a four-day strike from July 23 at 3 p.m. until July 27 at 3 p.m. The union had intended a three-day strike, but replacement personnel contracted by the hospital were hired for a four-day minimum, keeping the regular employees out of the hospital a fourth day.
Rhode Island Hospital's unfair labor practice claim against the United Nurses and Allied Professionals Local 5098 with the National Labor Relations Board asserts the union has negotiated for a new contract in bad faith.
Rhode Island Hospital, owned by Lifespan Corp., alleges in its claim the union's bargaining team reneged on an agreement to support a memorandum of agreement with the hospital July 5, that it introduced new proposals or language concerning resolved issues and made new proposals after issuing its strike notice instead of focusing on established issues. Also, the hospital argued the union held its strike over issues that had not been the subject of a proposal on the table.
UNAP alleges Rhode Island Hospital changed a number of workplace conditions that are subject to collective bargaining.
"After the recent work action and lockout ended, Lifespan unlawfully instituted unilateral and punitive changes to employee terms and conditions of employment and deliberately targeted members of the collective bargaining unit who freely exercised their protected right to strike," said Chris Callaci, UNAP general counsel.
UNAP contends Lifespan initiated illegal call-off procedures when it prevented a number of union members from returning to work immediately after the lockout ended at 3 p.m. on July 27. Also, UNAP says, the hospital denied at least one vacation request of a UNAP Local 5098 bargaining team member who has been an outspoken critic of Lifespan's policies. A similar request for vacation was approved for at least one other employee who has not been part of the negotiating process.
"These aggressive, retaliatory measures were adopted as a means to threaten and intimidate union members and Lifespan management should be embarrassed by its boorish behavior," Callaci said.
"Based on the unfair and disingenuous approach being taken by UNAP leadership, it may be challenging to reach a formal agreement, despite Rhode Island Hospital's demonstrated willingness to address key issues, including most recently immediately agreeing to a labor management agreement designed to address issues related to staffing and supplies," said Anthony D. Rizzotti, Rhode Island Hospital's outside counsel. "We believe it is critical that both parties engage in a good faith effort to resolve this contract, to ensure that our community continues to have uninterrupted access to the high-quality care Rhode Island Hospital provides."
"The hospital knew ahead of time that we intended to file charges this morning and [it] looks as if Lifespan filed charges to distract the public's attention from their own unlawful conduct. We look forward to litigating these matters before the NLRB," Callaci said.
Rob Borkowski is a PBN staff writer. Email him at Borkowski@PBN.com.