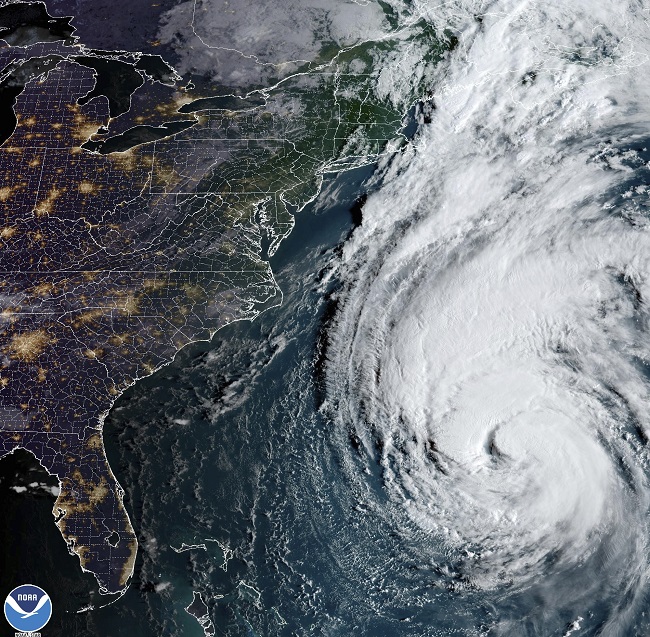 PROVIDENCE – Rhode Island is now preparing for Hurricane Lee, just days after a tornado moved through the state. 
Although the Category 1 hurricane is not expected to hit Rhode Island directly, rain, strong winds and heavy surf are expected across the Ocean State.  
A tropical storm warning was in place from Maine to Massachusetts, including Cape Cod and the islands, and part of Maine was under the first hurricane watch in 15 years as the storm packing powerful gusts and 20-foot ocean swells approached. Forecasters said there would be tropical storm-force winds – 40 mph or greater – across an area spanning more than 400 miles ahead of landfall Saturday afternoon. 
"We've mobilized all of state government to ensure Rhode Island is prepared for the potential impacts of Hurricane Lee and additional severe weather over the next few days. We are monitoring the situation closely and we are prepared," said Gov. Daniel J. McKee. "We ask Rhode Islanders to stay tuned to your local news and our government social media channels for the latest updates." 
Rhode Island Energy said it will have 2,000 personnel ready, including overhead line, forestry, contractors, underground, damage assessment, wires-down, transmission, substation, municipal liaisons, and call center staff. Crews will be staged across the state and ready to respond once the storm arrives in the area late Friday. The R.I. Department of Transportation said it has crews ready to deal with fallen limbs or trees blocking roads and has additional vendor tree crews standing by to assist. 
President Joe Biden granted a disaster declaration requested by Maine Gov. Janet Mills to ensure access to federal resources and personnel, officials said Friday. Mills already declared a state of emergency for the state. 
While landfall was projected for nearby Nova Scotia, the storm is big enough to cause concerns over a wide area. Parts of coastal Maine could see waves up to 15 feet high crashing down, causing erosion and damage, and the powerful gusts will cause power outages in a state where the ground is already saturated from heavy rain, said Louise Fode, a National Weather Service meteorologist in Maine. Up to 4 inches of rain was forecast for eastern Maine. 
In Canada, residents were warned about the risk of power outages and flooding a year after the remnants of Hurricane Fiona washed houses into the ocean, knocked out power to most of two provinces and swept a woman into the sea. 
Canadian Prime Minister Justin Trudeau was convening the incident response group, which meets only to discuss events with major implications for Canada. Consisting of Cabinet ministers and senior officials, it was previously convened for events, including the start of the COVID-19 pandemic in 2020 and the record wildfire season this year. 
In New England, the Coast Guard and emergency management agencies also warned residents to be prepared, and utility companies brought in reinforcements to deal with any power outages. At Boothbay Harbor Marina in Maine, the community came together to remove boats from the water to keep them out of harm's way. 
"It's a batten-down-the-hatches kind of day," owner Kim Gillies said Thursday. 
Similar scenes played out elsewhere, including at Kennebunkport Marina, where crews planned to take 100 boats out of the water, said Cathy Norton, marina manager. 
Commercial lobster fisherman Steve Train said fishermen have been sinking gear in deeper water to protect against storm damage. Fishing boats were also headed to the safety of harbors. 
Earlier in the week, the region saw 10 inches of rain over six hours. Tornado warnings were issued Sept. 13 in Massachusetts and Rhode Island, and more heavy rain created sinkholes and brought devastating flooding to several areas. 
The National Weather Service in Boston confirmed Thursday that damage to trees and power lines in Massachusetts, Rhode Island and Connecticut the day before was caused by four tornadoes. 
Dozens of trees snapped or were uprooted by a twister in the town of Glocester, R.I., and a structure used as a bus shelter was blown away, the weather service said. The three tornadoes in Connecticut and Rhode Island were categorized as EF-1, while the one in North Attleborough was an EF-0. 
Friday morning, Lee was spinning about 490 miles (785 kilometers) southeast of Nantucket, Mass., and moving away from Bermuda, with maximum sustained winds of 85 mph (140 kph), according to the National Hurricane Center. 
Maine's eastern coast – known as the Down East region – and the coast of Nova Scotia and New Brunswick were expected to bear the brunt of the storm, which was traveling north on a path that could lead to landfall Saturday afternoon in Nova Scotia, possibly as a tropical storm. 
One thing is working in the region's favor: The storm surge will not be accompanied by an astronomical high tide, helping to lower the risk for coastal areas, Fode said. 
New England has experienced its share of flooding this summer, including a storm that dumped up to two months of rain in two days in Vermont in July, resulting in two deaths. Scientists are finding that storms around the world are forming in a warmer atmosphere, making extreme rainfall more frequent. 
In Maine, the last time a hurricane watch was declared was in 2008, for Hurricane Kyle, but residents are accustomed to rough weather. Lee's projected wind, rain and surf are akin to a powerful Nor'easter, and Mainers are familiar with those. 

Want to share this story? Click Here to purchase a link that allows anyone to read it on any device whether or not they are a subscriber.