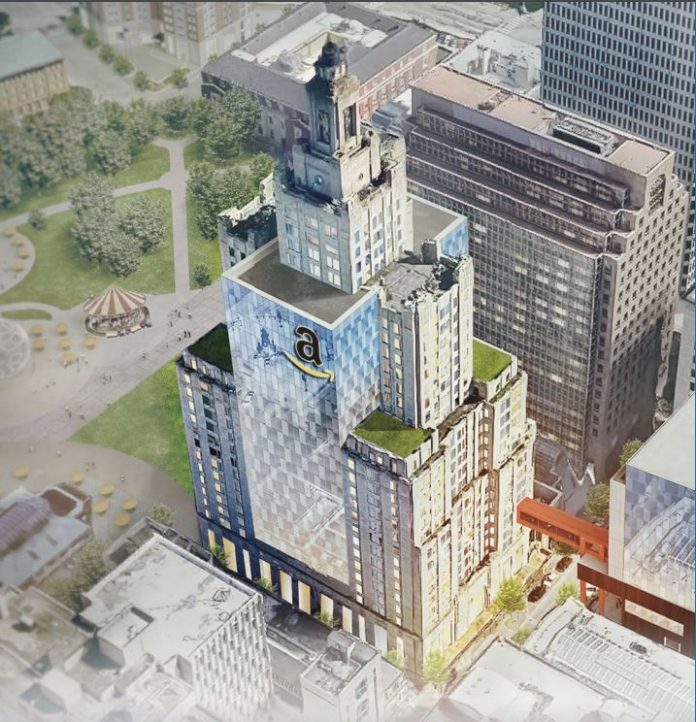 PROVIDENCE -The R.I. Commerce Corp. released its Amazon HQ2 Request For Proposals response Friday on its website, Rhode Island for Amazon.
Commerce RI redacted the amount of incentives available to Amazon.com Inc. in the release, but did list which incentives and financing benefits the company would qualify for with a Rhode Island HQ2 site:
Qualified Jobs Incentive tax credits.
Rebuild Rhode Island tax credits.
Sales and Use Tax Rebates through the Rebuild RI tax credit.
Wavemaker Fellowships would apply to some Amazon workers.
Tax increment financing.
A Commerce RI spokesman said the incentive amounts were redacted because the state has remained in dialogue with Amazon about other potential opportunities and to protect its competitive advantage in negotiations with other potential companies looking to expand or relocate to Rhode Island.
The pitch featured a Downtown Providence pitch that included a previously unreleased glass-laden re-envisaging of the Superman Building.
The pitch was centered around five locations in the state: Downtown Providence, which centered on the Superman Building and adjacent sites; the Providence Station Campus near the Amtrak station; and sites in the Providence Jewelry District, the "Farmers Market" site along the curve of Interstate 95 and Route 10 across the highway from the Providence Place mall, and a site near the future Pawtucket and Central Falls commuter rail stop.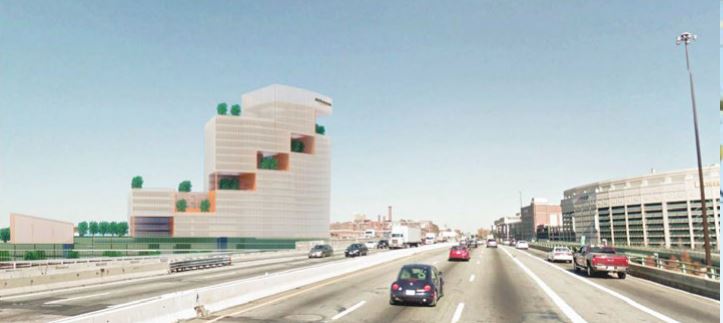 The pitch also included sites in East Providence, Warwick, North Kingstown, Richmond and Woonsocket.
The pitch largely highlights the state's strengths, featuring a rundown of companies, schools, the real estate market and business environment.
The state argued it had an established talent pipeline, that it was affordable, regionally advantageous, fiscally responsible and touted a "nimble government," among other amenities, including incentives.
The bid also included a section called Amazon Academy, which would pair colleges and universities in the state with Amazon for continuing education for its employees. Schools would come together to identify and develop module programs, initiatives, certificates and degrees to enhance job-related skills and programming. Universities would work together, rather than in an isolated manner for the project.
Commerce RI said it is already "building upon the conversations that occurred around the Amazon bid to explore ways that universities and companies in Rhode Island may strengthen and expand their partnerships."
Other details of the pitch:
The RFP included a pitch of autonomous buses in dedicated bus lanes in Rhode Island – it was confirmed that no such project exists yet.
A potential energy microgrid in the Jewelry District.
A two-year expedited construction schedule.
Letters from public officials and business leaders advocating for Rhode Island as an HQ2 location.
Commerce spokesman Matt Sheaff said Amazon "indicated that they were impressed by our bid and that they would continue to draw upon it as they speak with Rhode Island about other opportunities."
The full RFP response may be found here.
Chris Bergenheim is the PBN web editor.