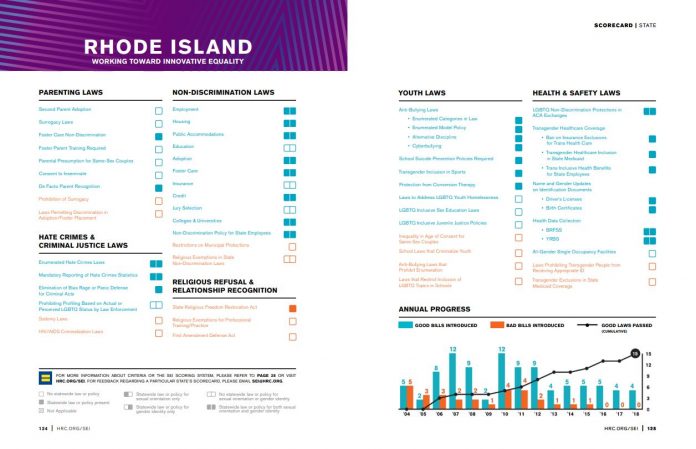 PROVIDENCE – Rhode Island was designated as a state that is working toward innovative equality for LGBTQ citizens in the latest State Equality Index, compiled by the nonprofit Human Rights Campaign Foundation for the time period through the 2018 legislative season.
The innovative equality designation was the most progressive label assigned in the report. Rhode Island was one of 17 states in the country with the designation. Five of those 17 states are in New England: Connecticut, Maine, Massachusetts, Rhode Island and Vermont.
New Hampshire received the second highest rating, "solidifying equality."
The bottom two tiers were the second lowest, "building equality" and the lowest, "high priority to achieve basic equality." Twenty-eight states were in the bottom tier in 2018.
The report noted that in 2018, four bills the HRC deemed to be good bills were introduced in the Rhode Island legislature, while no bills it deemed bad were introduced. There were 15 laws in Rhode Island that the HRC endorsed as laws that promote equality for LGBTQ residents since 2005.
The laws monitored by HRC include parenting laws, hate crimes and criminal justice laws, non-discrimination laws, religious refusal and relationship recognition laws, youth laws and health and safety laws.
"We are cautiously optimistic that state legislators are hearing from their constituents and key stakeholders the message that LGBTQ equality is good for business – and that anti-LGBTQ legislation can inflict irreparable economic and reputational harm on states that adopt or seriously consider such bills," the report said.