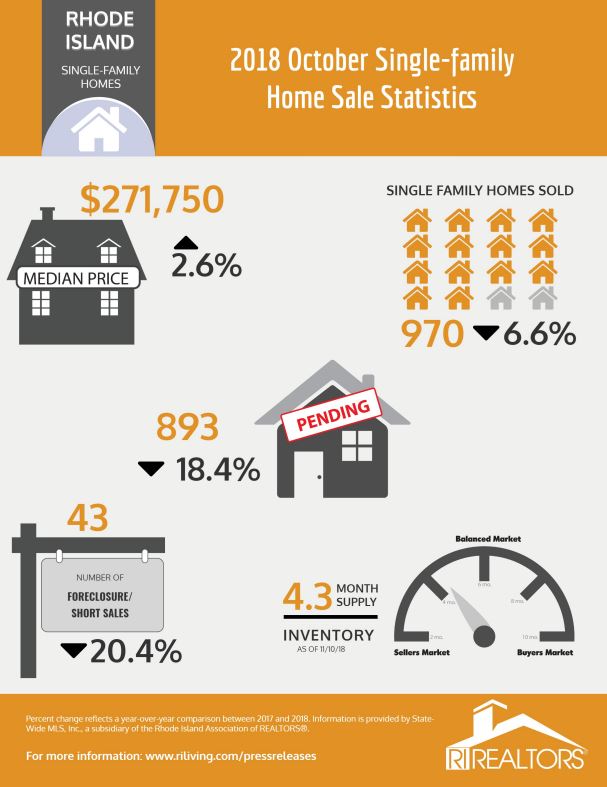 PROVIDENCE – The median price of a single-family home in Rhode Island increased 2.6 percent year over year in October, to $271,750 from $261,300, according to the Rhode Island Association of Realtors Wednesday.
The number of sales of single-family homes in the Ocean State declined 10 sales year over year to 970 sales. The average days on market for a home remained level at 55 days from October 2017 to October 2018. There were 3,802 listings in October, a slight increase from 3,793 listings in October one year prior.
"We didn't see any surprises in the single-family home market last month. Rhode Island's housing trends have been consistent," said Dean deTonnancourt, president of the Rhode Island Association of Realtors, in a statement. "Though the supply of homes for sale is increasing, it remains low. As a result, closing activity has slowed down since last year but the median price of the homes that did sell, rose from the prior year. While the trends are holding for now, the housing market is starting to become more balanced and price gains are beginning to ease as inventory increases."
Condominium sales in Rhode Island declined to 215 sales in October 2018 from 221 sales in October 2017, while the median price declined 1.2 percent to $197,500 from $199,900. The average number of days on market declined to 47 days from 67 days.
Multifamily-home sales had a median price of $250,950 in October, a 14.4 percent increase from $219,450 one year prior. The number of multifamily homes sold in the month was 190, an increase from 178 sales in October 2017. Listings for multifamily homes increased to 627 in October from 552 the previous year.
"The multifamily-home market has been steadied by enhanced consumer confidence and the lack of options available for first-time homeowners. Investors are jumping in to capitalize on rising rents," deTonnancourt said. "On the other hand, first-time buyers are buying multifamily options to get into an affordable home where the mortgage is offset by rental income. Multifamily properties are a win-win on both ends of the spectrum."
Chris Bergenheim is the PBN web editor. Email him at Bergenheim@PBN.com.