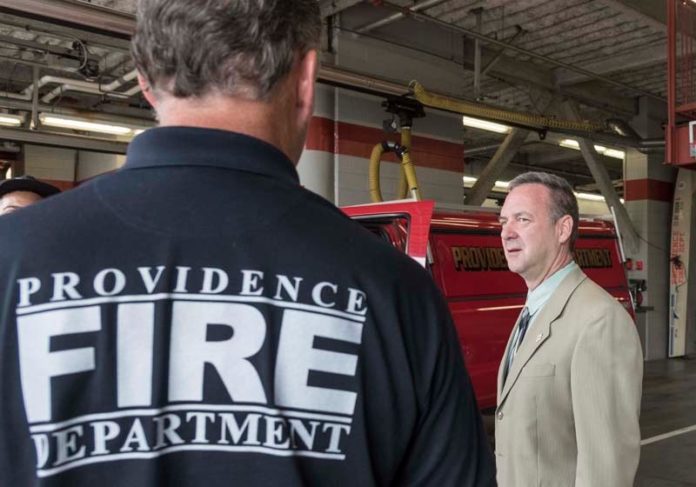 A House-passed bill would eliminate a statewide requirement that police and firefighters live in Rhode Island.
Supporters of 2017-H 5351 say changes could improve the pool of qualified candidates, but critics think communities will lose out if the law is changed.
"I don't want to prevent people from living where they want, but we owe the communities," said Rep. Raymond A. Hull, D-Providence, who voted against the measure. "Our police and firefighters should know the community and be part of it."
Opponents also say the bill unfairly suggests Rhode Island-based candidates for those jobs aren't the most qualified.
Hull said Providence recently saw roughly 2,300 applicants for 60 openings in the police academy's Class of 2017, suggesting no shortage of local applicants.
While bill sponsor Rep. David A. Bennett, D-Warwick, doesn't think Rhode Island candidates are unqualified overall, he said they may not have specialized training, such as SWAT skills.
He added, the bill, passed on March 24 in the House, would ensure local departments have access to the best candidates, including a diverse applicant pool.
"There shouldn't be a barrier at our borders … when it comes to police and fire, you want the best," he said, adding, "We need to hire minorities and women."
In February 2005, state law requiring noncompetitive and classified employees live in Rhode Island was repealed. Cranston officials pressed this year to eliminate the requirement for police and firefighters, Bennett said.
Cranston City Council President Michael Farina said that since 2012 the applicant rate for police and firefighter positions in the city has had "steady declines."
He hopes the bill will allow people on the "periphery of the state" to apply, "driv[ing] up recruitment."
The bill does not affect Rhode Island state troopers, who are required to live in-state.
Providence Local 799 firefighters' union President Paul A. Doughty said his organization supports the bill.
"The wider the net you can cast, the more you can get the cream of the crop," he said. He added that he doesn't see any safety concerns tied to emergency personnel not living in-state.
The 30-year veteran said there were only two occasions when off-duty firefighters were called in during his tenure.
"We're never relying on people coming from home," he said.
Sgt. Robert K. Boehm, president of the Providence Fraternal Order of Police Lodge No. 3, which boasts 1,000 active and retired members, said Rhode Island lacks enough qualified police candidates because the hiring process has often been politicized in the past.
His organization supports the bill, he said, adding the priority should be ensuring local departments have enough quality applicants.
An identical bill sponsored by Sen. Frank S. Lombardi, D-Cranston, is pending in the Senate.