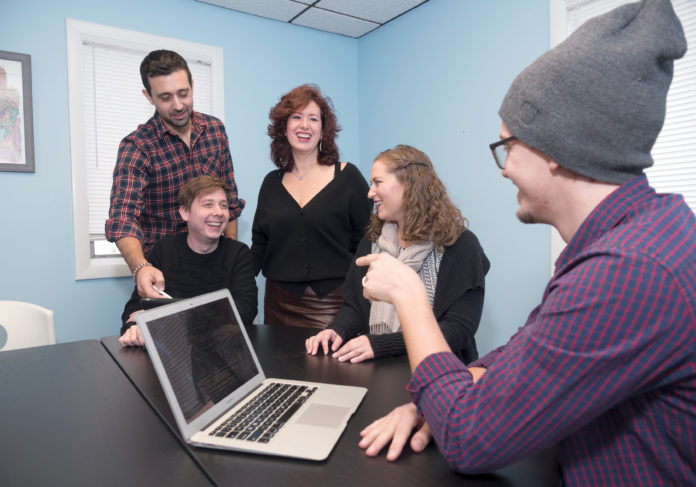 There are companies that start in smaller, some may say less-glamorous, states such as Rhode Island, grow and move on to the Big Apple – and then there is digital-marketing company Technology Therapy Group LLC, led by Jennifer Shaheen, which did the reverse.
The business began in New York City when Shaheen, founder and president, was in college, and now is growing in the Ocean State with a bigger staff and even bigger ideas.
With 83 percent revenue growth from 2014 to 2016, TTG made the Providence Business News' 2017 list of Fastest Growing & Innovative Companies in Rhode Island. And it has done nothing but grow, recently moving from its North Providence location to new digs in Lincoln, adding team members and a new company, the mission of which Shaheen called "where we are headed."
Her success started with education she got in and out of school. Shaheen started the first TTG office in Long Island, N.Y., while she attended Hofstra University, focusing on studies in business, marketing and computers. She also sold computers at Circuit City.
In the midst of school, work and starting a company, she joined a noncompetitive business networking group in the city, which was invaluable. "These companies were [more than] $5 million and $10 million companies," Shaheen said. "I sat in a room with people in business for 15, 20 and 30 years, learning so much about what it is really like to run a business."
Her company moved to Manhattan and then White Plains, N.Y. Her client base grew past New York, then across the United States, then across the globe. Shaheen also offered software trainings and became known as a national tech speaker. Her speaking engagements, she said, set her apart and were hugely valuable in getting clients.
It's just in the past few years or so that her roster of clients has started forming in Rhode Island and Massachusetts.
"Being a true Rhode Islander, I pulled back into the state," she said, moving TTG into a 1,200-square-foot house in North Providence, while keeping a company presence in New York.
Though she's had a single staff member in Rhode Island since 2000, it's just been in the past year that she's begun to leverage the Ocean State presence, Shaheen said, finding the state's abundant universities a definite plus for hiring; she now has 12 employees.
Contributing to the community has been a priority since Shaheen was in New York City. She launched and maintains the NYC chapter of the National Organization for Women website. She is a SCORE volunteer. Shaheen also sits on the board of the Coalition Against Pediatric Pain, a Massachusetts-based nonprofit advocating for children with chronic pain from rare diseases.
Amid new hires, volunteer efforts and budding relationships with new clients, Shaheen observed a distinct lack of certain digital-marketing tools in her industry in recent years, especially in terms of analytics.
She was frustrated separating data to get the information she wanted from the use of a website, specifically information about why the user came to the website and what information they sought. She saw an opportunity.
"We should build our own," she remembered thinking. "Other agencies must be having the same issues, we can give this to them."
An innovation-development project began.
TTG's physical move to Lincoln, then, was the mere tip of the iceberg for changes at TTG. A rebranding will change the name.
Shaheen is launching a second company, kepler12, out of the Rhode Island location. The new company will build the proprietary software apps her digital-marketing agency sought to provide to its website clients but couldn't find.
"We're building a gateway to content identifiers," now in the internal-testing phase, she said.
The software will be used in building websites, offering businesses more specific insight. The goal is to have websites learn from visitors, said Shaheen, and for business owners to be able to learn from that information and make decisions accordingly.
"It will then suggest content changes built on those analytics … we will be able to target women in certain age groups, for instance, see how different people respond to different headlines and images," she said.
Eventually, web pages will be personalized for users, said Shaheen. Owners will learn how the site is tracking users in phase one and "in phase two, it will eventually do it for them."
Shaheen is grooming staff members to manage and grow TTG, so she can focus more on kepler12.
Though she has difficulty finding developers in Rhode Island, she sees the state's tech potential. "It's close to Boston and trying to attract more talent," she said. "I hope bigger tech companies will bring more talent, more to choose from. We have so much we want to provide."