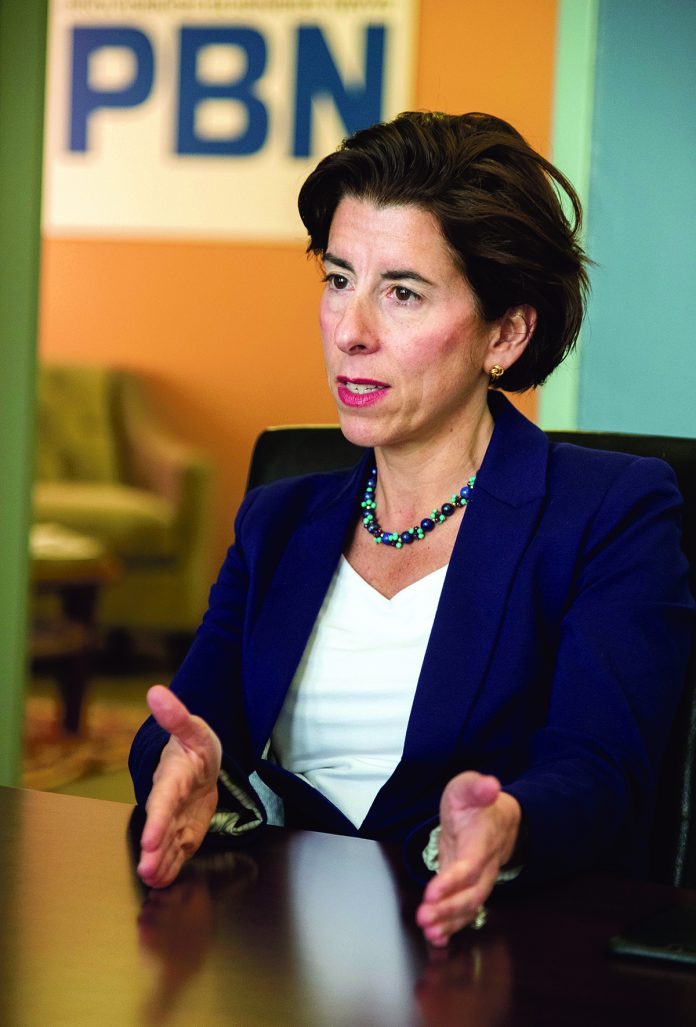 PROVIDENCE – Gov. Gina M. Raimondo announced Friday that Deloitte Consulting LLP will remain under contract with the state through June 2021 to operate and maintain the RI Bridges public-benefits computer system.
As part of the deal, Deloitte will pay Rhode Island $50 million. The company will also provide the state with free and discounted services. The state will only pay Deloitte an estimated $30 million for future operation and maintenance costs over the life of the contract.
The state has received $210 million in repayments, discounts and free services from Deloitte since disruptions with the system began in 2016, including savings from the renewed contract, according to Raimondo.
The project to launch RI Bridges, known as the Unified Health Infrastructure Project, integrated dozens of state and federal benefit programs into one software system.
The Department of Human Services' ill-fated launch of the system, in collaboration with Deloitte, resulted in the backlog of pending applications for programs, including food assistance, temporary cash assistance and child care. The backlog was so large that the programs were no longer in compliance with federal regulations. The project cost hundreds of millions of dollars.
The governor had previously said she couldn't imagine continuing to work with Deloitte following the debacle, but Friday said the company has since significantly improved its performance.
"I made this decision based on what was best for Rhode Island, not for me or my politics," Raimondo said. "The level of disruption that would have been involved of switching over to a new vendor, I can't even imagine. To find another vendor to be willing and to be able to step into something like this. I'm not sure it would be possible. We'd have to start from scratch. We have a functioning system now. Years from now, we'd be still be rebuilding the system."
The governor's office said RI Bridges continues to make substantial progress, including an overall drop in application backlogs, a 70 percent reduction in system issues, 98 percent of Medicaid renewals have been generated timely and accurately, and Supplemental Nutrition Assistance Program timeliness has been above 90 percent for 10 consecutive months.
"The agreement we've reached with Deloitte will bring millions of dollars back to the state, provide Rhode Island with significantly discounted services and ensure that critical benefits relied upon by our citizens are not at risk by an untimely transition to a new vendor," Raimondo said. "This is truly an unprecedented settlement. We are not aware of any other agreement of this magnitude for a system that has been delivered. While we still have more work to do, we would not have reached this agreement with Deloitte if we hadn't made significant progress over the past two years."
Raimondo said federal regulators told her the contract is now "best in class."
Under the agreement, which is subject to federal review, the state will waive claims against Deloitte for prior work. The Governor's Office said Deloitte will continue to focus on system stability and compliance through the end of 2019 and ensure RI Bridges is properly operated through fiscal year 2021.
"No one is saying that our work is done," said R.I. Department of Human Services Director Courtney Hawkins.
"We're not done and Deloitte's not done," echoed Raimondo.
Raimondo said the new contract also better defines Deloitte's responsibilities and requirements.
"The state and its vendor, Deloitte, are making very good progress. For the past several months, the Department of Human Services has met the SNAP 96 percent timeliness standard required by the consent agreement," said Deming E. Sherman, special master appointed by the courts to ensure the state met SNAP standards. "In addition, the customer portal now works well for new applications, and wait times at the call center and in the lobbies remain low. This is evidence that both the technology and the DHS staff are working well together, and I am optimistic that this will continue."
Chris Bergneheim is the PBN web editor. Email him at Bergenheim@PBN.com.