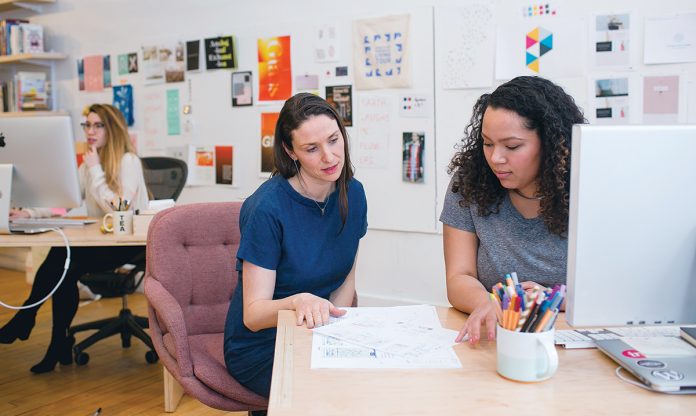 Sarah Rainwater has had a thing for art, dating back to college when she was an art-history major.
After graduating, she became a graphic designer and art director for firms in New York and Los Angeles, where she worked on projects for such heady clients as the Guggenheim Museum, Paramount Pictures and Reebok.
When it came time to break out on her own, she came back to her roots in Rhode Island.
That was 10 years ago: the Ocean State native started her own design firm, aptly named Studio Rainwater. She worked out of a shared work space on Westminster Street in Providence's Financial District.
Eventually, Studio Rainwater found its niche. Work increased. She hired more help. And she moved the business to an office of its own in East Providence, where the firm remains today.
Rainwater makes her living combining her interest in fine art with the modern dynamics of marketing.
"It was very organic, the way it happened," she said about how her business seemed to naturally gel through the years.
Rainwater's firm designs websites, logos, advertisements and printed materials that help her clients boost their brands.
Rainwater, who serves as the firm's creative director and president, doesn't do it alone. There's Sarah Verity, the firm's art director; Willow Rambert, the firm's designer; and Justin Uhr, studio coordinator.
Rainwater's team usually collaborates on project work, but she handles negotiations with clients, although she enjoys the creative side of the business most.
Among Studio Rainwater's clients are some of the Ocean State's best-known educational institutions, such as Brown University and Rhode Island School of Design.
"The schools have been great for long-term partnerships,"­Rainwater said.
Among her firm's more notable clients has been AIDS Project Rhode Island, a division of the nonprofit social service provider Family Service of Rhode Island. Currently, her firm is helping AIDS Project with its rebranding campaign, which includes visual elements that will convey present-day realities of treating and living with HIV/AIDS.
"AIDS is no longer a death sentence," she said, referring to advances in medical treatments. "They're trying to change their image to catch up with the new reality."
In addition, Rainwater said, her small firm is geared to work with other small, local businesses because of the things they have in common, rather than having those clients deal with a larger design firm from out of state.
"Often, they're looking to compete with larger businesses," she explained. "We spend a lot of time [developing] a strategy. We can sit down with them. Certainly, it can be done over the phone. But meeting with them, it helps a lot to understand what they want and translate that into the design."
OWNER: Sarah Rainwater
TYPE OF BUSINESS: Graphic design
LOCATION: 110 King Philip Road, East Providence
EMPLOYEES: Four
YEAR ESTABLISHED: 2008
ANNUAL SALES: WND