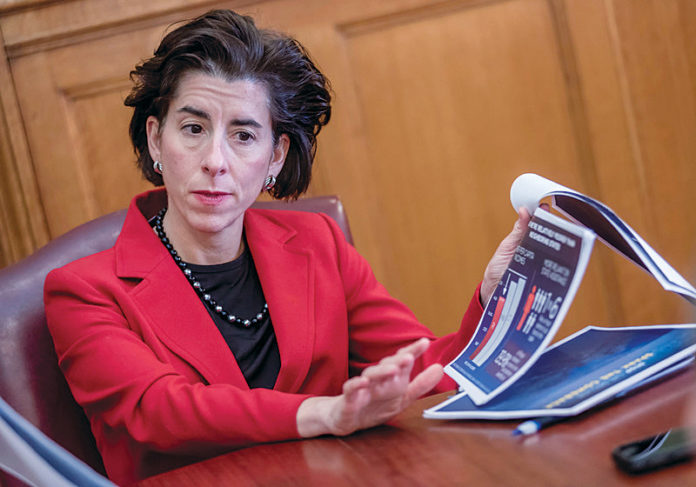 1 Raimondo looks for tenfold increase in clean energy by 2020
POSTED ONLINE: March 1
Gov. Gina M. Raimondo on Wednesday set a new clean energy goal for the state, calling for 1,000 megawatts of renewable-energy generation by 2020.
2 After a record run of squid, local fishermen warily eye competition, regulatory challenges
PUBLISHED IN PRINT: March 25
It was the best single run of longfin squid anyone on the East Coast had ever seen – and it happened fast and was over fast. In two months last summer, June and July, the East Coast-based squid fleet landed approximately 14 million pounds, with Rhode Island landing more than 50 percent of that quota, according to National Oceanic and Atmospheric Administration landing reports.
3 Ventas purchases South Street Landing, surrounding properties for $151M
POSTED ONLINE: March 15
Ventas Inc., the real estate partner for Wexford Science & Technology LLC, has announced its purchase of the South Street Landing property and surrounding sites for $151 million, according to a news release.
4 Hotel proposals coming before Providence City Plan Commission
POSTED ONLINE: March 21
Proposals for two new hotels that would overlook Interstate 95 in Providence are expected before a city review panel Tuesday.
5 Care New England announces more layoffs
POSTED ONLINE: MARCH 21
Saying the health care organization "is in the midst of challenging times," the president and CEO of Care New England said restructuring efforts will continue and nonunion employees will be laid off.
6 BCBSRI, UnitedHealthcare taking actions to improve health care, lower costs
POSTED ONLINE: March 13
7 Proposed Burrillville power plant sparks fight over region's energy future
PUBLISHED IN PRINT: March 10
8 Newport's The Point is ground zero in fight to keep historic Ocean State properties above water
PUBLISHED IN PRINT: Feb. 24
9 Timocco games fun, therapeutic
POSTED ONLINE: Feb. 3
10 Neighborhood Health says ­Integrated Care Initiative results in few long-term nursing home placements
POSTED ONLINE: March 20