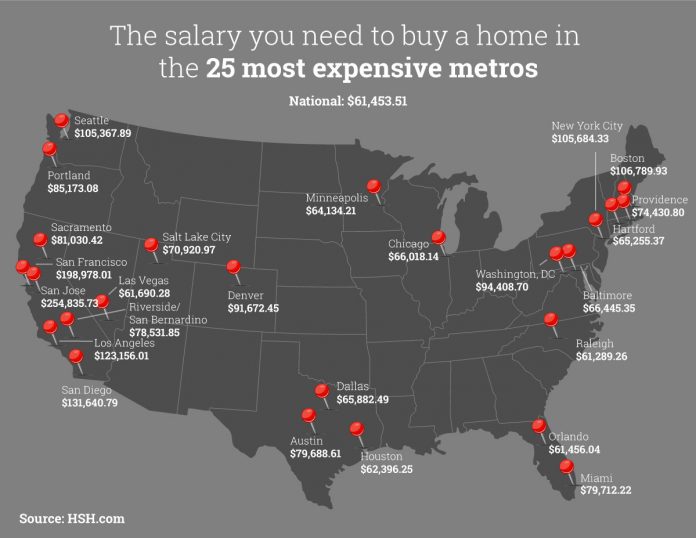 PROVIDENCE – Based on 2019 first-quarter data, the salary needed to purchase a single-family home in the Providence-Warwick-Fall River metropolitan area was $70,211, according to a report from HSH Associates this week.
The study considered mortgages in metro areas, median single-family home prices, a mortgage's principal, interest, property tax and homeowner's insurance payment.
It was determined that a monthly payment for home with a 20% down payment was $1,638.25 in the Providence metro to pay off costs for a median home price of $284,200.
The Providence metro was the 15th highest salary required in the nation of the top 50 most populous metro areas in the country.
The 30-year fixed mortgage rate used for the area was 4.5%.
The national salary needed to buy a median home was $58,792, according to the study, with an estimated monthly payment of $1,372. The median U.S. home price was $254,800 in the first quarter.
The only other New England metro area in the study was Boston. The salary necessary to purchase a single-family home in the Boston metro was calculated to be $103,058 annually, with an estimated monthly home-related payment of $2,405. The median home price of a Boston metro home in the first quarter was $461,200.
The Boston metro had the 5th-highest salary required to purchase a median priced single-family home in the study.
The San Jose, Calif., metro was the most expensive metro in the country, requiring a salary of $237,978 to afford a median-priced family home. The lowest salary required to purchase a single-family home in the study was in Pittsburgh, Pa., at $35,800.
The study used data from the National Association of Realtors, the U.S. Census Bureau, Insurance Information Institute, Freddie Mac and the Mortgage Bankers Association of America.
View the entire study online.
Chris Bergenheim is the PBN web editor. You may reach him at Bergenheim@PBN.com.