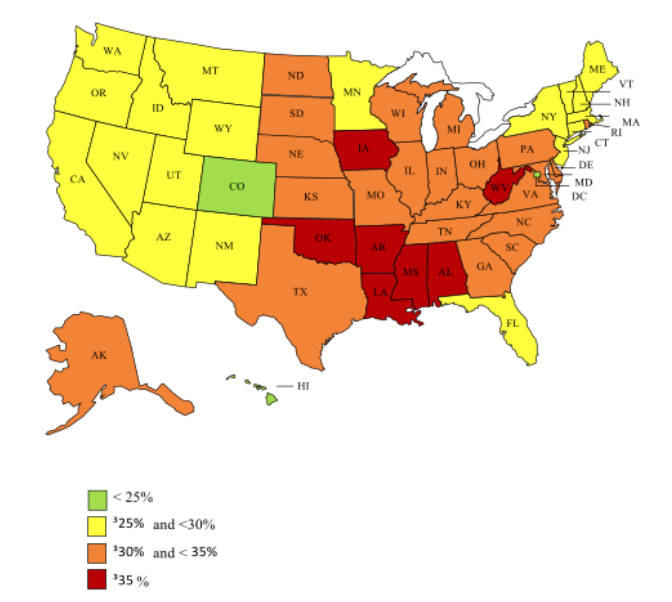 PROVIDENCE — Rhode Island stands among six states where adult obesity rates increased significantly between 2016 and 2017, with 30 percent of adults in the Ocean State considered obese, ranking it 29th highest in the United States, according to the 15th annual State of Obesity: Better Policies for a Healthier America report.
The rate is 4 percentage points higher than the reported 26 percent adult obesity rate in 2016, according to the report, sponsored by Trust for America's Health and the Robert Wood Johnson Foundation.
Data from the Centers for Disease Control and Prevention's Behavioral Risk Factor Surveillance System show that states with high adult obesity rates are increasing, with one in five adults reported obese in every state. Levels of obesity vary considerably from state to state, with a low of 22.6 percent in Colorado and a high of 38.1 percent in West Virginia.
Rhode Island's 30 percent obesity rate was on the lower end of the six states showing marked increases. Iowa reported 36.4 percent of its adults obese; Massachusetts reported 25.9 percent; Ohio reported 33.8 percent; Oklahoma reported 36.5 percent and South Carolina reported 34.1 percent of adults obese.
"Obesity is a complex and often intractable problem and America's obesity epidemic continues to have serious health and cost consequences for individuals, their families and our nation," said John Auerbach, president and CEO of Trust for America's Health. "The good news is that there is growing evidence that certain prevention programs can reverse these trends.  But we won't see meaningful declines in state and national obesity rates until they are implemented throughout the nation and receive sustained support."
Obesity's affect is most serious in communities where conditions make access to healthy foods and regular physical activity more difficult, such as lower income and rural areas, including many communities of color, according to Trust for America's Health.
Joseph Wendelken, spokesman for the R.I. Department of Health, said the department is reviewing their data on obesity and the report, along with shifts among different sub-populations in the state between 2016 and 2017.
The report offers 40 recommendations for federal, state and local policymakers; the restaurant and food industries; and the health care system, including:
Support and expand policies and programs aimed at addressing obesity at the federal, state and community levels, including programs in the Centers for Disease Control and Prevention's Division of Nutrition, Physical Activity and Obesity, and community health programs like the Racial and Ethnic Approaches for Community Health program, as well as programs that focus on school health in CDC's Division of Population Health
Maintain and strengthen essential nutrition supports for low-income children, families and individuals through programs — like the Supplemental Nutrition Assistance Program and the Special Supplemental Nutrition Program for Women, Infants and Children in the U.S. Department of Agriculture and expand programs and pilots to make healthy food more available and affordable through the program
Maintain nutrition standards for school meals that were in effect prior to USDA's interim final rule from November 2017, as well as current nutrition standards for school snacks.
States should ensure that all students receive at least 60 minutes of physical education or activity during each school day
Medicare should encourage eligible beneficiaries to enroll in obesity counseling as a covered benefit, and, evaluate its use and effectiveness. Health plans, medical schools, continuing medical education and public health departments should raise awareness about the need and availability of these services
Food and beverage companies should eliminate children's exposure to advertising and marketing of unhealthy products
Hospitals should no longer sell or serve sugary drinks on their campuses; they should also improve the nutritional quality of meals and promote breastfeeding
"It is an extremely complex issue that is affected by many social, economic, and environmental factors, including things like poverty, access to fresh fruits and vegetables, and people's physical environments," Wendelken said.
So, he said, the RIDOH approach has focused on community-level factors. Some of this work has included:
Increasing access to farmers' markets that accept SNAP and WIC in high need areas, particularly Rhode Island's Health Equity Zones
Providing funding for nutrition incentives for the purchase of produce in farmers markets
Adopting a breastfeeding policy for all state agencies
Working with our Health Equity Zones support complete streets policies, which promote walking and cycling, and which are intended to support the transportation needs of people of all abilities
Working with Rhode Island Healthy Schools Coalition to increase physical activity in schools and support access to healthy foods
Providing training for early care and education providers for increasing physical activity opportunities for young children
Rob Borkowski is a PBN staff writer. Email him at Borkowski@PBN.com