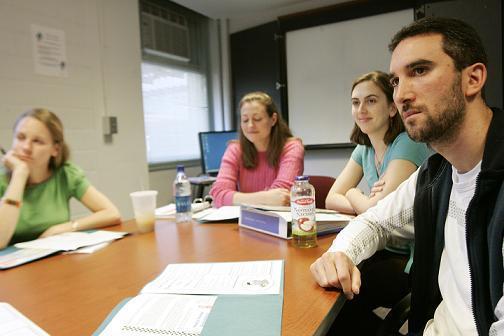 They work up to 80 hours per week, shadowing doctors, helping out in the wards and treating patients in the walk-in clinic. They are at Hasbro Children's Hospital to learn, to become full-fledged pediatricians – but they are also there to help their patients.
And it is difficult to help a child, to really make a difference, if you don't know where she lives, the resources available to her, or the ins and outs of her social support systems.
That is the insight behind a new program at Hasbro that is taking first-year residents into the community, introducing them to local social-service agencies, letting them sit in on nutrition and child-rearing education programs, and encouraging them to explore the city.
The experience even teaches them the price of diapers and a gallon of milk – because a pediatrician should know those things. Plus they are learning about RIte Care, the WIC (Special Supplemental Nutrition Program for Women, Infants and Children) program and other public benefits, as well as getting briefed on demographics and other key statistics.
It is a three-week immersion in their young patients' world, just one of multiple rotations for Hasbro's pediatric residents but an important one, said Dr. Patricia Flanagan, director of outpatient services at Hasbro and creator of the program.
"Without this at the front end of their time here, they could spend three years learning only bits and pieces about the community," she said.
The mandatory program, started earlier this year, was developed in partnership with Ready to Learn Providence, a nonprofit alliance of early-care and public-school educators, city librarians, health professionals, policymakers, government officials and parents.
Named "Advocating for Child Health in the Community," it pairs residents with members of Ready to Learn's AmeriCorps program in libraries and child care centers for several days so they can see children and families in those settings.
The young doctors also visit other local agencies – from Children's Friend and Service, to the Ronald McDonald House – and places they might never explore on their own, such as a local botánica (a store that sells herbal remedies, amulets, candles and other Latin American alternative-medicine and religious items).
To encourage them to venture into the neighborhoods, Flanagan is sending the residents on a "scavenger hunt" for common items their patients' families might buy. They also do some reflective writing and complete a final project.
Compared with the harsh demands of medical work, this rotation is definitely a bit of a break, the residents acknowledge. But they also say it's very helpful.
"For the three years I'm here, I'm going to work with hundreds, if not thousands, of kids, and I should know what resources there are in the community," said Jessica Baker, an Oregon native.
Craig Woda, of the Bronx, noted that in the clinic, a mother had asked him to sign a WIC form, and he didn't really know the program. Another mom complained that the early intervention program she's enrolled in only provided half an hour's worth of help per week; now he knows to explain that's how it's supposed to be, that it's meant to model things for her to do with her children, not just provide respite for a few minutes.
Corinna Schultz, of Boston, noted that educating parents is "huge" in pediatrics, so knowing the community and the local resources is crucial. Even better, she said, it's good to see everything firsthand, not just get a briefing at the hospital.
"I think it's much more meaningful when we get to go to the places where our patients go, and find out: Is that big door really intimidating to go through? Or is it really warm and inviting?" she said. •