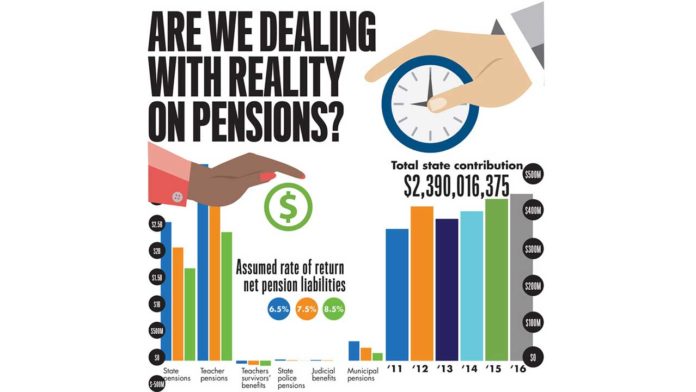 PROVIDENCE – The R.I. Retirement Board on Monday approved a proposal to lower market-return expectation for the state's $7.9 billion pension fund.
The board voted 12-1 in favor of lowering the state's assumed rate of return to 7 percent from 7.5 percent, an estimate for how much the state thinks it can make investing its fund in the market.
The rate is connected to a series of metrics tied to long-term liabilities, as the state is required to prefund future benefit costs, so pension money is ready for employees whenever they reach retirement. Lowering the rate increases long-term liabilities, effectively requiring the state to pay more toward the fund each year beginning in fiscal 2020.
The new rate of 7 percent is expected to cost state taxpayers an additional $42.2 million in contributions to state and teacher pensions over five years.
Last year, Rhode Island taxpayers paid $466.1 million toward funding the state's pension system. Employees separately contributed $194.6 million.
"The impact from the increase in [unfunded liabilities] will be spread over the five years in such a way to create approximately the same increase in contribution rate each of the five years," wrote state actuaries.
Lowering the assumed rate of return came at the recommendation of the state's actuary firm, Gabriel, Roeder, Smith and Co., and was backed by General Treasurer .
The impetus for the change was determined by a variety of factors, including a tempered outlook on expected market growth in coming years. It also comes at the heels of lackluster investment results for the public fund, especially in recent years. The state's pension fund has performed relatively well in recent months, but ended last fiscal year realizing a 0.3 percent loss.
The state expects lowering the return will save Rhode Island taxpayers $500 million over the next three decades, as more accurate assumptions will prevent the state from underfunding future benefit costs.
Lowering the state's assumed rate of return by a half a percentage point is excepted to add about $600 million to the state's long-term unfunded liabilities for state employees and teachers. The funded ratio, a measure of assets to liabilities, is expected to fall to 53.2 percent from 56 percent for state employees, and to 55.6 percent from 58.3 percent for teachers.
The state will 0.25 percent from the state's current inflation assumption of 2.75 percent, and another 0.25 percent from its real return assumption. Paul Dion, who represents active state employees, was the only retirement board member to vote against the proposal, saying he's not opposed to lowering the assumed rate of return, but rather disagrees with how it was was done.
"I thought the inflation reduction should have been larger than a quarter point. Somewhere around three-eighths was more appropriate," he told Providence Business News. "I also think that a cliff transition to a 7 percent rate of return made more sense as it would ultimately cost less to the state."
Pension benefits will remain the same, and a Magaziner spokesman on Friday said lowering the assumed rate of return is "how we avoided going through another pension reform."
Eli Sherman is a PBN staff writer. Email him at Sherman@PBN.com, or follow him on Twitter @Eli_Sherman.