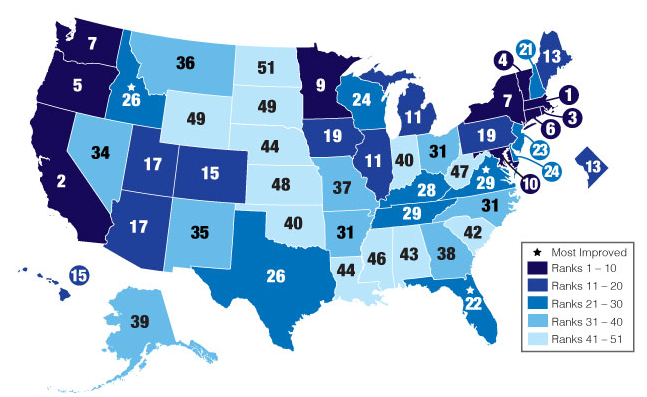 PROVIDENCE – Rhode Island is third-best in the nation when it comes to energy efficiency, as it earned a perfect score for its utility policies program for the fourth year in a row, according to a new report.
The American Council for an Energy-Efficient Economy, or ACEEE, released its annual State Energy Efficiency Scorecard report. Rhode Island ranked No. 3 and improved one spot from the previous year. Massachusetts maintained its No. 1 ranking.
"Rhode Island continues to look for ways to capture untapped savings through innovative pilot programs and planning efforts intended to achieve zero net energy buildings and reduce greenhouse gas emissions," according to the report.
ACEEE in its report lauded National Grid Rhode Island, the state's largest utility, for its commitment to reducing energy, lowering energy waste and yielding greater energy savings. The Providence-based subsidiary of National Grid PLC released its own statement, saying it was proud to be a lead partner in improving energy use.
"National Grid looks forward to continuing our role in keeping Rhode Island among the nation's leaders in energy efficiency," said Tim Horan, president and chief operating officer of National Grid in Rhode Island.
The report broke its scoring into six weighted categories totaling 50 points. Rhode Island scored perfectly on utilities (20 out of 20) and fared well in other categories, including transportation (7 out of 10), building policies (5 out of 8) combined heat and power (4 out of 4) and government-led initiatives (5.5 out of 6).
Rhode Island Gov. Gina M. Raimondo praised the state's performance in a statement.
"I'm proud that Rhode Island is leading the nation in the green economy," she said.
The state, however, did not perform it terms of appliance standards (0 out of 2).
"Rhode Island is one of the few states to set appliance standards, although no additional standards have gone into effect in the past three years," according to the report. "The most recent standards were adopted in 2006 and all but two have been preempted by federal standards."
New England states did well overall compared to other regions of the country. Massachusetts maintained its No. 1 ranking, a spot it tied for with California last year. California fell to No. 2, leaving the Bay State alone at the top.
After Rhode Island, No. 3, Vermont ranked No. 4, Connecticut ranked No. 6, Maine ranked No. 13 and New Hampshire ranked No. 21, according to the report.
Eli Sherman is a PBN staff writer. Email him at Sherman@PBN.com, or follow him on Twitter @Eli_Sherman.