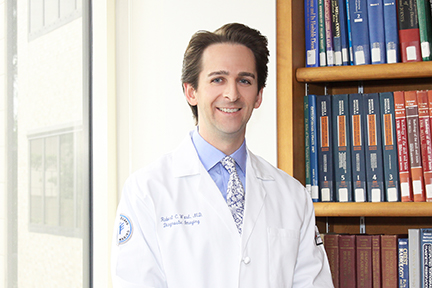 Rhode Island Medical Imaging (RIMI) has been awarded a "magna cum laude" designation for its work in the FROST (Freezing instead of Resection Of Small breast Tumors) clinical trial for breast cancer cryoablation at November's Radiological Society of North America (RSNA) 104th Scientific Assembly and Annual Meeting. The presentation "Freezing instead of excising: Cryoablation for breast cancer — How it's done" is based on the work of RIMI radiologist Dr. Robert C. Ward and his team.
Dr. Ward is the only doctor in New England that is currently doing this breast cancer procedure.
"In the last year I've treated almost 20 patients, some from out of state, and even from out of the country," said Dr. Ward. "Using this minimally invasive technique we can kill targeted tissue with extreme cold."
Cryoablation has been used for liver, kidney and lung tumors as well as on abdominal wall endometriosis and fibroadenomas. Cryoablation is better tolerated than heat-based modalities and requires only local anesthesia and no sedation. Ice itself is a pain killer.
This procedure has shown itself to be an alternative to resection in select breast cancer patients. In clinical trials (2016) complete tumor ablation (tissue destruction) for invasive ductal carcinoma was more than 90 percent effective when tumors were less than 2 cm in size and 100 percent effective when tumors were less than 1 cm in size.
"The patient population will surely grow as we continue to increase patient and provider awareness about this revolutionary procedure," said Dr. Ward.
RSNA's Scientific Assembly and Annual Meeting, which takes place in Chicago, Illinois every year is one of world's largest annual medical meetings. The judged and evaluated presentation came in in the top 29 of 1902 total exhibits, equivalent to the top 1.5 percent of all accepted educational entries.
Dr. Linda DeMello, a breast imaging fellow and co-author, gave the presentation at the conference. Dr. Martha B. Mainiero and Dr. Ana P. Lourenco are also co-authors. Dr. Ward heads the study. All four doctors are RIMI radiologists.
About Rhode Island Medical Imaging:
Rhode Island Medical Imaging (RIMI) has a network of 12 private state-of-the-art medical diagnostic imaging facilities that are staffed by over 70 board certified radiologists with broad-based experience and subspecialty training in Bone Density (DEXA), Computed Tomography (CT), Magnetic Resonance Imaging (MRI) including the most extensive 3T MRI imaging network in Rhode Island, Mammography, Ultrasound, and X-ray.
RIMI radiologists perform and interpret imaging in Rhode Island at Hasbro Children's Hospital, Miriam Hospital, Our Lady of Fatima Hospital, Rhode Island Hospital, Roger Williams Medical Center, and Women & Infants Hospital, and most recently at Sturdy Memorial Hospital in Attleboro, MA. Most of RIMI's radiologists are also faculty members at the Warren Alpert Medical School at Brown University.
For over 75 years RIMI has provided Rhode Island with imaging excellence (since 1943).