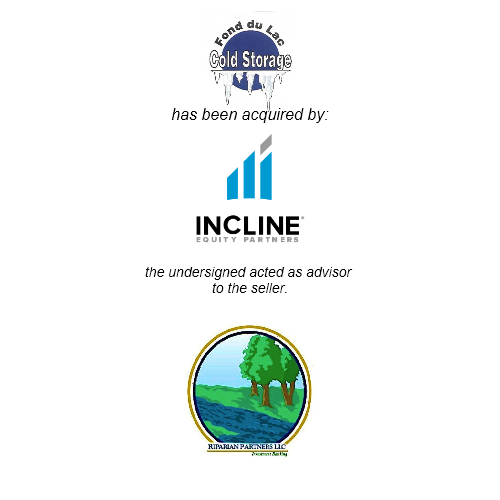 Riparian Partners is pleased to announce that we served as exclusive financial advisor to Fond Du Lac Cold Storage (FDL) in its sale to Incline Equity Partners. Riparian Partners conducted a competitive sale process to attract a financial partner capable of capitalizing on the Company's success and accelerating its growth trajectory.
• Based in Edison, NJ, Fond Du Lac Cold Storage specializes in Temperature Controlled warehousing of wine, cheese, chocolate & craft beer.
• Incline Equity Partners, with extensive experience in the logistics and wine industries, is a private equity firm specializing in mergers and acquisitions, leveraged finance, leveraged buyouts, growth capital, management buyouts, and ownership transitions for privately held businesses.
• Fond Du Lac's vast service abilities outperform competitors' offerings in key areas such as customer service, order picking, accuracy and on time delivery.
• Incline Equity Partners plan to accelerate Fond Du Lac's growth by leveraging the strong relationships and service capabilities that have made FDL so successful to date.
About Riparian Partners
Riparian Partners is a leading middle market M&A advisory firm providing investment banking services to privately held
middle market companies throughout North America. We deliver advisory services for transactions between $10 million and
$200 million, assisting clients with Mergers, Acquisitions, Divestitures, Recapitalizations, and Strategic & Financial Advisory
needs.
At Riparian Partners we have been assisting clients in meeting their business objectives since 1993. Senior investment
banking professionals with extensive transactional and operating experience are dedicated to providing superior M&A
services with unbiased, objective advice to serve the best interests of business owners. Riparian is singularly focused on
leveraging the depth and breadth of our expertise and experience to maximize shareholder value.