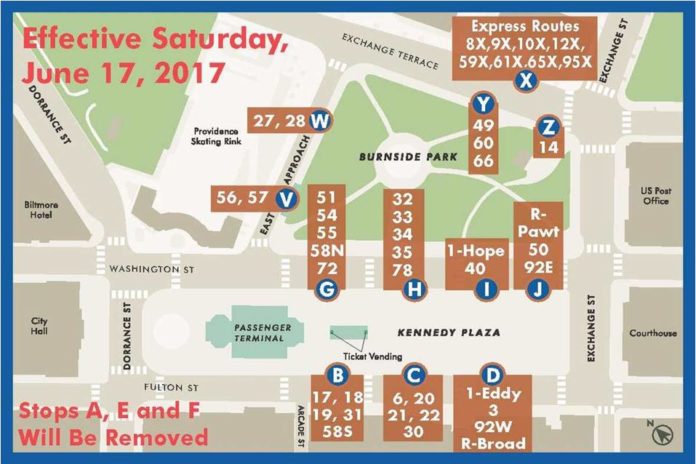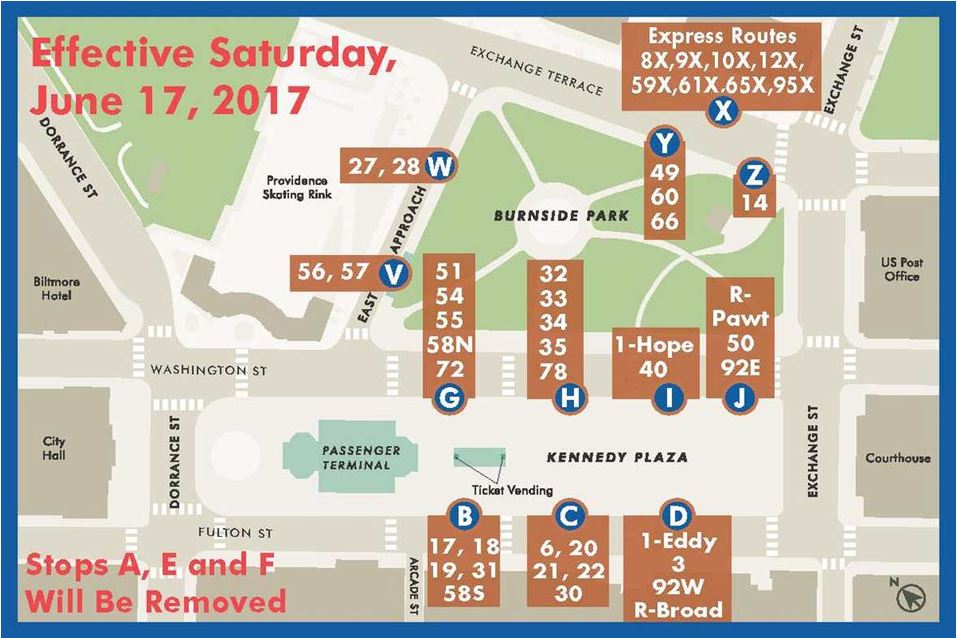 PROVIDENCE – The Rhode Island Public Transit Authority hopes to improve pedestrian safety and energy efficiency by consolidating bus stops and reducing the amount of time that buses idle while waiting for passengers in Kennedy Plaza, RIPTA announced in a press release on Monday.
RIPTA plans to reduce bus idle time by tightening schedules so that buses arrive in the plaza closer to the time they are scheduled to depart. That change, combined with the relocation of private carriers from the plaza in May, means that the amount of time that buses idle in the plaza will be reduced by an estimated 29 percent on weekdays and 26 percent on weekends, according to RIPTA. Peter Pan and Greyhound buses now stop in front of the Rhode Island Convention Center on Sabin Street.
RIPTA announced a change in service as well, "interlining" routes 1, 18, 19, 32,33, and 40 at the Plaza. Interlining is when a bus arrives inbound at a stop as one route and departs the stop as another route using the same bus. RIPTA said that the routes that have been interlined will make approximately 50 percent less turns than the estimated 3,000 turns the routes currently make, improving pedestrian safety.
RIPTA also plans to remove three of the plaza's current stops and assign them to other stops in the plaza. New maps of Kennedy Plaza and literature that details all service changes are available at the RIPTA Ticket Window in Kennedy Plaza and on www.ripta.com.
All summer service changes will be effective Sat., June 17.
Below is a list of the bus stop assignments for Kennedy Plaza with the elimination of Stops A, E and F.
Route 3 (Warwick Avenue): Bus Stop D
Route 6 (Prairie/ Roger Williams Zoo): Bus Stop C
Route 55 (Admiral/Providence College): Bus Stop G
Route 58 (Southbound to RI Hospital- NEW SERVICE): Bus Stop B
Route 66 (URI/Galilee): Bus Stop Y
Route 92 (RI College – West): Bus Stop D
R-Line (Pawtucket – North): Bus Stop J
R-Line (Broad – South): Bus Stop D
Liz Lee is a reporter for PBN.