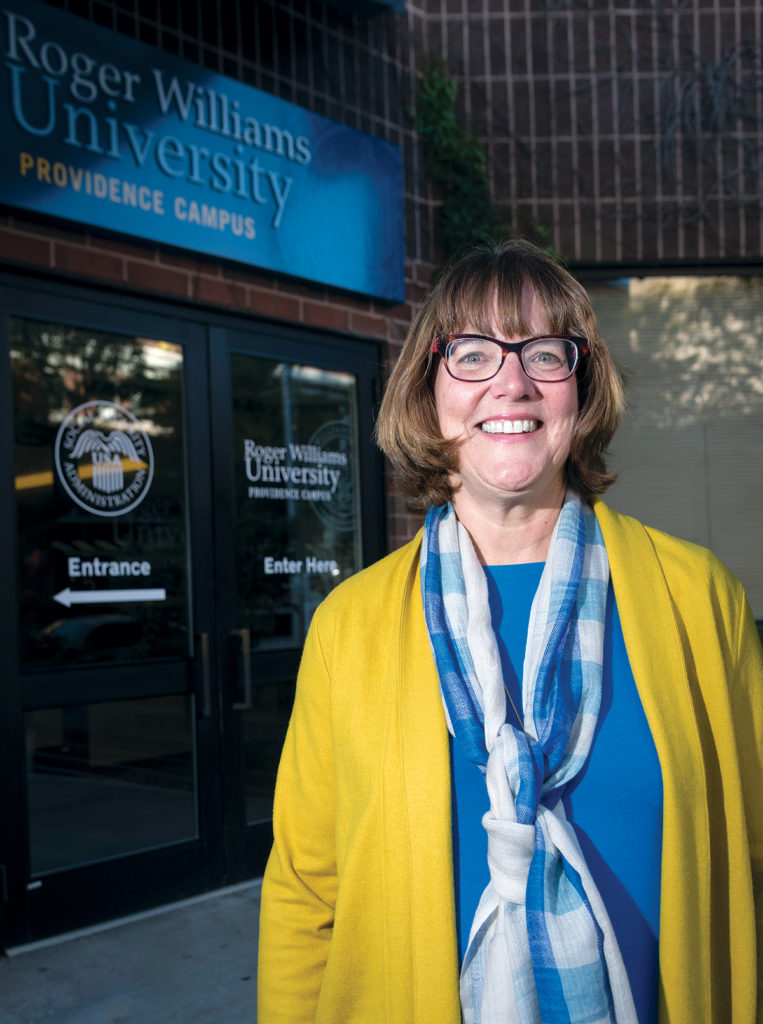 It was "The New Jim Crow: Mass Incarceration in the Age of Colorblindness," by Michelle Alexander, that led Judith Savage to build a forum on mass incarceration at Roger Williams University. The forum would lead more than two years later to the reformation of seven state probation and parole laws.
"We've attached faces to crime, but we haven't made the corrections system very visible," said Savage, an RWU School of Law distinguished juris in residence.
The points made by Alexander in the book, said Savage, "take something we think we understand and show us how our understanding is limited." This concept, she said, was something worth teaching.
With help from RWU law review students, the forum, Sounding the Alarm on Mass Incarceration: Moving Beyond the Problem and Toward Solutions, was held on March 27, 2015, and was attended by federal judges, legislators, members of the R.I. attorney general's office and R.I. Department of Corrections, local lawyers and formerly incarcerated individuals.
Taking place after the 2014 deaths of two unarmed African-American men – Michael Brown and Eric Garner – at the hands of the police, the forum brought attention to how a national phenomenon was playing out locally and sought to update decades-old policy, said Savage.
Rhode Island's probation and parole laws (S-0005 to S-0011) "didn't marry liberty with community-based services sufficient enough" to support freedom, she said.
According to RIDOC June 2017 data, one in 47 adult Rhode Islanders – one in 27 men and one in 144 women – is on probation or parole and remains under supervision three times longer than the national average.
One of Savage's goals for the forum was to bring together communities negatively impacted by the legislation with those who implement the law in order to, she hoped, create "a more strategic way to make [formerly incarcerated] people more successful and [the public] safer."
She wanted to stop another generation of Rhode Islanders from returning to jail because of a parole or probation violation – effectively shutting what she called the "prison pipeline" – via "front-end solutions" – such as substance-abuse, behavioral or mental health counseling – and Gov. Gina M. Raimondo took note.
In a July 2015 executive order, less than four months after the forum, Raimondo formed the Justice Reinvestment Initiative. The group researched the impact of probation and parole in Rhode Island, eventually submitting rewritten laws, prioritizing different correctional methods than incarceration, for the General Assembly's vote and governor's signature.
Among the reforms are a fund for multiple methods of counseling, amendments to parole and probation application and removal guidelines, a Superior Court diversion program and clearer definitions of a felony, misdemeanor and petty misdemeanor pertaining to corrections as well as those for assault and larceny depending on the value of stolen property.
All seven of the bills, except S-0005, which calls for implementation of the findings of the Justice Reinvestment Initiative and has been passed by both the Senate and House, were signed into law by Raimondo in September.
Michael J. Yelnosky, RWU Law School dean, agreed Rhode Island's laws were in need of updates – especially recidivism founded in parole or probation violations, which he called "a poor use of the people's resources."
By reducing the number of individuals in prison, on parole and/or probation, Yelnosky sees the reformation as economically positive too. "Saving money and [earning] the productivity associated with those people" will improve the economy, he said.
He credits some of the statewide success enjoyed by the forum with its nomination as the 2015 Rhode Island Judiciary Education event. Because there were voices from so many communities – ranging from traditional law review to "incredibly moving interviews" from those who have lived probation and parole – the programming was "remarkably inclusive" for an industry conference, he said.
'We haven't made the corrections system very visible.'
JUDITH SAVAGE, RWU School of Law distinguished juris in residence
Savage believes the RWU forum was the spark that funneled a national conversation to the Rhode Island level. She said it "galvanized a lot of attention … at the same time there was political will to address" issues surrounding probation and parole.
"Really big things can happen in small places," said Savage of what started out as an educational opportunity for law review students at the state's sole law school who were seeking to right what they saw as an injustice.
While Savage, who has 20 years of experience on the R.I. Superior Court, admitted RWU's Law School is a "young" educational institution, she said what the forum achieved, bringing together disparate communities impacted by the same phenomenon in a conversation that led to legislative reform, was "historic."
RWU's positive reputation in the community, she said, helped her coalesce those "entangled" in the issue.
And she doesn't see her work as static. She believes, over the past two-plus years since the forum, the statewide probation and parole conversation "has maintained, built and changed" as Rhode Island confronts its policies.
"Legal education is moving back to the community and back to the people," said Savage, who is proud to be a part of the academic engine that led to such reforms.