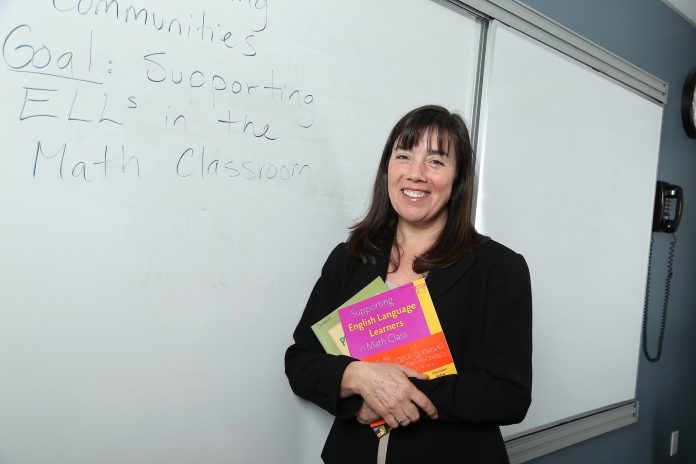 PROVIDENCE – The R.I. Department of Education awarded a $15,000 grant to Kelly Donnell, a professor at the Roger Williams University School of Continuing Studies, for her proposal to improve teacher preparation in the field of English as a Second Language.
Presented during the Ed Prep Fellowship and Design Challenge Pitch Fest earlier this summer, Donnell's "Supporting ESL Teachers Using Calibrated Videos of Practice" was awarded the prize by a panel of judges.
In her proposal, Donnell, the RWU teacher certification program liaison, noted an increase in the number of students whose first language is not English and the volume of teachers who can support those students is not adequate to meet the need.
"It's exciting to be able to advance the capability of teachers in our most high-need school districts for English learners," said Donnell, in a statement. "This process will not only benefit current candidates but teachers across the state if we find a mechanism to share this bank of videos."
Jamie E. Scurry, dean of the RWU School of Continuing Studies, said in a statement the proposal brings together stakeholders from across the strata of education "to really think differently about how we structure teacher education and supports for teachers. I hope it improves teacher learning and classroom interaction."
Nine teams of educators submitted proposals, with five teams moving on to the final Pitch Fest and panel of judges. An R.I. Personalized Learning Initiative, the Ed Prep Fellowship and Design Challenge is supported by the Chan Zuckerberg Initiative, Jaquelin Hume Foundation, Nellie Mae Education Foundation and Overdeck Family Foundation.
Emily Gowdey-Backus is a staff writer for PBN. You can follow her on Twitter @FlashGowdey or contact her via email, gowdey-backus@pbn.com.