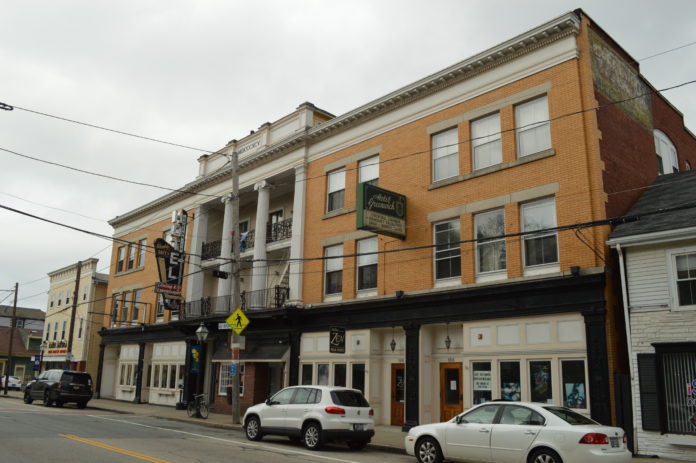 PROVIDENCE – Streetscape projects in seven communities throughout the state have received Main Street Rhode Island Streetscape Improvement Fund grants, Gov. Gina M. Raimondo said Thursday.
The Streetscape Improvement Fund awards grants or loans on a competitive basis for improvements to commercial districts. Funding is available for projects that improve the streetscape, such as enhanced sidewalks, new street furniture, new way-finding signage, upgraded building facades or improved street lighting. Applicants must have matching funds, which can take multiple forms, of at least 30 percent of the total project cost, according to the R.I. Commerce Corp.
"The Main Streets in our cities and towns are hubs of economic growth – and the places where we can all come together," Raimondo said in a news release. "These projects will put Rhode Islanders to work improving our commercial districts and continue to enhance the quality of life in our communities. It's no surprise that we received such an enthusiastic response to the first round of funding, with more than three times more demand than supply."
After receiving 18 applications seeking more than $3.4 million in funding, Commerce RI asked its board of directors to select seven award recipients. The seven awards recommended total nearly $1 million, the amount appropriated for the program for the current fiscal year.
Projects awarded funding this year include:
$32,400 to improve the sidewalk and trees on Main Street in East Greenwich in order to support both accessible and sustainable infrastructure in the town's commercial district;
$80,000 to improve way-finding signage to direct visitors along Routes 114 and 136 to the downtown commercial district and available public parking in Bristol;
$300,000 toward facade improvements along Dexter Street, a public art installation to conceal overhead wires and the provision of free public Wi-Fi within the commercial district of Central Falls;
$108,000 to ONE Neighborhood Builders to put toward upgrades to bus stops to improve shelter infrastructure in Olneyville Square in Providence;
$245,000 to replace derelict storefronts on the ground level of Pawtucket's main municipal parking garage with landscaping, install a way-finding station outside of the garage and implement a two-way traffic pattern on Main Street. Lighting inside the garage will be upgraded to promote visibility and safety;
$76,000 to the Providence Foundation for the installment of way-finding signage around downtown Providence to direct foot and vehicle traffic to downtown commercial destinations, transit centers and landmarks;
$70,000 for landscaping installations and the creation of drop-off areas and handicap accessibility to slow traffic, as well as curbing upgrades, in Woonsocket's Arts District.