Six years ago, the Rhode Island Foundation announced it was accepting applications for something called an innovation fellowship. The program, funded by local philanthropists John and Letitia Carter, encouraged Rhode Islanders to generate and submit ideas for how to spur positive energy in the local economy and improve everyday life.
Such an initiative "championing innovation … with real money behind it, was new in Rhode Island" at the time, recalled foundation President and CEO Neil D. Steinberg.
The first round of fellowships was awarded in 2012. Recognition came with a cash award of up to $300,000 in unrestricted funding doled out over three years that, as 2015 fellow John Haley noted, "opened doors" and "makes you brave."
So far, 11 innovation fellowships have been awarded to 12 people to tackle societal problems or create economic opportunities in areas as diverse as promoting cultural tourism in Providence, eliminating hepatitis C, creating a professional network for local women of color and launching multiple online shopping platforms selling pet gear and insomnia-reducing technology. Included in this report are separate profiles of five of the ongoing projects that highlight the diversity of their efforts and challenges fellows have faced in bringing their ideas to fruition.
Measuring their impact or that of the overall program to date is difficult, in part because the projects are in various stages of development.
In addition, the foundation has not tracked job totals or other economic benefits of the projects, said Jessica David, foundation senior vice president of strategy and community investments. That's because job creation has not been a requirement of the awards.
The fellowship "calls out individuals who may not have been known as thinkers and doers" and adds to their number each year, she said. Innovation, she added, starts with "investing in, believing in and trusting people.
"We're a couple years away from knowing the exact impact of individual programs," David said.
SHIFTING FOCUS
Steinberg said he measures the success of the overall program by the number of applications submitted and "positive" ideas produced.
Not counting fall 2017 submissions, 1,725 innovation fellowship proposals were submitted over the program's first six years.
All of the winners have had to shift their focus "to varying degrees," said David, which the foundation expected.
That's why "funds were set up for them to use as they wish," she said, to give fellows as much flexibility as possible.
Amy Bernhardt, a 2014 fellow and founder of digital textile design and manufacturer Colorfast, said initially there was a lot of buzz around her idea, but as she approached the "technical … niche" aspects of digital textile production, it "died out."
While she works with startup fashion companies on digital design, Colorfast production is on hold as Bernhardt secures local technical assistance.
"I don't think [Colorfast] had a huge impact," she said.
Emily Steffian and her husband, Daniel Kamil, co-own Cable Car Cinema and Café but planned to open Providence Cinematheque, the state's first multiscreen, exhibition and education space specifically geared to independent film. After purchasing and selling a 20,000-square-foot building, the 2015 fellowship winners realized the cost of the rehab would drown any potential profit.
Pivoting, they launched the Art & Design Film Festival in the city.
Other projects may just need more time to come together and attract additional funding, said Steinberg.
For example, he said David Dadekian, a 2014 fellow, is "moving in the right direction" with Providence's Eat Drink Rhode Island, which proposed constructing a market where vendors can sell Rhode Island-grown and -produced foods.
As Steinberg says, the program's success is not driven by traditional economic metrics. According to Providence Business News research, eight of the fellowships created a total 24 jobs – 12 full time and 12 part time – using funds awarded by the foundation. Eleven of those jobs, however, were either temporary or no longer exist. The project to create the most jobs, seven, was SistaFire Rhode Island – a 2017 fellowship to create a statewide network for community engagement for women of color.
One of the inaugural fellowship winners, Betaspring LLC co-founder Allan Tear, could not be immediately reached for comment on his proposal to create a platform to help arts and social-impact entrepreneurs launch startups. It is unclear if his efforts bore fruit.
'The program is going beyond talking about what's next – and trying to make it happen.'
SAUL KAPLAN, Business Innovation Factory founder
Business Innovation Factory founder and chief catalyst Saul Kaplan said the biggest benefit of the fellowship program is in "sending the right message" and supporting "a significant number of exciting talent in our community.
"If you want to measure it on how many jobs it would create, the program would have to have been designed differently," he said. "The program is going beyond talking about what's next – and trying to make it happen."
The foundation did make some adjustments to the program this year, announcing in October a joint Carter-foundation rebrand and redesign. Going forward, each year, up to three proposals can be chosen (instead of two). Fellowships will now last four years, carry a maximum $200,000 cash award and must represent ideas that have not been attempted in Rhode Island.
The changes, said Steinberg, add "a little focus, while still remaining entrepreneurial." In some cases, he acknowledged, the foundation "didn't know" if recipients were staying on topic – "this adds a little more accountability."
News of the changes, which included a rebranding to Carter Fellowships for Entrepreneurial Innovation, came days before the death of John Carter. His widow declined through the foundation to discuss the program or its future, but Steinberg said, "As far as we know, [the program] will keep going."
---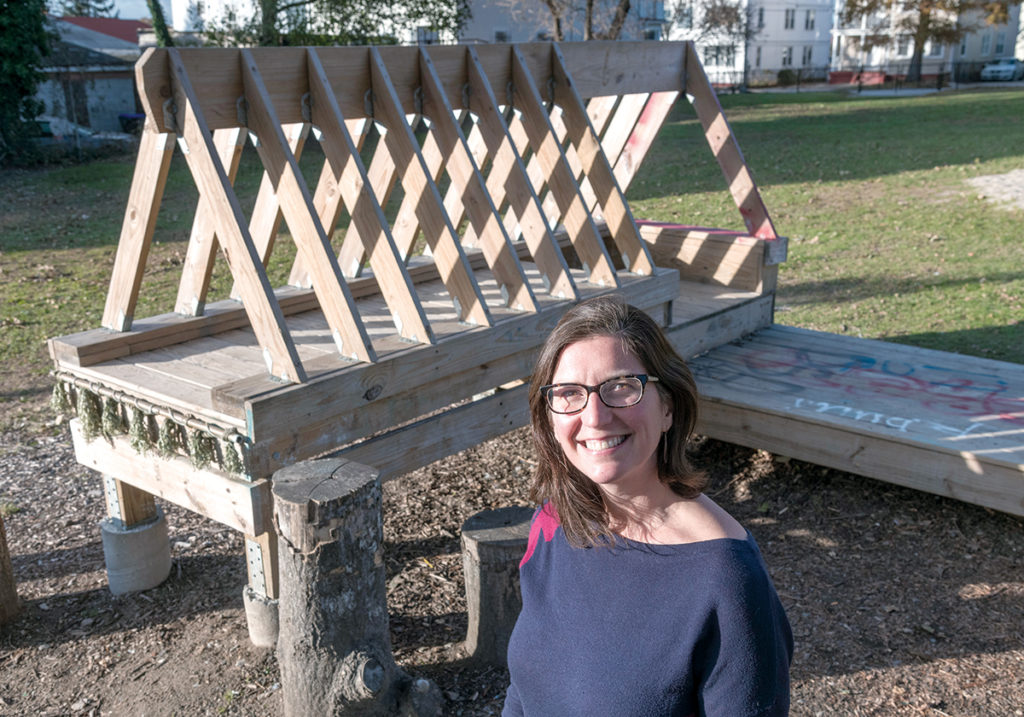 'Design thinking' as a tool
Rhode Island has a rich design history, so why not share the "design thinking" behind the success of that sector, thought Adrienne Gagnon, a 2013 innovation fellow.
The executive director of DownCity Design – a Providence nonprofit established in 2009 that provides opportunities to young locals to design and build public structures – found design thinking a "valuable tool" to promote problem-solving among local youth.
There is a "disconnect between that realm and the learning kids were doing in school," she said.
With fellowship funding, she founded Innovation by Design in 2013 to encourage design thinking in Providence schools.
Hoping to create a "generation of innovators," between 2013 and 2015, by her count, Gagnon brought her program to 18 Rhode Island schools through Mobile Design Lab residencies. Her Change Agent Toolkit – hands-on learning activities – has been downloaded by more than 300 teachers. In addition, 44 local educators have been enrolled to date in her professional-development program – and interest is growing. Twenty-six educators applied for 22 spots in the first year, 2015, and that number jumped to 80 applicants for the same number of spots in 2016.
An "increasing number of applicants" for Innovation by Design programs, said Gagnon, as well as interest from such organizations as United Way of Rhode Island, the city of Providence and R.I. Department of Education, reflect what she says has been a lasting impact of her fellowship project.
While much of the Innovation by Design work has been "folded into" DownCity Design, Gagnon said she is excited to continue the program in 2018, in part with the help of a $25,000 National Endowment for the Humanities grant awarded earlier this year to Innovation by Design.
---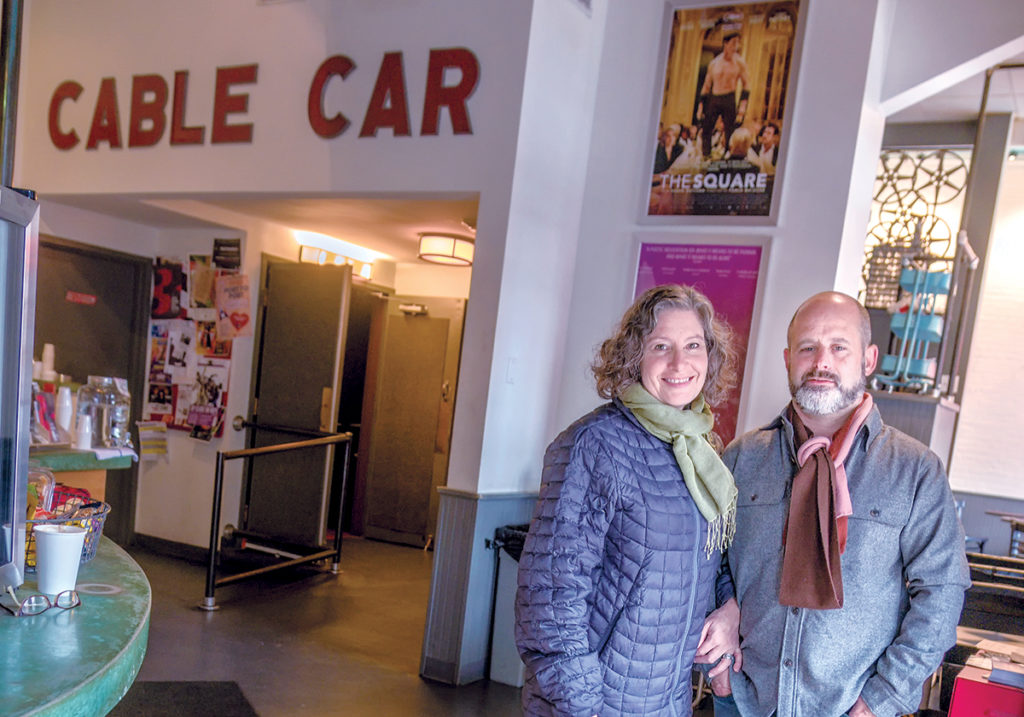 Cinema as community space
Thanks to Daniel Kamil and Emily Steffian, nearly 10,000 Rhode Islanders have viewed Raoul Peck's 2016 documentary, "I Am Not Your Negro."
The 95-minute film follows an unfinished James Baldwin text, which chronicles the African-American experience in the United States. By their count, the film was viewed by close to 8,000 people at their Providence-based, single-screen Cable Car Cinema and Café and an additional 1,500 local high schoolers at various schools.
Steffian said innovation fellowship funding was a critical tool to disseminate awareness of the film, especially for "high school kids who might not get to the movies … or see a movie of this nature."
The film helped "white parents with white children realize they need to talk about race and class with their children," she added.
However, this wasn't the original plan as outlined in their successful 2015 innovation fellowship application.
In 2001 Kamil and Steffian relocated to Rhode Island from Los Angeles. Seven years later they purchased the Cable Car Cinema on South Main Street in Providence. But they wanted to see an even larger independent film scene in the city. In 2015 they were awarded an innovation fellowship for the Providence Cinematheque – which would be the state's only multiscreen, education and exhibition space focused solely on first-run, independent films and literacy.
The pair, the only duo to win an innovation fellowship, quickly realized the scope of their endeavor was grander than what would be possible even with fellowship resources.
The fellowship allowed them to pursue their dream, but "as much money as the fellowship gives out … you run up against financial limitations," said Steffian.
After purchasing and selling a 20,000-square-foot building on Providence's West Side, dealing with donors who requested a multitude of repayment options and encountering insurmountable "systems," Kamil characterized real estate development in Providence as "a pretty tough nut to crack."
The pair wrapped up the third year of the annual nonprofit Art and Design Film Festival in November and said they look forward to planning more independent film programming for the coming year.
---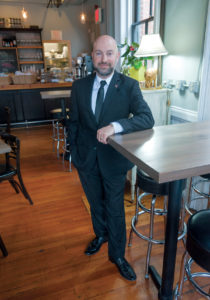 'Right place, right time'
Eight years ago, David Dadekian sought to capitalize on the renowned Rhode Island culinary scene by lending his media knowledge to a project called Eat Drink Rhode Island. As founder and owner, he represents local food professionals, hosts events to highlight the industry and raises awareness of Rhode Island's culinary contributions to the national and regional sectors.
Noting the increasing popularity of food-related, social media content, Dadekian said: "It was right place, right time."
In 2014 he successfully applied for an innovation fellowship to construct a market for vendors selling Rhode Island food products. "By the end of 2016," said Dadekian, the cash award had been spent on lawyer fees, architects, a second full-time Eat Drink Rhode Island employee and taxes. He is currently in negotiations with the state to lease state-owned property – the former Shooters/Bootleggers nightclub – on the Fox Point waterfront.
Dadekian is "cautiously optimistic" about negotiations with the R.I. Department of Environmental Management and R.I. Department of Transportation regarding the lease.
Each year, in addition to a popular food festival, the organization hosts Truck Stop, a food-truck gathering to benefit the Rhode Island Community Food Bank. By Dadekian's count, the 2017 event sold 650 tickets and raised more than $160,000 for the food bank.
A second Eat Drink Rhode Island project, separate from the fellowship but indicative of the organization's impact on the community, is the West Park Food Hall in Providence's Smith Hill neighborhood. After being approached by the site's owner, Dadekian launched a Kickstarter campaign in mid-October to fund the food hall's predevelopment. When the Kickstarter closed on Nov. 15, he had raised $123,656 from 604 donors, exceeding a $119,000 goal.
The food hall, where guests will encounter a smorgasbord of local culinary offerings, he said, will "serve to better illustrate" Rhode Island's food resources.
---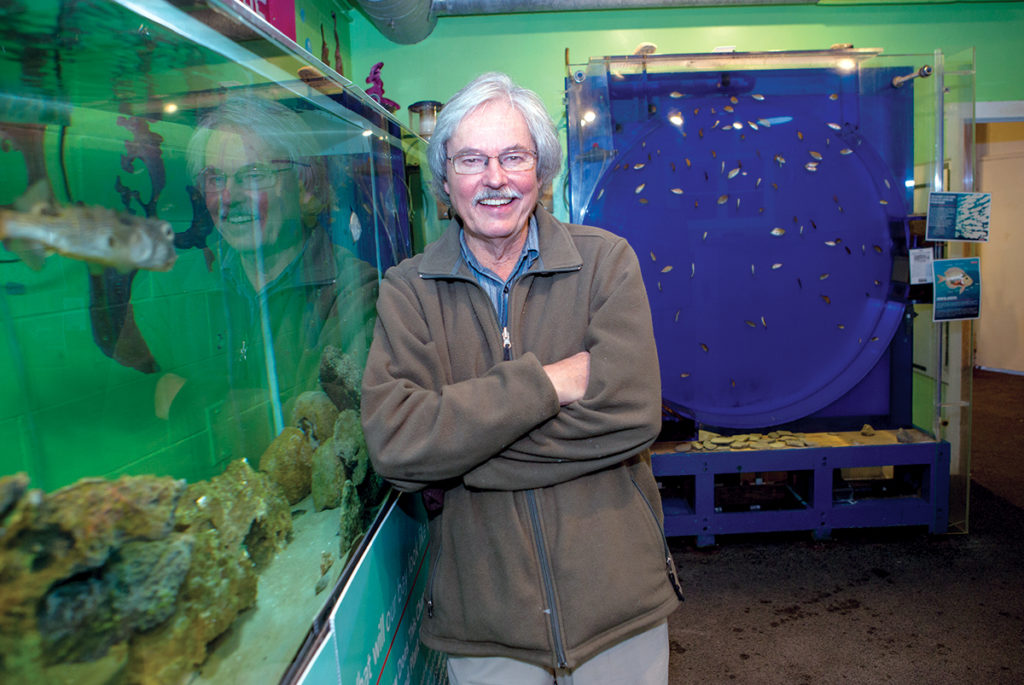 'A lot of catching up to do'
Rhode Island "has a lot of catching up to do" in terms of shellfish productivity compared to its neighbors, according to John Haley, a 2015 innovation fellow and founder of Providence's Aqualine LLC.
Focusing on the reintegration of the blue mussel – what he called a "sustainable and indigenous" species – to Rhode Island waters, Haley hopes his invention of a rope impregnated with blue mussel seed will spur repopulation locally and lead to a stronger shellfish economy.
"Here's something we know will grow in our waters and we have a technology we know can produce it," he said.
Haley's research has also led to the development of a specially configured algae for the mussels to feed on, as well as protein powders and pellets for human consumption, distilled from fish-processing byproducts.
"Forty percent of fish material caught and processed goes to waste," he said, emphasizing the jobs he will create utilizing what is currently thrown away.
While he started only two years ago, Haley said he understands "it takes time to develop ideas and bring them to market."
He's had to overcome a number of shellfish-production obstacles he'd been unaware of. They include the loss of multiple fishing areas to Newport condominiums, mussels' short reproduction cycles in Rhode Island waters and opposition to inland-waterway farming.
In response, he's formed partnerships with ports along the Eastern Seaboard, focused on increasing the number of juvenile mussels to elongate the reproduction cycle and developing deepwater technology to incubate the mussels far from residential areas.
This month or soon after, he said he'll release a business plan for Aqualine, officially launch the business and open a "multimillion-dollar facility.
"Because of the [fellowship] grant, we had the ability to really take our time and develop this product," Haley said. "[It] gives us ­credibility."
---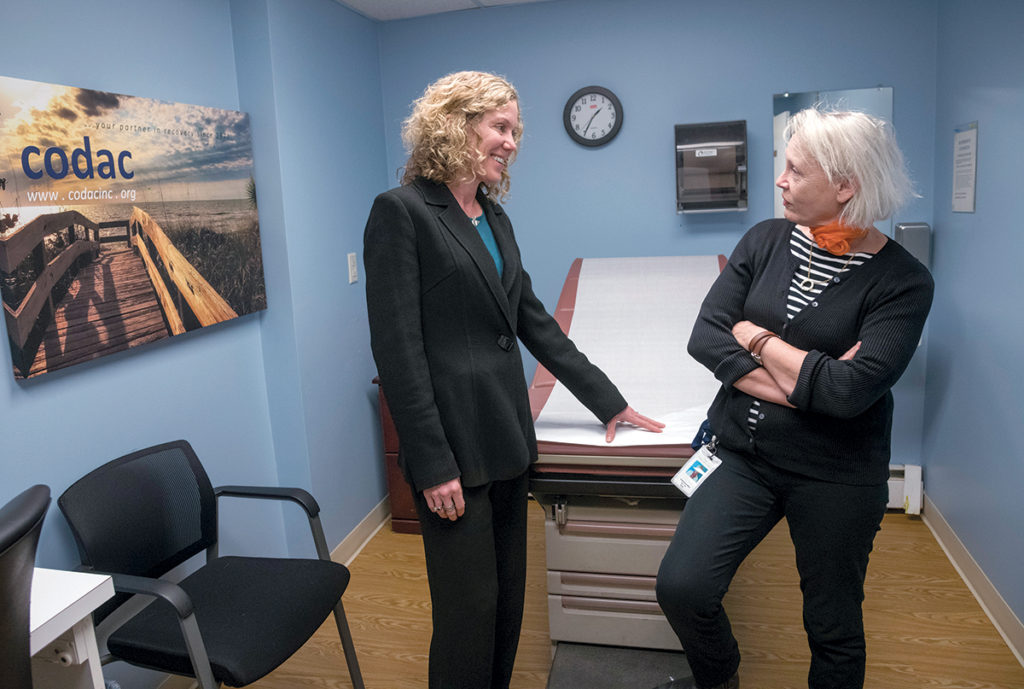 'Ignoring hep C [hurts] the taxpayer'
One in three people diagnosed with hepatitis C dies of the disease, says Dr. Lynn Taylor, director of HIV/Viral Hepatitis Co-infection Program at The Miriam Hospital and associate professor of medicine at the Warren Alpert Medical School at Brown University.
Hepatitis C, according to the Centers for Disease Control and Prevention, is a bloodborne virus that infects the liver and affects between 2.7 million and 3.9 million Americans.
After years in the infectious disease field researching hep C, and fighting to highlight its importance, Taylor said: "I couldn't take seeing my patients beat HIV, beat addiction then to die of hep C."
In 2013 she was awarded an innovation fellowship to pursue eradication of the disease in the Ocean State. Her project, Rhode Island Defeats Hep C, seeks to make the state the first in the nation to eliminate the disease, as well as end the stigma around it.
The biggest impact of her work to date, said Taylor, is awareness she's brought to a fight she says remains unfunded by the nation's health care industry.
Her research and awareness-building were honored by the White House during the 2016 national viral hepatitis testing day, which recognized 12 organizations from across the nation for their response efforts to the epidemic. She's also been involved with the World Health Organization's "Standard Guidelines for Screening, Care and Treatment of Chronic HCV Infection" panel since 2013.
Taylor was also behind the coalition to light the Rhode Island Statehouse dome yellow in honor of hepatitis research, and she participates in the annual hep C-themed WaterFire coinciding with world hepatitis day on July 28.
Because it often strikes middle-aged people, who are the core of the workforce, Taylor has always promoted eradication of the virus as a "cost-saving" economic measure. "Ignoring hep C is hurting the taxpayer," she said.
Moving forward, Taylor hopes to continue lifesaving research and build interdisciplinary partnerships among teaching institutions, science researchers, and the medical and health care industries.
She believes the national goal of eradicating hep C by 2030 can be achieved in Rhode Island with "more support" from the R.I. Department of Health and the state's Medicaid system.

Want to share this story? Click Here to purchase a link that allows anyone to read it on any device whether or not they are a subscriber.