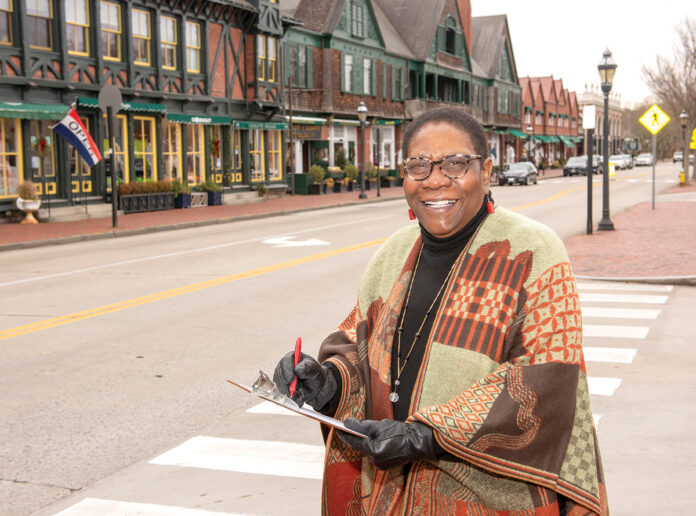 With a career in transportation planning, engineering and design in both rural and urban settings, Valerie Southern learned a lot before setting out on her own.
Before she started Valerie J. Southern Transportation Consultant LLC, time working for others was full of high-profile projects and organizations. Now on the cusp of retirement, Southern plans to share wisdom – especially about networking – with other female entrepreneurs.
Born in Illinois, Southern was one of five children in a military family. When she was in kindergarten, her father was assigned to Quonset Point Naval Air Station in North Kingstown, and the family relocated to Jamestown.
Southern earned a master's degree in community planning from the University of Rhode Island and a master's in public administration from Harvard University's Kennedy School in 1987.
She served as deputy director of policy under Gov. Edward D. DiPrete from 1987 to 1990 before accepting a position as deputy secretary of transportation planning and capital programming at the Mass. Executive Office of Transportation and Construction, where she helped oversee a $1.6 billion budget.
Southern occupied that role for two years, moving to the state of Washington to become manager of transportation planning for the King County Department of Transportation from 1996 to 1998.
"There comes a point in time where you say, do I want to continue?" Southern said of working as a public official. "I wanted more control."
It was then she decided to start her own consulting firm and hire independent contractors to help her and company senior engineer Gary Norris with transportation projects. The firm's expertise ranges from long- and short-term master planning to traffic engineering and design to parking supply and demand analysis.
'It's a matter of communicating my desire to bring my knowledge to a project.'
VALERIE SOUTHERN, Valerie J. Southern Transportation Consultant LLC owner
Southern calls Seattle a progressive city in which to launch a new venture. The time was right for her.
"Entrepreneurs were present in our country for decades, and women and women of color were coming into their own then, in the '90s," Southern said. "I think I was the only woman-owned, woman-of-color [consultancy] in the region in my industry."
Gaining a professional foothold happens over time and can have its own pace. The professional networking mindset Southern used is one any new entrepreneur can adopt, she said.
"It's a matter of communicating my desire to bring my knowledge to a project and communicating that I am qualified," she said. "It's not the type of thing where someone is doing me a favor; it's establishing a mutual agreement that we have something to offer each other. That's a respectful starting point."
She began getting calls from government entities and established businesses, asking her to join their teams. But the world of entrepreneurship was very different from the public and corporate domains to which she had grown accustomed.
Deliverables for clients such as the U.S. Navy had to be met, no matter what. On one job her consulting firm had been contracted for, an engineer leading the project had been hospitalized at the same time her brother passed away. There was no large team waiting in the wings to help. Despite the personal hardship, she had to take on the workload.
"When I made the transition from a very large, well-staffed firm to an independent existence, all that corporate support was gone," she said.
There were benefits, too. Southern controlled her own destiny, with the ability to brand her company as she chose and control her work hours.
Southern eventually returned to the East Coast to be closer to family.
She moved to Fairfax, Va., near Washington, D.C., and though she scaled back her business, further retooling was needed.
"I got tired of D.C.," she said. "It is an intense area. It's tough and draining and you begin to wonder who you are."
Southern returned to Jamestown in 2015, finding the Rhode Island transportation community a bit more hesitant than Seattle. After all, there weren't many women of color running businesses in this field, and she was largely unknown in the area. But Southern made inroads, and she joined the Rhode Island chapter of the American Council of Engineering Companies and other industry groups.
Involvement in such organizations will continue in Southern's pending retirement. As for the transportation industry overall, she sees hope in President Joe Biden's $1 trillion infrastructure bill.
"Talk to any city manager – there is never enough funding to really keep infrastructure current. I think that's one reason Uber is doing so well," said Southern, who works on contracts to improve public mobility.
"Current systems are overrun," she said. "Population growth doesn't match transportation plans, and we've seen disconnects for years. What Biden has done is a cash infusion unheard of in the history of infrastructure in the U.S. I am excited."

Want to share this story? Click Here to purchase a link that allows anyone to read it on any device whether or not they are a subscriber.