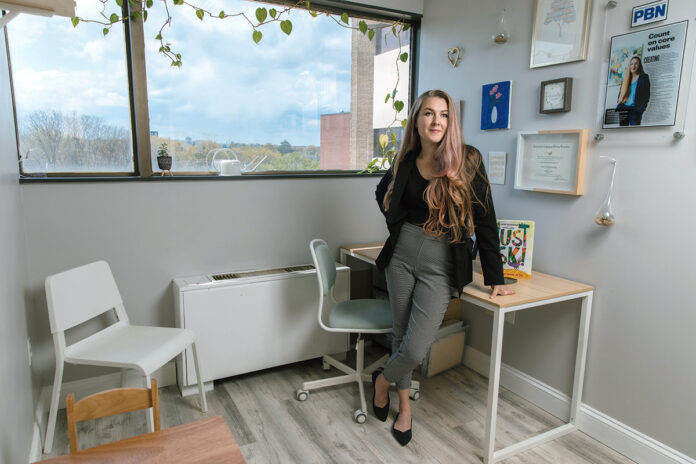 PBN 2023 Business Women Awards
HEALTH CARE SERVICES WOMAN TO WATCH: Rachel Best | Small Steps Therapy LLC clinical director and speech language pathologist
---
IT IS A CAREER Rachel Best could not have choreographed.
After an educational tour that included a dance program in Mississippi, Best, clinical director and speech language pathologist of Small Steps Therapy LLC, stumbled onto her livelihood.
"I found speech by accident," said Best, a speech-language pathologist. "It was definitely divine intervention."
Best, who attended a small Christian school where her mother was principal in Mendon, Mass., planned to follow her into education but was intrigued by speech therapy after helping a preschooler overcome a lisp. She considered speech therapy for a double major or minor while transferring mid-junior year to Bridgewater State University but learned she'd have to choose between early education and a communications track.
Before finalizing her enrollment, Best explored her options – first, with the communications department and then the communications disorders department. Best was told she would make a great speech therapist.
"Twenty minutes later, I dropped education and signed up for communication disorders," she said.
Several steps since – bachelor's and master's degrees and two speech-language-pathology roles in hospital and academic settings – Best finds herself owner of a burgeoning business based in Providence. She pivoted to a solo private practice in May 2013, about the time Best began maternity leave with her first child.
Her practice has grown to serve waiting lists of patients needing her niche services. Since spring 2020, Best's company has more than doubled in size, adding locations in East Greenwich and Hopkinton, Mass. Two more – in Lincoln and Shrewsbury, Mass. – are slated to open this summer. Best also offers virtual appointments to patients clustered near Guilderland, N.Y.
Best also grew her team to 29 speech-language pathologists, occupational therapists, floor-time clinicians and nutritionists, with more waiting in the wings to raise total employees to 35 by July.
Services have expanded beyond the initial focus – pediatric speech, language and dysphagia – to include feeding and swallowing; occupational therapy; tongue tie; nutrition; orofacial myology and LSVT Loud, a speech treatment for people with Parkinson's disease and other neurological conditions.
This allows Best to spotlight what she loves best, specializing in swallow therapy, while building a multidisciplinary collaborative and empowering women.

Want to share this story? Click Here to purchase a link that allows anyone to read it on any device whether or not they are a subscriber.