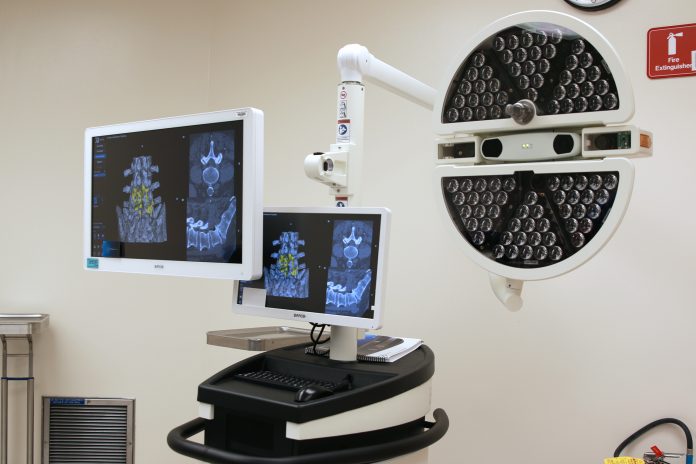 NEW BEDFORD – The Brain & Spine Surgery program at St. Luke's Hospital is now using 7D Surgical's Machine-vision Image Guided Surgery technology, which projects light onto the subject, the reflection of which is digitally matched against a preoperative CT to create a detailed image for guiding surgeons.
The 7D system uses machine-vision cameras, sometimes also referred to as computer vision, said Maureen Boyle, spokesperson for Southcoast Health. The two-camera system acts as a set of eyes feeding information to the computer, which uses advanced algorithms to analyze the data. While the technology is new to medical devices, it is best known as a component of self-driving automobile technology, she said. Later model iPhones also use machine vision to analyze faces to unlock the phones.
Boyle said 7D Surgical reports St. Luke's is the first Bay State hospital to adopt the system.
"As a spinal surgeon, the 7D technology provides me with more information when placing hardware in the spine because I can see the anatomy in 3D as opposed to the 2D intraoperative images taken with standard fluoroscopy," said Dr. Matthew Philips, neurosurgeon at St. Luke's Hospital. "The system also spares the patient and surgical team exposure to the harmful radiation that comes with radiographic imaging associated with traditional robotic approaches."
Scans taken during standard fluoroscopic spinal surgery can take 20 minutes to an hour, prolonging exposure to radiation, according to a statement from Southcoast Health, which operates St. Luke's. The 7D Surgical system uses sophisticated camera technology to create a three-dimensional photographic image in three to four seconds, resulting in shorter, more efficient procedures.
Philips said the technology allows them to image patients so much quicker that they dramatically reduce the time the patient spends in surgery.
"Offering the latest, most cutting-edge technology underlines Southcoast Health's commitment to delivering the best care possible," said Keith Hovan, president and CEO of Southcoast Health. "When our exceptional brain and spine team has the best technology available, we truly can offer our patients care that is second to none."
Rob Borkowski is a PBN contributing writer.