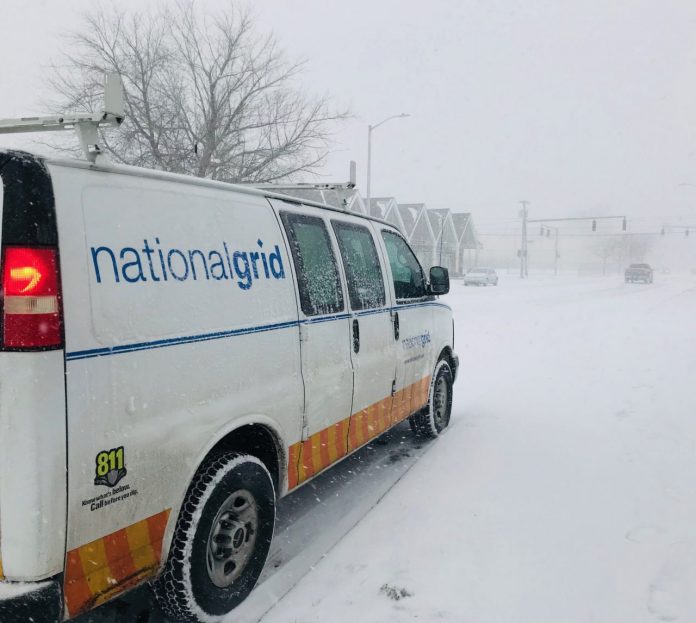 NEWPORT – National Grid Rhode Island has suspended gas service to 7,100 gas customers due to a transmission supply issue, mostly in the city of Newport, the company announced Monday evening.
The company expects the restoration of service to be a "multi-day" effort involving more than 1,000 workers and support personnel.
Following the shutdown, Gov. Gina M. Raimondo ordered a state of emergency for Newport County and activated the National Guard to assist residents.
National Grid said that the problem stemmed from its natural gas supplier, Algonquin Gas Transmission Co., which is owned by Enbridge Inc. National Grid said that it became aware of a low-pressure gas situation on Aquidneck Island earlier on Monday.
Several locations have been opened as warming centers, such as the Community College of Rhode Island Newport campus, Newport Heights and Donovan Manor, according to the governor. The Potter League for Animals will be accepting pets from those seeking shelter.
Residents were told to call 2-1-1 for rides and shelter information.
The Newport County courthouse was also closed Tuesday due to the gas shutoff, as was Salve Regina University's Newport campus.
"The safety of our customers and the communities we serve is our No. 1 priority and concern, and National Grid is working around-the-clock to safely and reliably restore service," said Timothy F. Horan, president of National Grid Rhode Island, in a statement.
"The extreme cold is a major concern for us, and we apologize for this significant disruption. We encourage all to check on the elderly and your neighbors and ensure you have a plan to stay warm," Horan added.
The company said it is also working with the R.I. Emergency Management Agency to limit risk to property and to work toward the safety and well-being of residents in the affected area. It also said that it will be working with local aid organizations.
The company said it would reimburse room costs for those affected that book lodgings.
Newport County Chamber of Commerce Executive Director Erin Donovan-Boyle issued a statement Tuesday, calling for businesses that need assistance to reach out to the chamber for help. She said that the chamber would help businesses connect to resources at the local and statewide level and that the chamber's membership includes plumbing, construction, clean up services, building supplies or contractors.
"We have a long few days or week ahead of us," said Raimondo Tuesday at a briefing. "This situation is very serious. The good news is that in this point in time, there are no reports of any major injuries, fatalities or hospitalizations."
"My primary message to people is that it is not safe to stay at your house," Raimondo said. "This is going to be a multi-day event, possibly a week or longer. The number one message is to get to warm shelter. … The good news is that in this point in time, there are no reports of any major injuries, fatalities or hospitalizations."
"[National] Grid is providing hotels, you can get yourself to a hotel, save your receipt and Grid will reimburse you," Raimondo said.
She also said that if that was not an option for some, that National Grid is also reserving blocks of rooms at certain hotels and that this information is on the company's website. "Just show up at the hotel and get your family a room and keep yourself safe," Raimondo said.
The governor warned of the risk of frozen pipes and encouraged residents to keep water running at a trickle. 
National Grid has set up an operations center at Gurneys resort on Goat Island to find out more information on resources available to them.
"National Grid needs to touch every single customer that has been affected," Raimondo warned. "Before they can turn gas back on, they have to shut off gas everywhere. Just shutting off gas will take two to three days." Turning gas back on will also take place one home at a time.
National Grid Rhode Island President Timothy F. Horan said that "The integrity of the system is safe and intact," and laid out a plan in which gas service is returned zone by zone, starting with a zone in Middletown. There are 20 zones affected by the shutoff.
Horan noted that the process could take a week due to the hands-on nature of the shutdown and restart of the zones.
"This is different than an electric issue, [when] we can get 1,000 customers on very quickly. When we relight customers, we have to get in to touch every appliance," he said.
Horan also noted that National Grid will be reaching out to customers to gain access to homes. If customers cannot be reached, the company will be going in to turn off gas systems.
"If we can't get them, we will have a locksmith and a policeman to get in and turn off the meter," said Horan. "We've got to get them all turned off before we can relight."
Chris Bergenheim is the PBN web editor. Email him at Bergenheim@PBN.com.