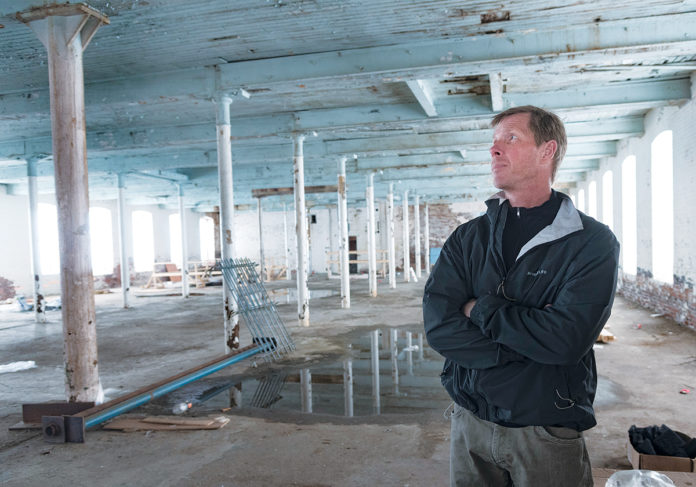 Time matters in historic renovation, and nowhere is that clearer than at the sprawling Pontiac Mills in Warwick.
The 19th-century textile mill was in a state of collapse before Union Mill LLC purchased the property in 2015, with the intention to convert it in phases to modern apartments and commercial ­offices.
By the time interior demolition began more than a year later, two buildings had collapsed, adding to the five that had fallen ­previously.
"If we didn't start this year, I think the other half of the buildings would have been gone," said developer Larry Silverstein, president of the Baltimore-based Union Box Co., a partner in the redevelopment. "They were at the end of their life."
The intricate and painstaking process of mill redevelopment is wildly expensive, and for developers it all comes on the front end. Before they can recoup the investment through leasing or sales, millions will be spent clearing massive, old buildings of toxic materials, abandoned equipment and rotted flooring. In the case of Pontiac Mills, tons of debris had to be removed once roofs collapsed in on some of the buildings.
Without state and federal historic tax credits, the project would not have made financial sense, Silverstein says.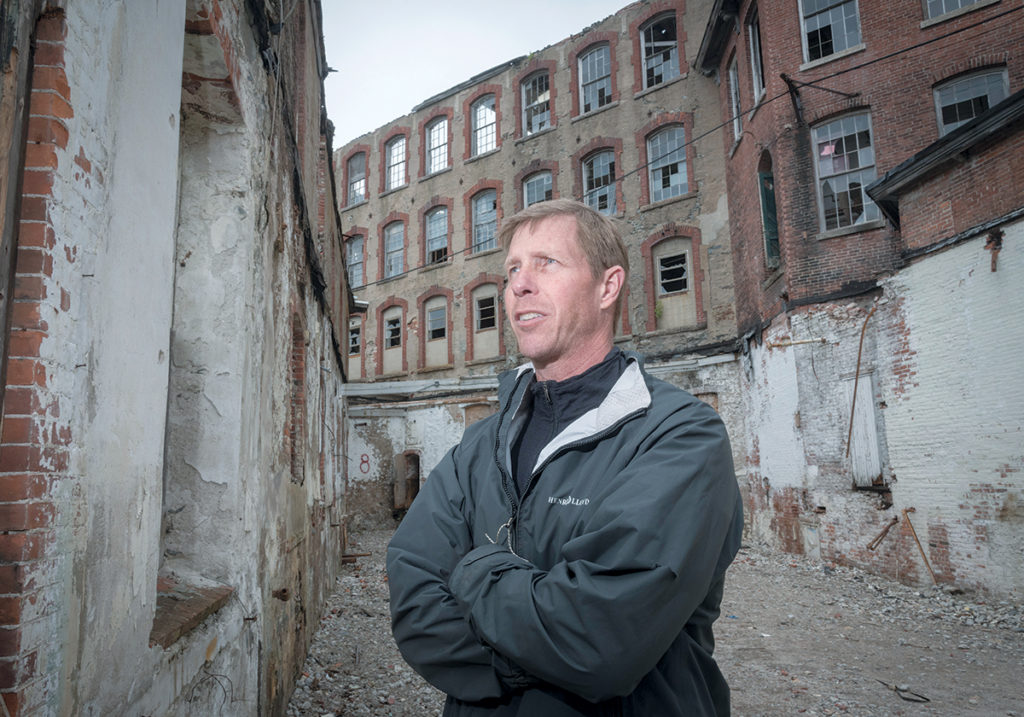 NEW APPROACH
For years, Rhode Island used state Historic Preservation Tax Credits as the primary incentive for renovation of such structures. The formula was simple. If a building met the criteria, the developer could receive tax credits on completion, typically at 20 percent of the project cost.
But concern the state was giving out more tax credits than it could afford led to the program's suspension in 2008. Developers and other supporters have almost annually pressed for its return since, with state leaders last responding in 2013 by making available $34.5 million in unused, transferable credits.
With the election of Gov. Gina M. Raimondo in 2014 and the creation of a new Executive Office of Commerce, however, the state recast its business-development and historic-renovation incentives.
The primary vehicle is now the Rebuild Rhode Island tax credit. It has become the most frequently used state incentive in the two years since the R.I. Commerce Corp. received legislative approval for a new set of economic-development tools.
But that hasn't stopped developers from pining for the old historic-tax-credit program, which still has a waiting list.
For one thing, they say, Rebuild isn't really a tax credit at all. In its structure, it more closely resembles a loan, say developers and historic-preservation advocates. Project owners are now required by contract to share a percentage of the development profits with Commerce RI, once negotiated financial thresholds are reached.
Commerce RI's board has authorized 20 Rebuild tax-credit allocations over the past two years. But negotiation of these agreements has delayed the signing of final documents for some projects for several months, according to developers and city officials.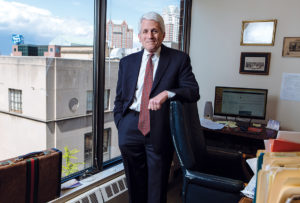 "In order to get an actual agreement, it's taken some people … close to a year after they've already been awarded the Rebuild, to finalize an agreement with the state," said Scott Wolf, executive director of Grow Smart Rhode Island, which focuses on urban planning.
The feedback his organization is getting is that many developers find the Rebuild process time-consuming and expensive. The loan structure is only part of the challenge, he said. The Rebuild credits, which are payable on a certificate of occupancy, are not meted out at once, but instead over five years.
"There is still a sense from people I'm speaking with in the development community that it is a complicated, time-consuming and expensive process that is much less straight forward than the state historic tax credit," he said.
For renovation of existing buildings, Grow Smart RI favors a replenishment of state funding for the historic tax credit.
Legislation introduced in March by Rep. Kenneth A. Marshall, D-Bristol, would renew the fund with $150 million in tax credits and remove the existing $5 million per-project cap. The bill is similar to legislation he authored in previous years but substantially increases the requested funds.
A Senate bill, meanwhile, co-sponsored by Senate President Dominick Ruggerio, would repeal the sunset clause on the historic-preservation-tax-credit program that would end the program on June 30.
ALIGNING INTERESTS
A total of 286 projects have been completed under the historic-tax-credit program, representing $350.7 million in tax credits and $1.3 billion in private investment, according to state figures. Another 52 projects remain active, representing another $114.4 million in tax-credit allocations and $514.6 million in private investment.
In nearly all cases, the redeemable credits are sold to investors, allowing the developer to gain critical financing before embarking on a massive project. Or the tax credits are used as collateral for a loan, explained Ted Sanderson, executive director of the R.I. Historical Preservation & Heritage Commission.
"You might get a construction loan, and part of the security of that loan is the pledge of the tax credits," he said.
For a smaller project, an owner might be able to cover the investment on their own. But for anything as large as an industrial mill or a downtown business building, construction capital must be assembled. This is where the owner could syndicate the tax-credit investment to share the risk, Sanderson explained.
"Many of these projects are taking buildings that are seriously underperforming, because they're run down and out of date," he said. "Getting a straight bank loan can be difficult because the property needs to be improved in value in order to secure that loan. Tax credits are a critical way of bridging that gap."
Darin Early, chief operating officer of Commerce RI, understands why Rebuild may not be as popular with developers as historic tax credits have been.
"You have to ask why those developers preferred the historic tax credits," he said, in a recent interview. "Any money that is free money, that's a great day, right?"
It makes the developer
want to maximize
profit if we participate.
DARIN EARLY, Commerce RI chief operating officer
But Rebuild gives the state more assurance of a return on tax credits, he says, because the state is investing in projects as a participatory partner. The structure, which uses a waterfall technique, is novel for government agencies, but is widely used in commercial lending, he explained.
It is not a loan, he said. "A loan implies you have a fixed term. You have a fixed interest amount that accrues in the event it's not paid. It also implies the lender has a certain amount of rights to take the asset or force repayment. Rebuild has none of those things."
The structure uses a waterfall to enable the sponsor, or the developer, to "receive a reasonable market rate return" that is negotiated and varies by project.
Commerce RI would not disclose the return amounts it has negotiated, or describe a typical range of return for each type of project. And although the credit is not structured as a loan, if using Rebuild, developers may need to obtain a private bridge loan to obtain upfront capital, using the credits and other sources as collateral.
The state's Rebuild contract with Capital Cove Development LLC, the Massachusetts company that is building The Commons at Providence Station, a new construction project of 169 apartments, was provided to Providence Business News on request but heavily redacted. The term sheet for the development's bridge loan, allocation-of-available-cash page and internal-rate-of-return documents all were redacted in their entirety.
The project is to receive $5.8 million in Rebuild tax credits on completion, to be issued in installments.
The structure now used by the state in real estate incentives aligns interests, Early argued.
"It makes the developer want to maximize profit if we participate," he said. "They have to manage the asset, keep expenses down and drive revenue in order to get to that last stage of the waterfall, which in most of our transactions, 100 percent of the value in the upside goes to the developer."
The approach worries historic-preservation advocates, who say the state should be more flexible to encourage investment in buildings and neighborhoods that represent some of the state's most challenging real estate. And some developers have said they are trying to avoid using the incentive.
As an advantage, the Rebuild Rhode Island tax credit does offer state assistance for new construction projects, including infill buildings that previously would not have qualified for historic tax credits.
But Grow Smart's Wolf doesn't think the credit is doing enough to incentivize developers to take on large-scale rehabilitation projects.
"I don't think the collective incentives being provided by the state and the collective funding behind those incentives for historic rehab are sufficient to capitalize fully on this great asset we have of a voluminous collection of historic buildings," Wolf said.
"They are doing some incentivizing," he said. "But it's a daunting process to go through. A lot of people who have good, historic rehab projects are deciding not to run that gauntlet that's been established at Rebuild Rhode Island."
WAITING TO INVEST
According to the R.I. Division of Revenue, 29 projects are on a waiting list for historic tax credits, representing a potential investment in the Rhode Island economy of more than $223 million.
The amount of the tax credits requested from these applicants, but not available, totals $52.8 million.
The tax-credit fund now is occasionally replenished when a project that has already been awarded credits falls through, or through the required 3 percent fee on project value paid by successful applicants.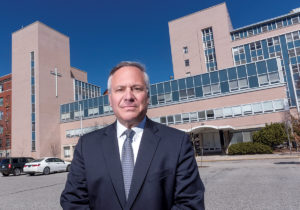 It was that unexpected fortune that allowed Joseph R. Paolino, Jr., owner of Paolino Properties, to claim state historic credits for a conversion of the Case Mead Building in downtown Providence, and reduce an anticipated need for Rebuild credits.
"Developers like the historic credit better than the Rebuild," he said.
The Case Mead project will convert the building at Dorrance and Weybosset streets to a mixed-use project featuring retail and 44 micro-lofts aimed at downtown workers who want convenience and a small living space.
Paolino, a former head of the state's economic-development agency and Providence mayor, said the process for obtaining incentives is more bureaucratic than it was in years past. Sales tax exemptions, for example, used to be administratively approved. Now, like Rebuild, they must be authorized by the staff and Commerce RI board.
The historic tax credit is favored by developers who are restoring older buildings, Paolino said, because it's used as equity on the front end. It has its limits. For developers of new buildings, for example, Rebuild has filled a gap.
The negotiation of the Rebuild credit, versus a typical tax credit, has been something that developers and state officials have had to work through, Paolino said.
"They were learning the process themselves," he said. "The developers, on the other side, are also learning the process. We had the historic tax credit, and we were used to that. So, then you had to start from scratch again, to try to learn the new process. But if you ask, 'What do you like better?' I like the historic tax credits better.
"You sell the credits on the open market and that money gets used as part equity to go into the project, and you don't have to worry about a payback. It's cleaner. The Rebuild, you have to pay back," he said.
For his second application for incentives to restore an older building, Paolino has avoided Rebuild and will pursue tax-incremental financing. He owns the five-story, historic Exchange Bank building at 30 Kennedy Plaza in Providence that he plans to convert to a boutique hotel. The property, because it would be a hotel use, will generate sales and room taxes that could repay a state bond under the statewide tax-increment financing option, he said.
It's another tool sought by the Raimondo administration, although it has been used more sparingly than Rebuild. It is a good option for anyone developing a hotel, Paolino said.
Paolino is direct about his intentions. "I'm going to be going back to ask for TIF on a building I own downtown. If I get the TIF, I'll do the hotel. If I don't get the TIF, I won't do the hotel."
In Pawtucket, as with other cities in Rhode Island, the incentives that encourage developers to tackle mill and industrial conversions are essential to their economic development.
The historic tax credits were the single-most important incentive for developers who wanted to rehabilitate older structures, according to Mayor Donald R. Grebien.
He offered as an example the redevelopment of the former Hope Webbing Co. mill into Hope Artiste Village. The sprawling industrial site, always envisioned as a multiphased project, used state and federal historic tax credits to create a new neighborhood of businesses. The final phase, a 140,000-square-foot building converted to 150 loft-style apartments, was always envisioned as the housing component.
"Now Hope Artiste gets in front of Rebuild Rhode Island for that project. And it becomes, from their perspective, they've had both and an opportunity to see, it gets much more challenging," Grebien said.
Eight months after the Commerce RI board approved an earmarking of $6 million in Rebuild credits, the development team of Urban Smart Growth LLC has not yet had the terms authorized by a contract, according to Grebien. A spokesman for Urban Smart Growth did not immediately return calls seeking comment.
After the debacle of 38 Studios, the state has moved away from incentives that are awarded upfront, and instead involve a loan or repayment if the project is profitable, Grebien said. But this is challenging for developers. In the beginning, lenders viewed Rebuild as a loan and it was creating issues for project financing.
"From a developer's standpoint, they're getting less, and they're getting more requirements," Grebien said. "From the state's side, you have the governor and Commerce RI trying to protect the state's interests and saying, 'We want a return.' "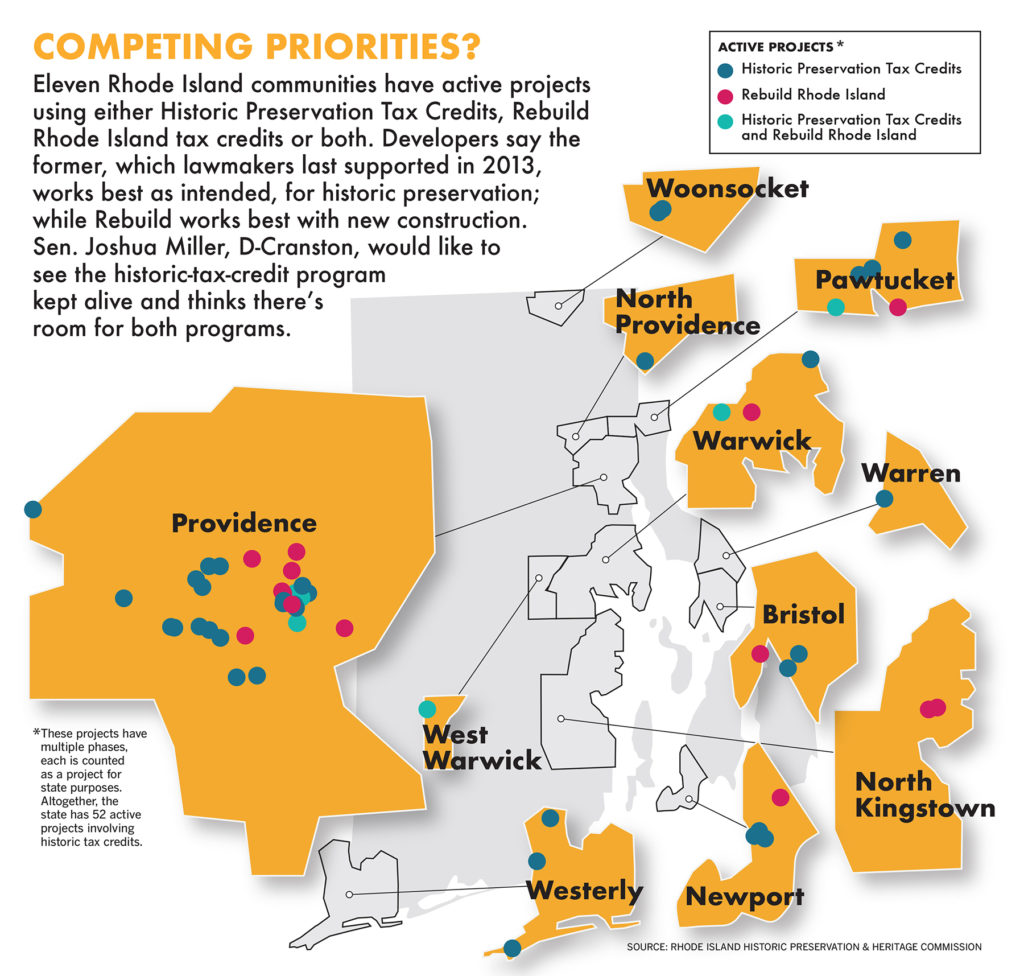 The approaches are fundamentally different under the two tax-credit programs, Early said.
"What the state historic program lacked was an underwriting process," he said. If a project qualified, it received a state tax credit worth a percentage of project costs.
"I'm going to venture a guess and say that many of the projects that were funded, some, not all, likely did not require the level of subsidy that was awarded under the historic credit program," he said.
He offered an example. Rebuild has a multiple of 10 on its capital. The state has authorized some $80 million in credits on $725 million worth of development.
The state historic-tax-credit program, by comparison, has a 20 percent multiple.
As for the length of negotiations under the new program, he indicated that part of the delay is the willingness of the private partner, the developer, to move forward.
"Every transaction is unique," Early said. "What drives completion of the contracts is obviously the appetite of the willing partner to engage or drive through the papering process. The second thing is, from a practical perspective … we are last-dollar financing. A series of other financings either have to be agreed to, or projects have to be permitted. There is a time our funds ultimately come in, and that's at certificate of occupancy."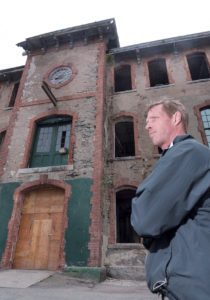 ROOM FOR BOTH?
The Pontiac Mills project, which in its first phase will entail the renovation of three brick buildings into office and residential space, will cover about 100,000 square feet. A similarly sized second phase will renovate the remaining buildings.
Among the planned occupants: a microbrewery for a building near the river and a coffee shop for the standalone former pay master's office, a wooden building near the mill entrance.
The $35 million project will involve private financing, $5 million in state historic tax credits, $6 million in federal historic tax credits, and $3.7 million in Rebuild tax credits, explained Silverstein.
While Union Mill wouldn't have attempted to convert the mill to modern uses without the historic tax credits, it will take advantage of Rebuild Rhode Island too.
Rebuild financing took several months to negotiate, he said. In part, this was because his company was not familiar with its structure, and in part, because the state had a new product as well.
Because Union Mill LLC has the wherewithal to finance the project using the state and historic tax credits, and their own resources, Rebuild credits will be taken on completion, but only as needed, he explained.
"If we don't need the full amount, we won't take the full amount," Silverstein said.
Sen. Joshua Miller, D-Cranston, is the primary sponsor of the legislation that would continue the historic-tax-credit program. The bill, which recently had a hearing in the Senate Finance Committee, would allow the program to continue past June 30.
The sunset, which would end the program this year regardless of whether funding remained available, was attached when the state provided additional funding to the historic-preservation-tax-credit program in 2013.
It should remain funded and viable, Miller said, adding there is a place in state redevelopment for both programs.
"Nobody wants anything that's duplicative, but people do want things specific to historic projects," he said. "People are very interested in that. It's a longer timetable on Commerce, often. A lot of the Commerce programs are involved with employment. And these aren't necessarily employment-related projects, if you're building housing."
The state could track the funding and determine how much could be apportioned to Rebuild, and how much to the historic-tax-credit program. "There's a place for both," he said.