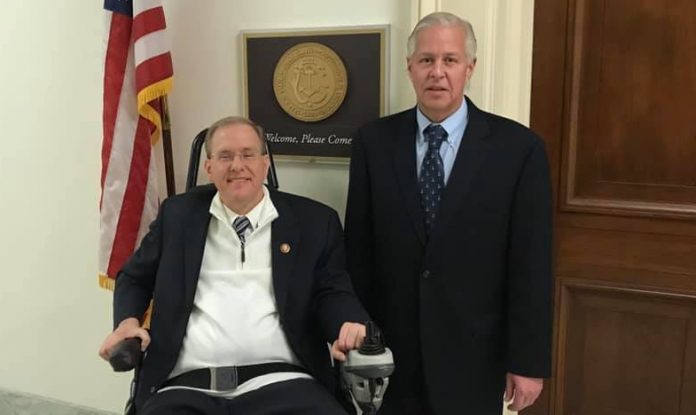 CIRI president was guest of Congressman Jim Langevin.
WARWICK, RI — February 19, 2019 — At the invitation of US Congressman Jim Langevin (D-RI), CIRI President Stephen A. Cardi II attended the 2019 State of the Union address by President Trump. For Cardi, who currently serves as a Director for the American Road & Transportation Builders Association (ARTBA), the event was a significant opportunity to advocate for bipartisan proposals to invest in our national infrastructure.
"It was a special honor to accompany Congressman Langevin, who continues to be a strong advocate for new infrastructure investment," says Cardi. "As with everyone across our nation, Rhode Islanders deserve safe, reliable and modern roads and bridges that will meet the demands of personal and professional life, while promoting a stronger economy. Transportation industry leaders, both here and nationally, are to looking to President Trump to make this a priority for 2019."
A leader in the RI construction industry for decades, Cardi is executive vice president and COO of Cardi Corporation, one of the leading heavy, highway, site and utility construction contractors in New England. His additional industry-related achievements include national board appointments by the National Asphalt Pavement Association and the Associated General Contractors of America.
Contact:
Timothy R. Scanlon • 401.738.8530
Executive Director
exec@ciri.net
About CIRI:
For more than 60 years, Construction Industries of Rhode Island (CIRI) has worked to advance the practice and image of the heavy and highway construction industry — while promoting transportation-related initiatives that serve the interests of Rhode Island at large. CIRI's ongoing activities include government and labor relations, assisting member companies with federal and state compliance, safety and technical training for the industry, and active collaboration with leading national and regional organizations.