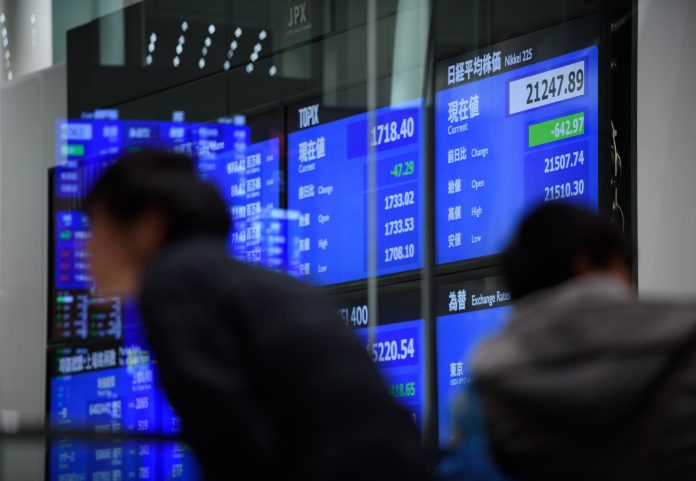 NEW YORK – U.S. stocks tumbled the most in six weeks and Treasuries rallied as investors shifted focus from the Federal Reserve to the threat of an escalating trade war with China that has the potential to disrupt global growth.
The benchmark S&P 500 Index slumped the most since early February and the Dow Jones Industrial Average lost more than 700 points after President Donald Trump ordered tariffs on about $50 billion in Chinese goods. The 10-year Treasury yield slid toward 2.8 percent and the yen advanced as investors sought safe havens. The dollar rebounded.
"This morning markets were likely to be down because Facebook and other tech companies having difficulty and the tariff announcement just basically held buyers back, nobody wanted to step in front of the announcement just in case," said Jamie Cox, a managing partner for Harris Financial Group in Richmond, Virginia.
The threat that a tit-for-tat trade spat with China will erupt and hamper global growth has investors on edge a day after the Fed sought to reassure markets that it's in no hurry to raise rates even as it lifted growth projections for the world's largest economy. Trump's first trade action directly aimed at China would come as policy makers including IMF Managing Director Christine Lagarde warn of a global trade conflict that could undermine the broadest world recovery in years.
Stocks were also hit when John Dowd resigned as Trump's lead attorney countering Special Counsel Robert Mueller's Russia probe as the inquiry into possible collusion in the 2016 election intensifies.
Facebook Inc. helped pace a decline in the tech sector, falling as much as 2.5 percent before paring losses. This week's selloff in tech stocks is on pace to be the worst since early February. Other notable decliners Thursday included Accenture PLC and Micron Technology Inc., which reports fiscal second-quarter earnings after the close of trading.
Elsewhere, West Texas oil fluctuated before falling and the Australian dollar slipped after the country's unemployment rate climbed. The British pound initially jumped after the country's central bank voted 7-2 to maintain interest rates, but pared as investors digested comments from policy makers that weren't overtly hawkish.
Here are some key events on the schedule for the remainder of this week:
The Bank of Russia's rate decision is on Friday.
U.S. government funding is due to expire at the end of the day on Friday.
And these are the main moves in markets:
Stocks
The S&P 500 Index fell 2 percent as of 3:30 p.m. New York time, while the Dow Jones Industrial Average dropped 2.3 percent and the Nasdaq Composite Index dipped 1.8 percent. The Stoxx Europe 600 Index fell 1.7 percent and the MSCI Asia Pacific Index was little changed. The U.K.'s FTSE 100 Index dipped 1.5 percent, touching the lowest in 15 months. The MSCI Emerging Market Index fell 1 percent.
Currencies
The Bloomberg Dollar Spot Index rose 0.2 percent, rebounding from the largest drop since January. The euro fell 0.2 percent to $1.2313. The British pound dropped 0.2 percent to $1.4109. The Japanese yen rose 0.3 percent to 105.72 per dollar.
Bonds
The yield on 10-year Treasuries fell six basis point to 2.83 percent. Germany's 10-year yield dropped six basis point to 0.53 percent, declining from the highest in more than a week. Britain's 10-year yield fell nine basis points to 1.44 percent.
Commodities
West Texas Intermediate  crude dropped 0.9 percent to $64.53 a barrel, easing from the highest in almost seven weeks. Gold fell 0.4 percent to $1,327.39 an ounce a day after the biggest rise since May 2017.
Sarah Ponczek and Jeremy Herron are reporters for Bloomberg News.