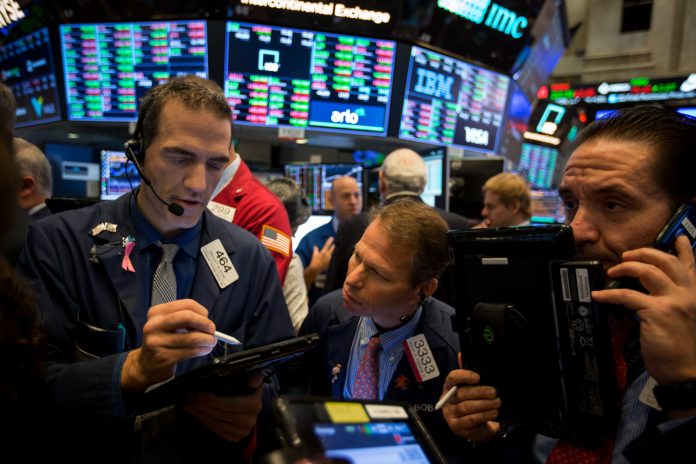 NEW YORK – United States stocks tumbled the most since February as fresh concern about the impact of the trade war with China roiled technology and industrial shares. Treasuries rose with the yen amid demand for haven assets.
The broad selloff took the S&P 500 to the lowest in three months, the Dow Jones Industrial Average plunged as much as 836 points and the Nasdaq 100 Index tumbled more than 4 percent. All 30 members of the blue-chip index retreated, with Boeing and Caterpillar dropping at least 3.8 percent. Computer companies led the S&P 500 to a fifth straight loss, the longest slide since Donald Trump's election win.
Fastenal Co. added to angst that the trade war with China is raising materials costs that will crimp profit margins. Estee Lauder and Tiffany led losses after French luxury goods maker LVMH confirmed China is enforcing customs rules more strictly as trade tensions remain high. The Cboe Volatility Index rose past 20 for the first time since April. Oil fell from $75 a barrel even as a major hurricane headed for the Florida Panhandle.
"The biggest thing going on in markets is you're seeing an unwind," Sameer Samana, a global quantitative and technical strategist for Wells Fargo Investment Institute, said by phone. "You had stocks doing really well, rates for the most part were very well-behaved. When you've got these risk-off moments, especially when you're later in the cycle, there is some concern on the part of investors where it's like, 'Is this the beginning of the end?"'
Just days before the start of the third-quarter earnings season, signs are mounting that companies might not be able to deliver the runaway growth that's bolstered equities so far in 2018. Investors have long fretted that the trade war would crimp profits, and now a group of companies is warning just that is happening at the same time that rising bond yields makes the cost of borrowing higher.
Valuations look more appealing, but the backdrop to trading is still dominated by deepening U.S.-China tensions and a surge in volatility for stock and bond markets.
In Europe, the Stoxx 600 Index dropped as declines for industries including miners and automakers outweighed gains in telecom companies and banks. Shares in Japan rose after four days of losses while those in China edged up, and South Korean equities slumped as trading resumed after a holiday.
Elsewhere, Italian bonds erased a slump as the deputy premier predicted yields on the debt won't blow out too far because of the government's budget plans. The South African rand slipped following Tuesday's rally. American crude traded near $75 a barrel as Hurricane Michael curtailed offshore oil production and the IEA issued a warning to the global market.
Here are some key events coming up:
The U.S. Treasury has $230 billion worth of debt auctions this week. The IMF and World Bank will hold meetings in Bali from Friday, where finance chiefs from around the world will gather. A closely watched gauge of U.S. consumer prices probably remained elevated in September and rose 2.3 percent from a year earlier, according to forecasts ahead of Thursday's release. JPMorgan Chase & Co., Citigroup Inc. and Wells Fargo & Co. kick off earnings season for U.S. banks on Friday.
These are the main moves in markets:
Stocks
The S&P 500 Index declined 3.3 percent as of 4 p.m. New York time. The five-day slump is the longest since November 2016. It's down 4.8 percent during that span. The Dow fell 832 points, or 3.2 percent, for the biggest drop since February. It slid below 26,000 to the lowest since Aug. 16. The Nasdaq 100 lost 4.4 percent to the lowest since July 3. The Stoxx 600 sank 1.6 percent to the lowest since March. The MSCI Asia Pacific Index fell less than 0.05 percent. The MSCI Emerging Market Index decreased 1.1 percent.
Currencies
The Bloomberg Dollar Spot Index rose less than 0.1 percent. The euro rose 0.3 percent to $1.152. The British pound climbed 0.4 percent to $1.3143. The Japanese yen rose 0.4 percent to 112.499 per dollar, a fifth straight gain.
Bonds
The yield on 10-year Treasuries was little changed at 3.21 percent. The two-year yield fell to 2.87 percent and the 30-year hit 3.39 percent. Germany's 10-year yield was flat at 0.55 percent.
Commodities
West Texas Intermediate crude decreased 2.8 percent to $72.89 a barrel. Gold futures were rose 0.4 percent to $1,196.40 an ounce.
Jeremy Herron and Sarah Ponczek are Bloomberg News staff writers.