Optimism reigns among Rhode Island business owners about the future for their businesses and the statewide economy, despite ongoing concerns about finding qualified workers and managing rising health care costs, according to results from Providence Business News' Summer 2017 Business Survey.
More than three-quarters of respondents, 76.3 percent, feel their business will be doing better a year from now, in line with results that have topped 70 percent in the biannual survey since winter 2013. And seven in 10, or 73.2 percent, see the statewide economy improving between now and next summer. That's a 10.1 percentage-point increase from summer 2016 and the second-strongest support for the statewide economy since PBN began conducting the survey in 2008, trailing only last winter's 76.4 percent.
Optimism for the coming year stems at least partly from strong results in recent months.
Just under three-quarters of respondents, 74.6 percent, reported increased business activity from the previous quarter, the strongest response in the survey's history. Seven in 10, 71.2 percent, said new orders topped those of last quarter, also a record response.
Additionally, 74.6 percent of companies said their net income rose over the past quarter – much higher than the 59.2 percent in summer 2016 – the second-highest percentage on record, after last winter's 78.1 percent.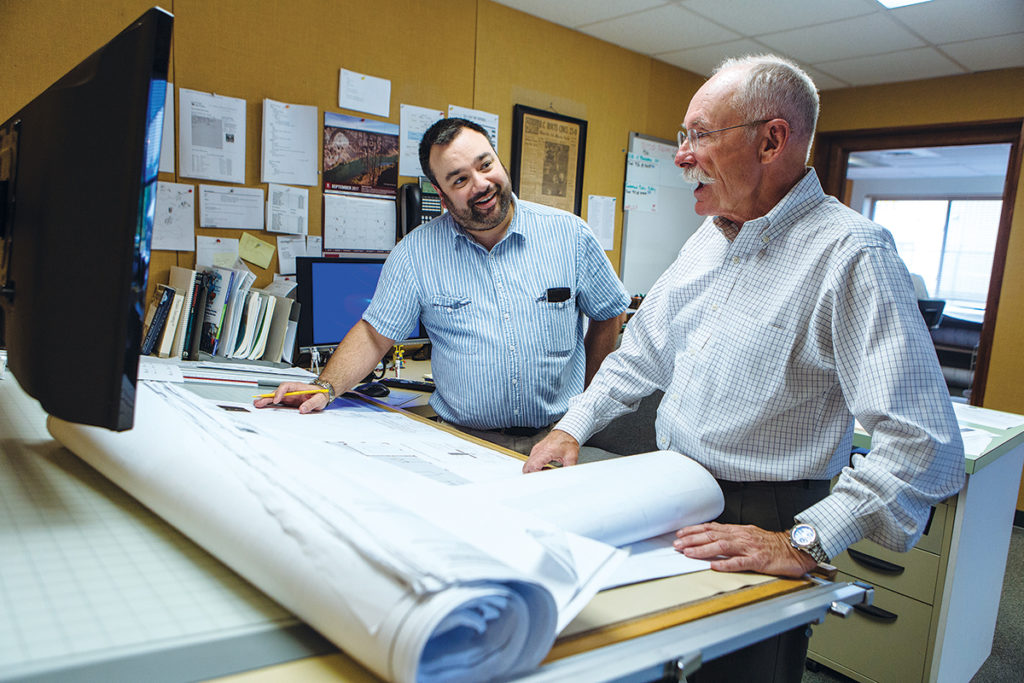 FAITH IN ECONOMY
According to Edward M. Mazze, distinguished professor of business administration at the University of Rhode Island, business owners' "general optimism" can be attributed to three factors: a strong regional economy, a local push for jobs by Gov. Gina M. Raimondo and hope President Donald Trump's administration will be pro-business.
But most Rhode Island-based businesses, said Mazze, are in "survival mode" rather than "growth mode," because they're mirroring local customers. Growth for these businesses, he added, "is limited because their customers' growth is limited." But many remain optimistic because they don't see demand from that pipeline shuttering anytime soon, he said.
Nine years after the height of the Great Recession, confidence is so high that 42 percent of business owners reported holding more inventory than last quarter – whereas 30.3 percent of respondents reported doing the same during winter 2017 and 17.4 percent in summer 2016.
This, said Mazze, boils down to business owners "anticipating orders," especially those that are holiday-related.
But inventory also takes up space. Twenty-two percent of summer 2017 respondents plan to expand their facilities in the next quarter, an increase from 14.9 percent last summer, but a 3.4 percentage-point dip from winter 2017 findings.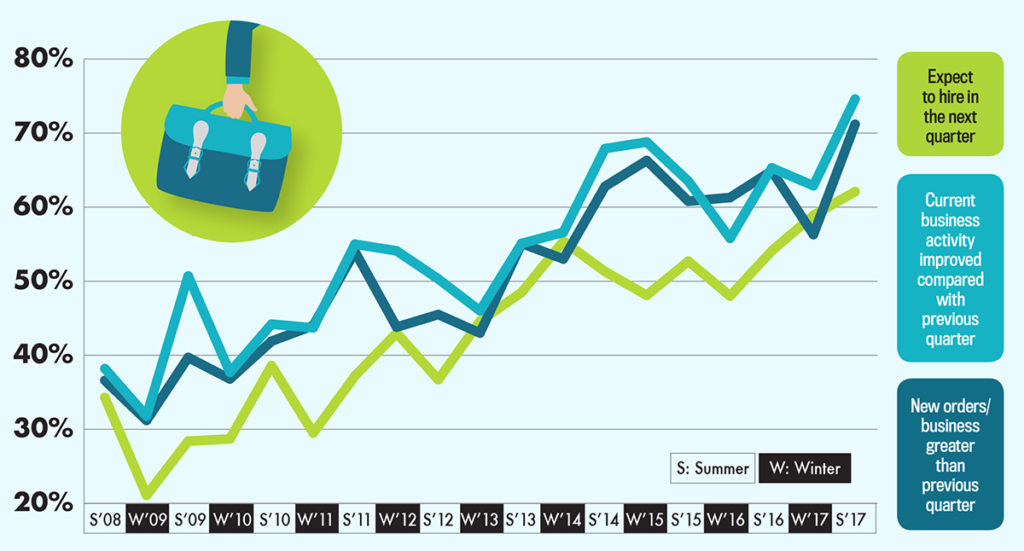 Driven by a positive outlook and increased business activity, 62.1 percent of respondents plan to hire new employees in the next quarter, an increase from 54.1 percent in summer 2016 and the highest amount recorded in survey history.
The number of firms reporting steady employment from last quarter rose by 9.7 percentage points to 49.2 percent from summer 2016.
Mazze believes employment has been boosted by the state's large hospitality industry, which hires en masse during the summer, and retail businesses bulking up payroll prior to the holidays.
Republican control of Congress and the White House is also boosting local business owners' confidence, said Mazze.
Small and medium-sized businesses "tend to look to the Republican party for changes that are going to make it easier for them to operate," he said, referring to Trump's promises to reduce regulations and reform taxation.
Local businesspeople today "feel that someone is paying attention to them," added Mazze. But that attention can be a double-edged sword because of Trump's unpredictable nature, he cautioned.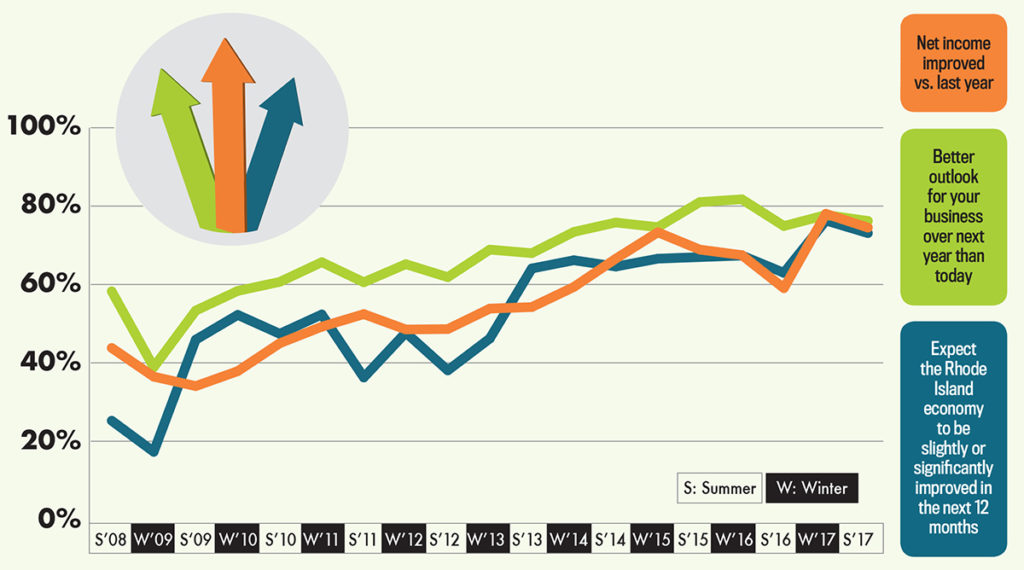 COSTLY CHALLENGES
PBN sent the 19th edition of its biannual survey to 626 companies. The 59 respondents represent nine industries operating in Rhode Island. And despite their optimism, many still face potentially costly challenges.
Fifty-eight and two-tenths percent of respondents named a shortage of qualified workers as the greatest challenge for local businesses, followed by taxes (47.3 percent) and government fees/bureaucracy (45.5 percent) rounding out the top three hurdles.
Health insurance (63.8 percent) remained the expense to increase the most over the past five years, followed by new-hire salaries (17.2 percent) and rental and building costs, which rose from 2.7 percent in summer 2016 to 8.6 percent in the most recent results.
Mazze believes the filling of existing commercial space in Rhode Island and demand from the Boston market driving local rates higher are the causes for a rise in concern over rental and building costs.
Rhode Islanders, he said, have not increased rent for "a number of years" because of the "stagnant" economy post-2008, which has picked up speed in recent quarters.
Sixteen and four-tenths percent of respondents listed a diminishing customer base as one of the greatest challenges to operating a business in Rhode Island, a decline from 27.8 percent in winter 2017 and 25.7 percent in summer 2016.
Edward W. Burman Jr., president of general-contracting firm E.W. Burman Inc. in Warwick, hopes the prosperity of the Boston construction market trickles south – and soon.
The company, which employs 36 and reported earning $26 million in revenue, was recently contracted to construct East Providence's University Orthopedics and URI's South Kingstown campus Welcome Center.
If Boston-based builders "run out of land," he said, "hopefully some of those [customers] will come south and build here."
He's concerned, however, about the statewide stewardship of Raimondo, who he says hasn't done enough to reduce government fees and bureaucracy.
Christopher D. Graham, managing partner at the Providence office of Locke Lord LLP, sees a missing link in the local business community: "decision-makers."
Running a 95-person office in the capital of such a small state, Graham said, lawyers need to communicate with CEOs and other business leaders "to maximize opportunities." But over the past two decades, he said, those positions have "moved elsewhere by virtue of acquisition."
An influx of C-suite executives from companies such as GE Digital, Johnson & Johnson and Virgin Pulse to Rhode Island would be one way to help grow business for local law firms, he said.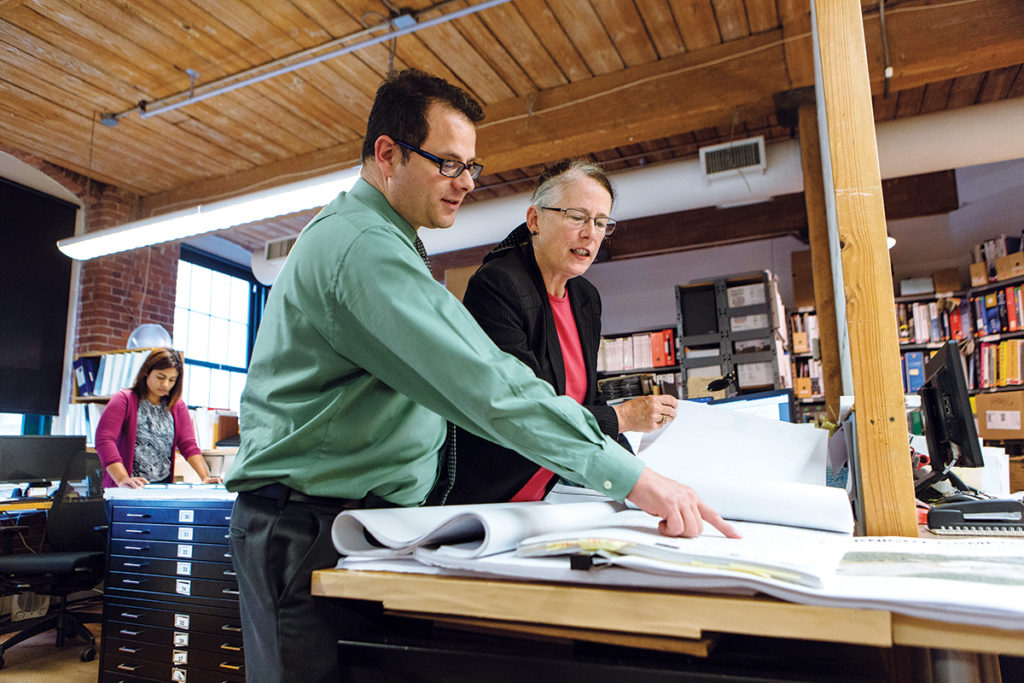 Barbara J. Thornton, founding partner at Brewster Thornton Group Architects LLP in Providence, struggles to fill jobs for the 15-person firm with in-state talent.
"A better [Providence] public-school system would make hiring easier," said Thornton, in the comments section of the survey.
She would prefer new hires move to Providence, where the firm is based, "but it's very hard for me to get families to settle in the city itself because of the [public] school system."
Thornton lauded architectural programs at Roger Williams ­University and Rhode Island School of Design for graduating well-trained professionals, but attributes the brain drain to the difficulty of securing "inexpensive options for K-12 education," as those students settle down and have a ­family.
A resident of Providence's Mt. Hope neighborhood, Thornton is encouraged by Mayor Jorge O. Elorza's August commitment of up to $400 million in public-school-facilities updates over the next decade. Down the road, she hopes a stronger school system will birth a more-skilled workforce – plugging the state's long-bemoaned brain drain.
Thornton also thinks the state can do more to support workforce-development programs.
The firm has had luck with interns from Providence's Metropolitan Regional Career and Technical Center and some training programs, but, she said: "We're looking for a higher level of training for entry level" and it's "missing."
She hopes enrollment in the Community College of Rhode Island through the two-year, free-tuition Rhode Island Promise scholarship "will kick [prospective employees'] communication, writing and technical aptitude up a notch."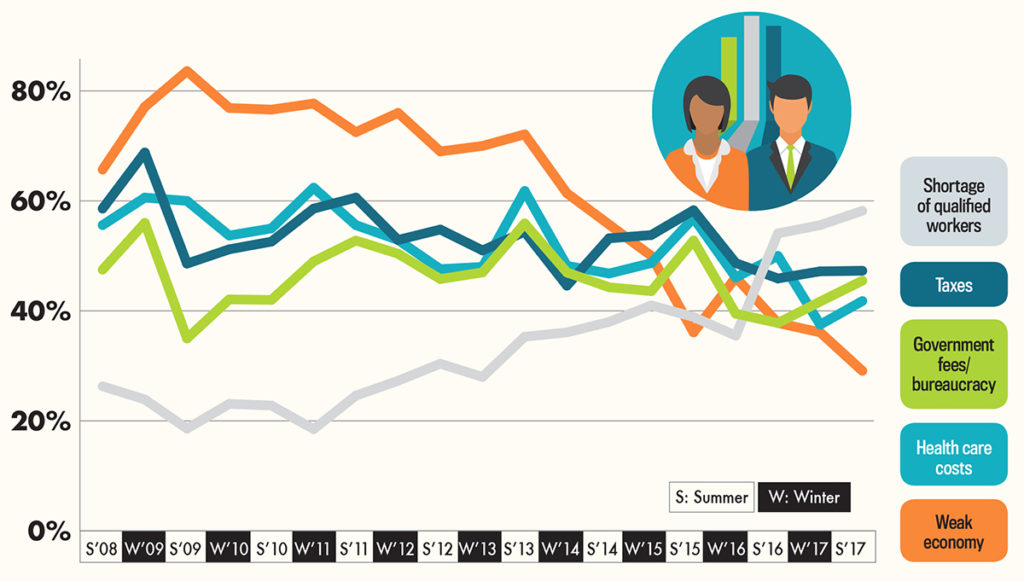 Another obstacle for young professionals moving to Rhode Island, especially Providence, Thornton has found, is fitting in.
"It can be a lonely place," she said. However, new hires tend to stay if they have local family.
John Sinnott, vice president and business unit leader of Rhode Island for Providence-based Gilbane Building Co., echoed Thornton's views on improving public education.
"Part of the economic-development base has to be strong public education, otherwise you won't have workers coming to your state because they can't all afford to send their kids to private schools," he said.
Gilbane, which generates $4.8 billion in revenue and employs 2,725 individuals, has taken its own steps to boost the skills of employees.
In a program called Gilbane University, the company invests in its employees, ensuring they are "equipped with the proper tools for whatever issue they may face on a project," Sinnott said.
Every employee, including Sinnott, is required to complete 30 hours of training each year – an investment the company consciously continued through the lean recession years.
"We took a hit to the bottom line, but it was the right thing to do," he said. "If someone is available, we grab them right away, keep them busy until the right project happens.
"We make that investment looking at possible work downstream," he said.
While Sinnott and others have qualms with the proficiency level of the state's workforce, according to summer 2017 results, hiring intention is growing – 62.1 percent of respondents said they intended to make a hire in the next quarter, compared with 58.9 percent in the winter and 54.1 percent in the summer of 2016.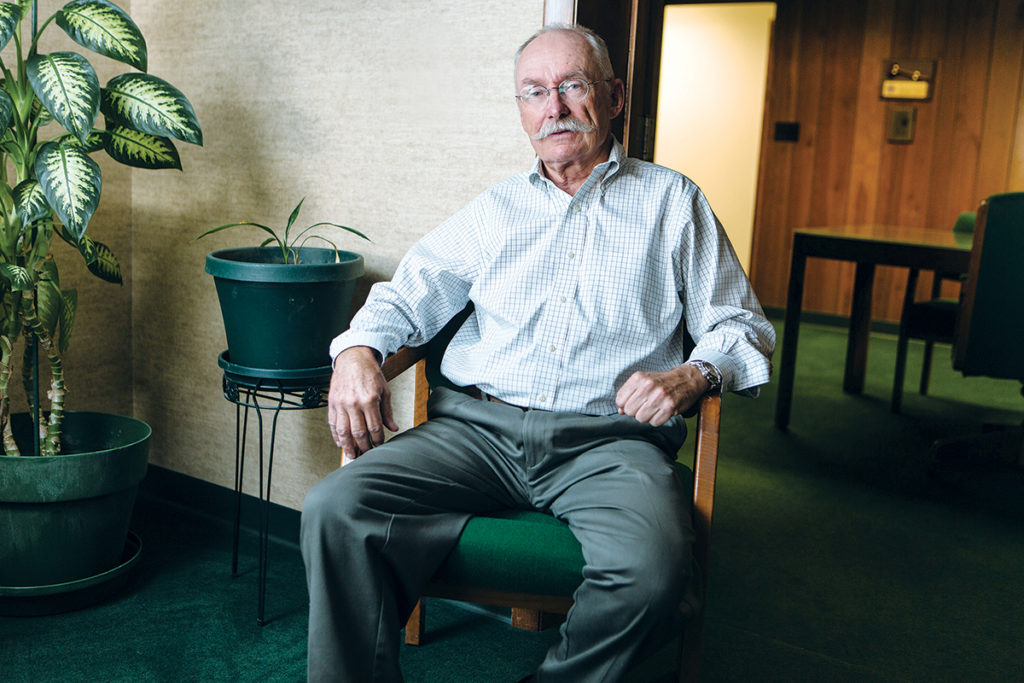 HEALTH CARE CONUNDRUM
Rhode Island business owners have perennially named health care as one of their largest obstacles.
Forty-one and eight-tenths percent of respondents to the summer 2017 survey reported heath care expenses as a challenge to operating a business in Rhode Island – the fourth-highest concern, below shortage of qualified workers (58.2 percent), taxes (47.3 percent) and government fees and bureaucracy (45.5 percent).
Last year, Brewster Thornton Group switched from the state's health insurance exchange to Blue Cross & Blue Shield of Rhode Island, because the coverage was easier to explain to employees, said Thornton, despite a 15 percent rate hike.
Even though 100 percent of health care costs are covered by the firm, Thornton said "younger employees don't put a lot of value in it."
Burman also pays all his employees' health care costs, a practice the family-owned business has continued for half a century.
He said his rates have risen 7-10 percent year over year, but it's the state's infamous tax system that concerns him most.
"I already have a brother who retired to Florida because he didn't want to pay the income tax," said Burman, who has considered relocation.
This past summer closed with the state approving a nearly 20 percent electricity rate hike by National Grid Rhode Island, taking effect in October.
Ron Sacks, CEO and managing partner of Providence tech company Provdotnet LLC, said the hike has him considering moving his business out of state.
Sacks had planned to expand Rhode Island operations – currently five people making $3 million in revenue. Now, he said, "At best, we're thinking about it and most likely will move … outside Rhode Island."
Also feeling the pain of high electric rates, Burman said businesses won't grow and Rhode Island won't be welcoming to new firms until a new power supplier comes to town.

Want to share this story? Click Here to purchase a link that allows anyone to read it on any device whether or not they are a subscriber.