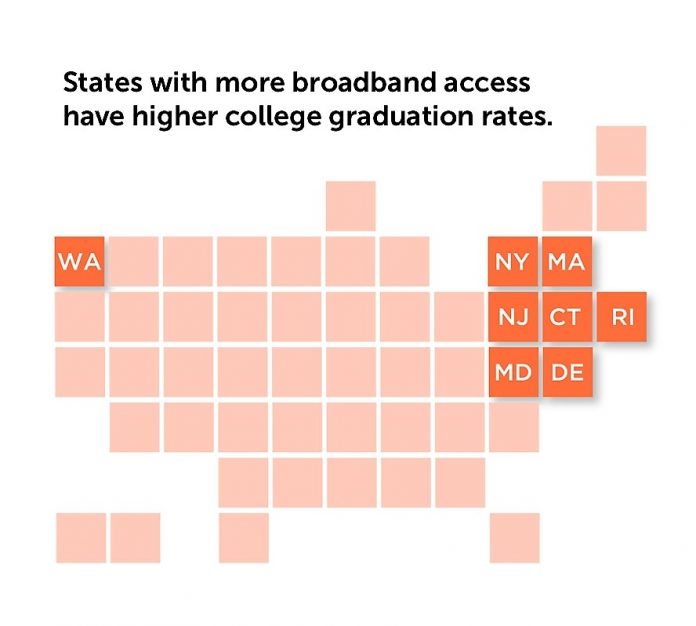 PROVIDENCE – After analyzing data from the Federal Communications Commission, U.S. Census Bureau, EdWeek.org and HigherEdInfo.org, consumer group HighSpeedInternet.com found connections between internet access and success metrics of people, the group announced, with Rhode Island figuring in the top group of states.
"Residents of Rhode Island showed one of the strongest correlations between metrics of success – average household income, college graduation rates, standardized testing scores – and internet accessibility," HighSpeedInternet.com said in a press release.
According to the study, New York, Massachusetts, New Jersey, Connecticut, Delaware and the District of Columbia were also found to consistently outperform the rest of the U.S. in these areas.
HighSpeedInternet.com said higher download speeds correlated with higher household incomes and higher ACT college readiness scores. More broadband access correlated with higher graduation rates and higher ACT scores, according to the report.
Eight of the top 10 states with the highest average download speeds also fall within the top 20 states with the highest average household income, the group's findings showed. But it notes the links are not clear-cut.
"While our analysis focused on the connection between internet speed and success metrics related to higher education and income, that relationship is likely affected by other factors. Although we didn't include these factors in our analysis, we can speculate about some potential factors based on patterns we saw in the data," researchers noted.
Susan Shalhoub is a PBN contributing writer.