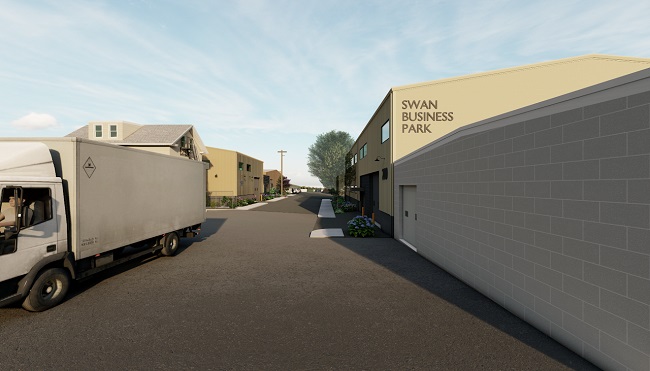 PROVIDENCE – After gaining an initial approval for the project earlier this year, the developers behind the proposed Swan Business Park in Lower South Providence are set to go before the City Plan Commission on Dec. 13 seeking final plan approval.
The Coletta Group LLC, headed by Anthony Coletta, wants to construct two new buildings that would join two others that already stand on the company's proposed 2.5-acre industrial park campus in the area of 200 Swan St. The site is located just off Eddy Street, between Rhode Island Hospital and the Thurbers Avenue access ramps to Interstate 95.
Coletta owns and leases out two buildings that are planned as part of the campus, including the 8,000-square-foot building that houses the Crossbones Dog Academy at 189 Swan St., and the 8,500-square-foot building occupied by The Compost Plant at 182 Swan St.
The Swan Business Park would also include two new buildings proposed at 200 Swan St. and 199 Swan St., according to the company's plans, with those buildings spanning 15,500 square feet and 10,000 square feet, respectively. The business park is located in a mixed-use zone, Coletta said.
If the project designed by architect Nathaniel Carden receives approval from the City Plan Commission, Coletta said construction will start in the spring of next year, with the development expected to be completed by late December 2023.
As part of the Swan Business Park development effort, Coletta said his company is in the process of purchasing a neighboring home at 209 Swan St., which has been plagued by reported criminal activity during the past five years.
Coletta sought to gain support for the project and his effort to purchase the troubled 209 Swan St. by documenting the incidents that have drawn police to the property, including a shooting on Sept. 15 of this year and Nov. 4, 2021. Coletta said his plan is to demolish the house.
"We're in the process of purchasing the house next door," Coletta said. "That's been a well-documented problem with crime. We hope to have that really soon."
Coletta said he's already in the process of leasing space in the Swan Business Park for commercial tenants. He said the business park would be able to accommodate more than one tenant per building by subdividing the space, with more information available at www.swanpvd.com.
"This is a wonderful opportunity for South Providence to have an industrial park that will accommodate small businesses that are looking for industrial space," Coletta said. "We know industrial space is needed. There's a real demand for it. We'll offer a decent amount of it."
(UPDATES to add project link and architect in fifth paragraph.)
Marc Larocque is a PBN contributing writer.

Want to share this story? Click Here to purchase a link that allows anyone to read it on any device whether or not they are a subscriber.