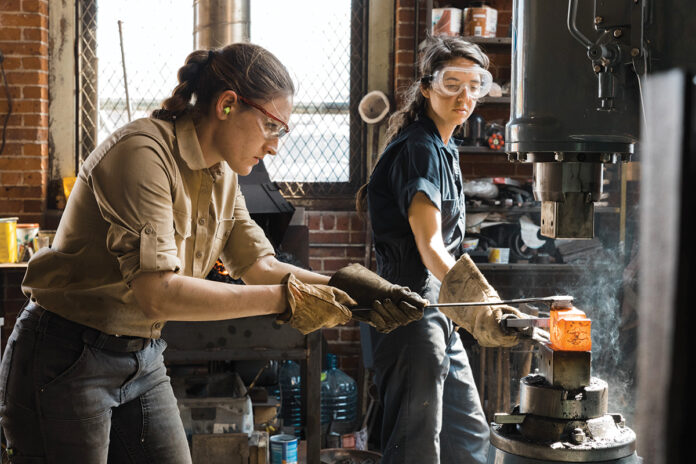 To Alaina Mahoney – painter, blacksmith and welder of steel – few tropes are staler than the "starving artist."
"Almost everyone I went to school with has a job in their field," said Mahoney, who graduated with a painting degree from the Massachusetts College of Art and Design in 2010. Rather than painting, she pursued metal fabrication, working for another shop before going solo and founding her own business, A.M. Design & Fabrication LLC, in Providence.
But even for the most-enterprising designers, there's usually no quick and easy way to amass the knowledge and resources needed to grow. Mahoney, for instance, has run her design business for nearly five years, but until a few months ago she was still unsure how to execute an effective business strategy.
"I didn't understand the impact to plan exactly what you want, to create actual steps with measurable metrics," Mahoney said.
She understands now, having graduated from the 2020 Providence Design Catalyst. The program, run by nonprofit DESIGNxRI, offers competitive grants ranging from $10,000 to $20,000 to Providence-based design businesses with five or fewer employees. Winning designers spend a marathon five months together, attending a semester's worth of classes and workshops on topics such as customer relations and branding. They also connect with business mentors.
"The initial draw is, 'OK, there's money, great,' " Mahoney said candidly. Case in point: the grant bought her a shiny new air hammer, which has helped drive and develop the blacksmithing side of A.M. Design – a departure from the studio's typical fabrication work, such as indoor and outdoor railings or ornamental work.
But Mahoney said that, "Over time, the more helpful side of the grant [is the education]."
The program offered a critical lifeline to its 2020 cohort during the COVID-19 pandemic, including funding to keep their small businesses going. It's one of a host of local resources available to artists and others looking to make a career in design, including several college-based programs.
SHIFTING DEMAND
DESIGNxRI co-founder and Executive Director Lisa Carnevale said Rhode Island College offers a graphic design program and a jewelry design program, which supports industrial design backgrounds. Roger Williams University also offers an architectural design program, she said. The Bristol-based campus also recently opened a new engineering, computing and construction-management facility.
Rhode Island School of Design's continuing-education program offers certificates in three design fields – graphic design, interactive design and interior design.
And DESIGNxRI offers a high school program, called Explore Design!, in which students ages 14 to 18 work with experienced designers to take on various design projects while also learning design software.
Carnevale says hiring throughout the industry has been slowed during the pandemic, but demand for design skills and designers remains strong, albeit shifting with consumer demand.
"Architecture, interior design and landscape [design] are seeing some renewed interest in the residential space," she said, "while activity in the graphic design and digital realm – including app development – has been noticeably active, given the move to virtual and brands recognizing they need to have a stronger digital presence, or better accessibility with their clients."
Carnevale added companies outside the design sectors are also recognizing the value of having designers on staff. She's seen local companies advertising for graphic designers, along with jobs requiring product and digital-design skills.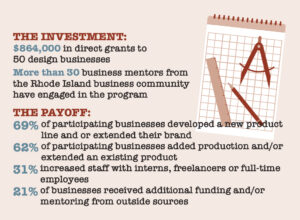 A CATALYST
Mahoney said she came away from the Providence Design Catalyst program with lots of ideas to help turn A.M. Design into "a shop that also functions as a studio … the type of shop where people come to us for our creativity." For Mahoney, that means releasing a line of interior products as early as next year, while intensifying her efforts at smithed metal and customization. Mahoney called custom metalwork "inherently expensive." Why not take advantage of her studio's new capacity for smithing and make the customs even more artistic and high-end?
Mahoney exemplifies what the program is about, says Carnevale.
"The goal," she said, "is to help design business owners make smart business decisions … that will set a catalyzing course for growth."
Marge Hinge, a jewelry designer and another member of the 2020 cohort, has already "catalyzed" a clearer path and identity for her Providence-based jewelry studio, Hinge Designs.
A jewelry maker since childhood, Hinge joined the jewelry and metalsmithing program at RISD. After graduation, she worked for local shops and other artists, observing and gathering ideas for her own business along the way.
After leaving a full-time job to focus on building the Hinge Designs brand, she applied to the catalyst program.
"It pushed me to do a lot of things I wouldn't do normally," Hinge said.
It also opened a new universe of options for branding, such as using video content to detail her creative process for customers – an ideal visual aid to accompany her bright, earthy line of rings and earrings that are cut from brilliant minerals such as Dalmatian jasper or Herkimer diamonds.
Each designer must set three "milestones" for their business at the program's start. The milestones help make the designers' goals more explicit, and therefore more attainable. But they also serve as guidelines for the grant payments.
"This program is one of the only opportunities available in the state that is highly structured for success and accountability," Carnevale said.
The 2020 cohort's 11 members counted a photographer, a toymaker and even a small-business branding specialist (The Bureau of Tactical Imagination) among their ranks.
"Along with funds from Real Jobs RI (for the trainings and mentorship), we have invested over a $1 million in … 50 businesses (with $864,000 being direct grants) in the four program years we've been able to run," Carnevale said.
The pandemic has provided designers with an example of what Carnevale called "thriving in the undefined.
The designer's process is to break down and iterate solutions, so many are engaged in this kind of thinking today, and already adapting to new ways of doing business," she said. "Throughout COVID-19, many designers have faced a slowdown, while some others have seen a surge in new business."
Kelly Taylor, who operates Kelly Taylor Interior Design, said her Providence-based business has been unexpectedly booming – enough that she had to hire another designer. She said with people being home during the pandemic, they were thinking more about their homes. Clients – including existing ones – reached out to Taylor's firm because they were spending more time home, including working from home.
LESSONS LEARNED
Designers of all types had to learn quickly to pivot their operations to a more-digital platform in 2020. But some see silver linings in meeting the challenges.
Hinge said learning about social media tools and different ways to interact with customers online during her time in the catalyst program was vital in continuing to showcase her work during the pandemic. She said she had done a digital craft fair that brought in customers from across the country.
"I feel I can [now] talk with more customers through email and video chat, Instagram and different ways of communicating," Hinge said. "My base was primarily in Los Angeles, and a lot of my customer base is on the West Coast. Being able to communicate with them in different ways … broadened my horizons."
Libby Slader, owner of Libby Slader Interior Design, traveled constantly for years before starting her firm in Providence. She now says that while visiting job sites is still needed, technology makes it easier to connect and work with out-of-state clients.
"Nothing replaces [in-person work], truly. But, if we chose to expand and work in other locations to pursue projects somewhere else, I think my team would be more comfortable doing that and knowing that it's possible," she said.
Jeanette Numbers, Providence-based Loft LLC's co-founder, sees the pandemic as a reminder of the value of every business having designers on staff, because they are trained "to look at things differently and look for opportunities.
"Don't let the pursuit of perfection get in the way of … opportunities," Numbers said. "You're never going to achieve perfection and [trying to achieve it] will block you from getting opportunities that are there."
(PBN Special Projects Editor James Bessette contributed to this report.)