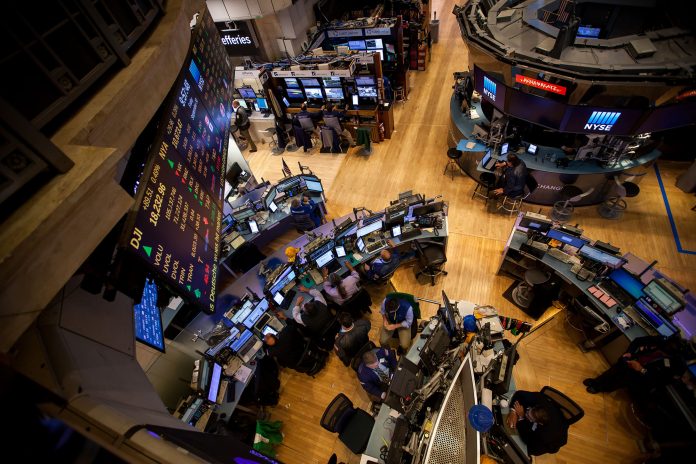 NEW YORK – With major indexes like the Standard & Poor's 500 index and Nasdaq having their worst day since late June, traders across Wall Street say they generally aren't seeing panic among investors.
A quick survey by Bloomberg News of 10 sell-side and buy-side traders saw a "little uptick in hedging activity" on Tuesday and early on Wednesday. However, others are seeing investors step in to add to positions, while a majority of sell tickets are being driven by passive funds off program desks.
Oppenheimer Head of Institutional Equity Derivatives Alon Rosin said in an email to Bloomberg "over the past two weeks, we have been aggressively looking to add November ETF downside trades and long volatility exposures into November as companies like BorgWarner and Delphi Technologies issued profit warnings citing global concerns such as trade, softness in China and FX."
Rosin continued, "many are pointing to overall confusion, gross exposure reductions (selling longs/covering shorts), risk parity/factor related unwinds, etc., driving the overall selling pressure." He added, "ETF options volumes have been relatively light since Friday's initial breakdown, and we would like to see that pick up and more activity in the puts before any true stabilization kicks in for a trade-able bottom."
Larry Weiss, head of trading for Instinet LLC in New York, said by phone "I don't think anyone senses any panic at this point. Given the levels we are currently at, a lot of people think that something like this and even more downside are slightly overdue."
Most attributed today's weakness across consumer goods stocks to comments from LVMH's Chief Financial Officer Jean-Jacques Guiony, who said on a call with analysts that Chinese customs authorities are stepping up border checks on returning travelers, reinforcing concerns over the U.S., China trade war.
Gregory Caldernone is a Bloomberg News staff writer.